COVID-19 New Wave: Gujarat To Bengaluru-List of cities under lockdown in India 
Coronavirus cases are rapidly increasing. State governments have imposed new pandemic restrictions alongside lockdowns in several cities across India. Check out the list of the cities which will be under lockdown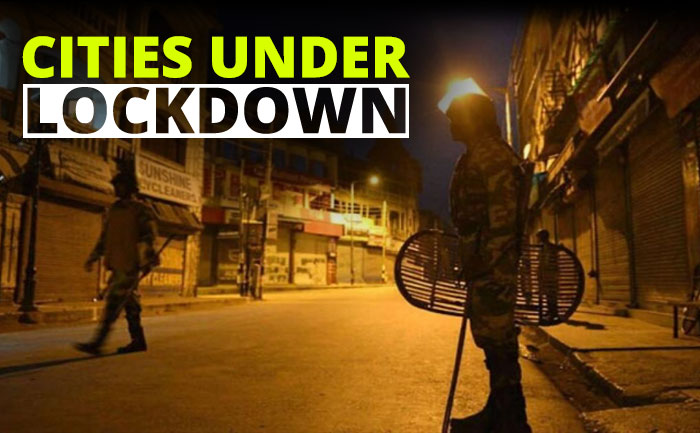 The pandemic Coronavirus outspread sees a surge recording the highest single-day rises. Over the last few weeks, the per-day rises shown to have spiked with huge numbers. Thus state governments across India have revised the restrictions and safety guidelines. Mumbai, Gujarat, Bengaluru and including other cities with COVID-19 hotspots to now follow lockdown and night curfews. Here check out the list of all the cities and states which have imposed the new restrictions.
List of cities under lockdown/ night curfews:
Mumbai, Pune
As of Tuesday i.e April 7, Mumbai city reported approx 10,030 fresh COVID-19 cases, which takes the total tally to 4,72,332. On the other side, Pune Municipal Corporation had separately imposed new restrictions in the city closing all markets and shops till April 30 amidst. Maharashtra CM, Uddhav Thackeray after imposing the night curfew across the state has issued new guidelines for the weekend lockdown. From Friday night till Monday morning, cities across Maharashtra follow lockdown rules. While on weekdays the cities will follow a night curfew.
Delhi:
Delhi government also imposed a night curfew considering the increasing COVID-19 cases. The proposal to bring back the curfew was sent to the Chief Minister's office on Monday. After a round of discussions with the state officials, the government imposed new restrictions. The city reported around 5,100 new cases in the last 24 hours and thus night curfew's have been imposed in Delhi from 10 pm to 5 am, till April 30.
Gujarat:
Cities that have reported to have the highest Coronavirus cases in Gujarat are Ahmedabad, Surat, and Rajkot including  Vadodara, Jamnagar, Bhavnagar, Junagadh, Gandhinagar, Anand, Nadiad, Mehsana, Morbi, Dahod, Patan, Godhra, Bhuj. Thus the state government has imposed new restrictions with a curfew from 8 pm to 6 am in around 20 cities of Gujarat. These restrictions will be effective from April 7 and will continue till April 30.
Bengaluru:
To curb the new COVID-19 wave, the Karnataka government has imposed new restrictions. Bengaluru has emerged as the hotspot during this new wave and thus public gatherings. 100 per cent occupancy at restaurants and others places have been prohibited. Gyms, bars, clubs, restaurants will only function with 50 per cent occupancy.
Jaipur:
All the cities in Rajasthan would follow night curfew rules. The public gathering is prohibited as a part of the night curfew (8 pm to 6 am) from April 5 to 19 in all the cities and districts of Rajasthan. Multiplexes and gyms have been ordered to remain closed under further notice.
Punjab:
Due to a sudden surge in COVID-19 cases, a night curfew has also been imposed in Chandigarh starting from Wednesday, from 10 pm to 5 am. According to the Chandigarh administration, no gatherings, parties, non-essential activities will be allowed during the period. On Sundays, the state follows lockdown to curb the new cases.
Sambalpur, Kalahandi:
Reportedly around ten districts from Odisha have been ordered to follow night curfew's to seize the increasing COVID-19 cases. These cities include Sundergarh, Bargarh, Jharsuguda, Sambalpur, Balangir, Nuapada, Kalahandi, Malkangiri, Koraput and Nabarangpur. The night curfew to begin from 10 pm till 5 am. The public gathering is also prohibited in these cities.
Madhya Pradesh:
More than 12 cities from Madhya Pradesh have reported having COVID-19 hotspots. These cities and districts include Vidisha, Ujjain, Gwalior, Narsinghpur, Sausar, Indore, Bhopal, Jabalpur, Khargone, Betul, Chhindwara and Ratlam. In order to stop the spread, the state government has limited the public movements. Sundays to be under lockdown.
For more such updates, stay hooked on to The Live Mirror.
Also Read:  Coronavirus Update: India Records Highest Single-Day Rise In Last Five Months