Cyclone Nisarga Updates: Cyclone Nisarga Makes Landfall Along The Maharashtra Coast
NDRF team along with BMC has evacuated local residents near the seashore in Versova to safer places due to cyclone Nisarga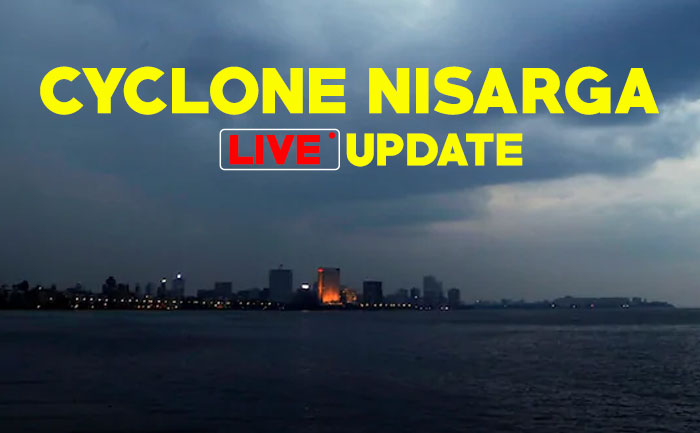 Cyclone Nisarga's center has shifted northeastwards and crossed Maharashtra coast close to the south of Alibagh. However, the rear part of the cloud is still over the sea and the landfall process will finish in the next hour. Mumbai Police has stated that hundreds of people living near beaches in Mumbai have been shifted to safer places. There have been 37 tree falling incidences reported in different parts of the city.
Actor Sanjay Dutt tweeted, "The next few hours are going to be critical. Please stay indoors and follow all the BMC guidelines. Don't spread rumours and help each other in getting through this. #CycloneNisarga"
Mumbai Police has stated that due to the cyclone Nisarga, no vehicular movement is permitted on the Bandra-Worli Sea Link. Cyclone Nisarga is gradually entering Mumbai and Thane districts. The process is expected to be over by 3 pm.
It has made landfall south of Alibaug with a strong wind speed of 120-140 kmph. The Indian Coast Guard Region (West) has mobilized eight disaster relief teams for Maharashtra. These teams are placed at Dahanu, Mumbai, Murud Janjira & Ratnagiri. Meanwhile, teams are also kept on standby in Goa, Karnataka & Kerala.
Power lines have been switched off in Panvel and Kamothe node.
NDRF team along with BMC has evacuated local residents near the seashore in Versova to safer places due to cyclone Nisarga.
Cyclone Nisarga will cross Maharastra coast between Harihareshwar and Daman, very close to Alibaug between 1pm and 4pm. Experts have stated that landfall is likely to happen in Daman around 12:30  pm. Around 4,300 people have been evacuated due to the developing situation.
As the Cyclone Nisarga makes it's way to Maharashtra, a team of NDRF has been dispatched to the Uttan coast in Bhayander, district regional disaster management cell chief Santosh Kadam has stated. NDRF Commandant Rajendra Patil has added that another team is expected to arrive soon.
NDRF personnel went around some villages in the district to spread awareness about the do's and dont's during cyclone Nisarga. In addition, prohibitory orders are being imposed in Palghar and neighboring Thane district till Thursday. Fishermen have been warned not to go out to the sea during this time period.
As per the India Meteorological Department, the cyclone's eye diameter has decreased during the last hour. This could indicate an intensification of system. Air Travel has also been affected by the circumstances. Indigo has canceled up to 17 flights to and from Mumbai on June 3. Meanwhile, Vistara has announced that arrivals and departures in Mumbai and Goa will be impacted due to Nisarga. A similar announcement was also made by SpiceJet.
Earlier,  IMD stated that the cyclone Nisarga will likely move north-northeastwards and cross north Maharashtra coast close to south of Alibagh (Raigad District, Maharashtra) during the afternoon as a Severe Cyclonic Storm with maximum sustained wind speed of 100-110 kmph gusting to 120 kmph.
We will keep an eye out for more updates regarding the Cyclone Nisarga.