Daily Horoscope 12th July 2021: Check Astrological Prediction For All Zodiac Signs
Check out today's Horoscope for all the zodiac signs.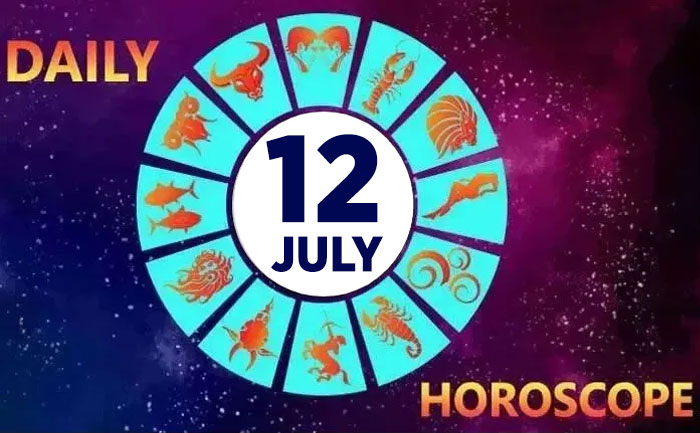 Horoscope, July 12th, 2021. IF TODAY IS YOUR BIRTHDAY: Take some time to remember the people and experiences from the past that have made you who you are today. This year is a good one for processing and reviewing your life, assessing what you have done and what you want to create in the future. Your lucky number is 3 and your lucky colors are Violet, Blue, and Purple.
Horoscope for July 12, 2021: Check today's astrological prediction
Daily ARIES Horoscope:
Romantic opportunities are blooming under Monday's skies, Aries. Even if it feels funny to put yourself in a flirtatious mindset so early in the week, you'd be wise to take advantage of the cosmic magic stirring around your love life. You may be vulnerable to emotions and financial loss today! However, you can easily safeguard your interest if you distance yourself from people who are trying to drag you into events for their gain.
Daily TAURUS Horoscope:
A new romance or friendship could develop with someone who's very creative and shares your spiritual values. This is a very positive development, Taurus. Just avoid idealizing your new friend. This person is human like everyone else and needs to be loved as is. Don't create an unrealistic impression of the person.
Daily GEMINI Horoscope:
Try to form partnerships with people of power and similar interests as well as those who complement your abilities. Few people are trying to influence you by giving false hopes but do not pay heed to what they say. Make your own judgments and adhere to them. You have been planning for a long to buy a new house, maybe you can own one this time!
Daily CANCER Horoscope:
Someone who lives near you who may not have said much to you before could suddenly strike up a conversation that results in a new friendship, Cancer. You could be wondering why you didn't speak to him or her before. You could share a number of interests, and because of that, you could learn about some new group activities. Don't push too hard, and don't idealize your new friend.
Daily LEO Horoscope:
Some paperwork might need execution today, Leo. This may be tedious, but it's apt to open new doors for you and pave the way to more success and good fortune. Writing or speaking might be involved in some way, and modern technology plays a definite part in what you will be doing. This could lead to valuable contacts and new friendships. Explore your options.
Daily VIRGO Horoscope:
Today is a favorable day for you. Your pleasing personality attracts others. Whatever you put your hands into today is most likely to be successful. You are quite popular. You are articulate and courteous and these qualities have pulled you where you are today. Just continue to be the same without letting ego and trickery coming in your way.
Daily LIBRA Horoscope:
Your intuition could bring you an interesting opportunity to increase your income in an unconventional way. Others may think the idea strange, Libra, but for you it's definitely worth considering. Check all the pros and cons, talk to people in the know, and then give it some serious thought. Whether this is the source or not, an increased level of financial security is strongly indicated now.
Daily SCORPIO Horoscope:
Today, you will develop a natural tendency towards stubbornness. Unfortunately, you will probably dig in your heels even when you logically understand that doing so is not in your best interest. Lighten up. You need to think clearly and do what your mind suggests instead of acting on your instincts. If you do manage to unbend a little, the situation can be resolved faster and you will be much happier.
Daily SAGITTARIUS Horoscope:
The day is likely to develop a spiritual tinge for you. You may engage in some religious activity or visit a shrine. Read some inspirational work or the biography of a great leader as you may find something highly relevant to your life in those works. It is better not to engage in raucous activities. Instead, spend the day in quiet contemplation and you will be able to find peace.
Daily CAPRICORN Horoscope:
Your sharp intuition and imagination could bring enlightening spiritual insights, Capricorn. Metaphysical or religious books could be especially appealing. Relations with close friends and family should benefit from this enhanced sensitivity. You may be able to understand them better because of it. This could be inspiring. It might move you to write or start some other creative activity.
 Daily AQUARIUS Horoscope:
You may meet people who are aware of the vices in you but are unacceptable towards it! As if they have no flaw in themselves. Simply maintain distance from such people. Instead, try to recollect about the good people you came across in all these years and if possible establish contacts with them again.
Daily PISCES Horoscope:
Social events or group activities concerned primarily with spiritual, metaphysical, social, or humanitarian issues could take place in your community today, Pisces. These could be enlightening and enjoyable, and you could make some new friends. The exchange of ideas could get your mind going a thousand miles an hour. Get a little exercise to clear your head or you might have trouble sleeping tonight.
ALSO READ: Daily Horoscope 11th July 2021: Check Astrological Prediction For All Zodiac Signs