Daily Horoscope 12th Oct 2021: Check Astrological Prediction For All Zodiac Signs
Daily horoscope 12th October. Check out today's Horoscope for all the zodiac signs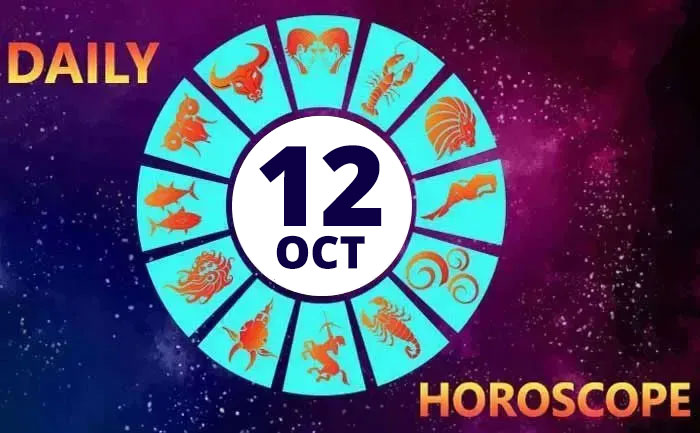 Daily Horoscope 12th October. 2021: IF TODAY IS YOUR  BIRTHDAY: Your lucky number is 3. If you are born on October 12, you are an elegant and graceful Libra. Some say that you have twin personalities that are totally opposite of each other. You can be a person who is openly affectionate, and at the same time,  you despise public displays of affection. When it comes to romance, you have a way of getting attention from members of the opposite gender. Your lucky colours are Purple, Emerald Green and Silver. Lucky numbers for October 12 born are 18, 27, 28, 36, and 92.
This article has brought you today's astrological predictions for all the sun signs like Gemini, Scorpio, Leo, Taurus, Cancer, and others. Check out the astrological prediction for all zodiac signs.
Horoscope for October 12: Check today's astrological prediction
Daily ARIES Horoscope:
Take care of your health as a serious illness may trouble you.  This will be an adverse day for students.  The monetary condition of those in business is likely to improve. You may need to design your fitness plan according to your lifestyle.  Stay away from extra-marital affairs it will cause you immense problems. Wear anything in Cream
Daily TAURUS Horoscope:
You will benefit by taking a break from your regular exercise routine.  Check your mood swings as they can upset others in the family.  Pisces sign people will get good gains in their business deals. Take care of your health as there are chances of getting a cold and cough.  Love life will be immensely fulfilling. Dark Yellow is lucky for you today.
Daily GEMINI Horoscope:
Be alert while driving any vehicle.  You will manage to achieve something that you had previously given up on.  There is a fifty-fifty chance of earning some extra money today. An initiative on the health front is likely to prove beneficial. Those meeting lovers on the sly need to be careful. Parrot Green will bring luck.
Daily CANCER Horoscope:
Your health will remain good today.   You are likely to remain in a confused state over an issue today. Be open to the advice of those more experienced. Wealth comes your way from unexpected sources. Taking up jogging or brisk walking is a step in the right direction.  Love life will remain evergreen through your efforts.  Red is the colour for you today
Daily LEO Horoscope:
Students will make many achievements today. Chatting up with old friends and colleagues will prove to be enjoyable. A healthy bank balance is likely to give you added confidence. A promising day for professionals is foretold.  An impromptu plan with the lover is likely to sparkle your love life.  Wear anything in Dark Brown
Daily VIRGO Horoscope:
Payments that have been pending for a long will come through.  It is best to start the day with a round of exercise, yoga or meditation as this will keep you calm  Your familial life will be harmonious. Keep your temper under control.  Great things are indicated on the career front today. The colour Blue will bring some much-needed peace.
Daily LIBRA Horoscope:
Although symbolized by the Bull, you are not someone who will charge at every provocation. There are chances of a rise in your social prestige and popularity. An excessive workload may create physical and mental weakness and debility.  You must avoid wearing anything blue in colour.
Daily SCORPIO Horoscope:
Your efforts at work will get recognized and give your career a boost.  Take care of your own and your mother's health. Money invested is likely to give good returns. You are likely to take steps to improve your diet just to remain fit and energetic.  Your secret love will no more be a secret.  Orange is lucky for you.
Daily SAGITTARIUS Horoscope:
Things will remain normal in the workplace and traders will earn greater profits. Your life partner will support you fully. Today you will be worried about your own health. And typically you will nurse your own self without bothering anyone else in the family.  Blue will prove to be lucky for you today.
Daily CAPRICORN Horoscope:
There will be some health-related problems.  Spend your money wisely only after careful consideration. There will be an excessive workload on your shoulders. Known for your wandering eye, your own guilt can drive you to jealousy.  Today could make you green with envy as you see your loved one with someone else. Wear something in lavender.
Daily AQUARIUS Horoscope:
Things will remain normal in the workplace.  Students are likely to get mixed results today. There will be chances of stomach-related problems on the health front. Today may make you feel that your partner is being too demanding of your time and energy. You may want to seek some freedom. The colour Blue will bring some much-needed peace.
Daily PISCES Horoscope:
Changes are foreseen on the academic front. Leo sign people will get success in all their works.  The business and salaried people may make significant gains. Your marital life will remain good. Positive thoughts are likely to fill you with good vibes. Small gestures will matter immensely on the romantic front.  Dark Slate Grey is the colour for you today.
ALSO READ: Libra Love Horoscope: Personality,Traits, Compatibility And Celebs Born Under This Zodiac Sign