Daily Horoscope 19th Sept 2021: Check Astrological Prediction For All Zodiac Signs
Daily horoscope 19th September. Check out today's Horoscope for all the zodiac signs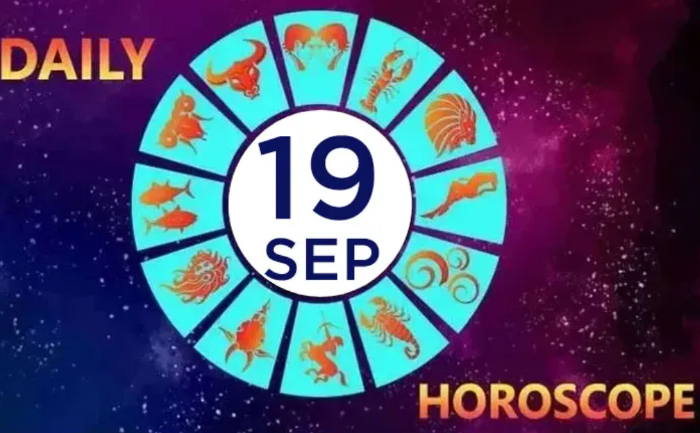 Daily Horoscope 19th September 2021: IF TODAY IS YOUR BIRTHDAY: Your lucky number is 11. People born on this day are usually intelligent, active speaker and have calm personalities. They are both gentle and amiable. Your lucky numbers are 1, 6, 8, 11, 20 and the lucky colour for you is blue. Here check out the astrological prediction for all zodiac signs.
Horoscope for September 19: Check today's astrological prediction
Daily ARIES Horoscope:
Aries people need to find ways to save their hard earned money. Your surroundings may prompt you to use all your money, however, the challenges are temporary. Pay attention to your diet and indulge in eating healthy. Be smart and not cheap. Stay patient and calm. No pleasant environment for taking financial and business decisions.
Daily TAURUS Horoscope:
Be more careful if you are facing any type of skin problem. Taurus people might feel a bit more romantic and pleasant today. Its a good day to confess your love, today is not the day for self-doubts. Expect some minor luck in financial, business as well as legal deals. Be attentive of your surroundings and make use of it as per the need of hour.
Daily GEMINI Horoscope:
Gemini people might experience a lot of mood swings today, stick to your healthy habits. Don't invest blindly in stock market or mutual funds, you might experience little disappointment today. Be mindful of your words today and pay attention to how people treat you. Your financial situations will be put to test ahead of the better days.
Daily CANCER Horoscope:
If you have been experiencing problems with your mental health, then make sure to pay attention and seek proper treatment. Don't feel stressed out. Do not take hush-hush decisions in any matter. Your surrounding environment may not be pleasant, try to maintain your calm charm. Instead of buying luxury items, buy goods that you need genuinely. Pay attention to your extremely close circle.
Daily LEO Horoscope:
Some light exercise may help get rid of temporary health challenges. You might feel at ease, lovable, stable and safe. Be around people who support you and spend time with your family. Show up active participation in your business and work related matters. Take decisions with your gut feelings and experts advice. Its a good day for financial deals.
Daily VIRGO Horoscope:
You might want to change your sleep schedule today. Pay attention to your body and mind. Stick to healthy regimen. Travelling alone will clear your mind space. Avoid investing today in vehicles and real estates. Focus on safeguarding your money today with better plans.
Daily LIBRA Horoscope:
You will feel energetic and healthy today. Its a great day to plan something new and interesting. While Venus is sending warm energies to you, Jupiter is sending luck vibes. Make sure to utilize the day for good. Don't get caught up with temporary challenges and avoid getting embroiled in fights or arguments.
Daily SCORPIO Horoscope:
Its a great day to polish your leadership skills. You have more luck on your social side today, thus utilize the day for making crucial decisions in your social circles. You can take legal, financial and business decisions. Don't make hefty purchases today, there are chances of you feeling being looted. Pay attention to your surroundings.
Daily SAGITTARIUS Horoscope:
Try to boost your immune system to be ready mentally and physically to welcome good days in your life. Eat healthy and indulge in performing yoga and meditation. Approach someone if you need help in any matter. Numbers 14 and 21 are lucky for you today. Mistakes are bound to be made and lessons are bound to be learned. You might meet your soulmate or the luckiest person of your life.
Daily CAPRICORN Horoscope:
You might feel little vulnerable today. Try to keep your activities low-key and avoid going overboard with your daily chores. If you are in desperate need of change then wait for tables to turn around. Challenges are temporary and you will welcome bright days soon.
Daily AQUARIUS Horoscope:
Married Aquarius people might feel little bored with their partners, try to be enthusiastic and charming. You need to act responsible in your family circles and take wise decisions. Color Yellow will be your lucky one today and sudden travel plans might erupt.
Daily PISCES Horoscope:
Pisces will experience a best day with ease of mind and surrounding environment. Everything is going already well for you. Be friendly and invest your time in good. You will experience luck today in everything that you do. You can take legal, financial and business decisions with light minded space. Your colleagues may admire you, make sure to appreciate the warm  gesture.
For more such updates, stay hooked on to The Live Mirror.
Also Read: Daily Horoscope 18th Sept 2021: Check Astrological Prediction For All Zodiac Signs