Daily Horoscope 1st July 2021: Check Astrological Prediction For All Zodiac Signs
Check out today's Horoscope for all the zodiac signs.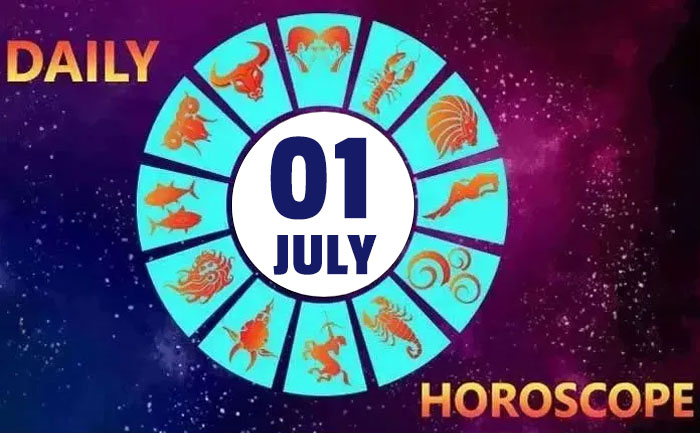 Horoscope Today, July 01, 2021: IF TODAY IS YOUR  BIRTHDAY: Your lucky number is 1.  Being a Cancer born on July 1st, you are gushing with creativity and sensitivity. Your mind is sharp and you are a lively and charitable Crab. You can also be adventurous, determined, and shrewd. The lucky color for those born on the 1st of July is Dark Cyan. The luckiest numbers for you are – 14, 41, 93, 86, and 48.
This article has brought you today's astrological predictions for all the sun signs like Gemini, Scorpio, Leo, Taurus, Cancer, and others. Check out the astrological prediction for all zodiac signs.
Horoscope for July 01, 2021: Check today's astrological prediction
Daily ARIES Horoscope:
It is high time that you took a break from your hectic schedule. There is nothing that can go wrong today. The monetary situation may change for the better. A new health routine may start giving health benefits right away. Changes made by you at the workplace may not be appreciated by all. Your partner is going to be very supportive of you today. For students, it is a good day to appear in any exam.  Lucky Colour: Light Green
Daily TAURUS Horoscope:
Work pressure will be mounting and you will not have much time to relax. But a  quiet day with family is recommended to rejuvenate you.  A friend is likely to step forward to finance your dream project. Certain measures taken pertaining to health will prove beneficial. A tricky situation at work may need to be handled competently.  A member of the opposite gender may show a keen interest in you. Lucky Colour: Yellow
Daily GEMINI Horoscope:
A new surge of confidence marks everything that you do today. A most heartening situation is likely to develop on the domestic front.  Wealth comes to you from various sources. Nature cure is likely to do wonders for those afflicted with health problems.  If you want to brighten the romantic front, then say it with flowers.  Lucky Colour: Chocolate
Daily CANCER Horoscope:
Putting money in property now is likely to prove a gold mine.  Excellent professional guidance will be required for those choosing career options. Tensions on the domestic front need to be handled with care. Health matters are of great concern for you now. Your effervescent nature will floor the love of your life. Lucky Colour: Beige
Daily LEO Horoscope:
The path that you have chosen on the professional front is likely to take you to greater heights. The condition of someone ailing is set to improve. Domestic peace and harmony may get vitiated by an argument.  Try to help needy people. Stay away from junk food. Romance proves to be a great stress-buster! Lucky Colour: Saffron
Daily VIRGO Horoscope:
Personal problems can make some turn to spirituality. Talk openly to people who matter to you. Helping out someone on the professional front will be in your interest. Take care of your health. You may summon the courage to let an important person know the feelings you have for that person. Those married may need to rejuvenate their love life. Lucky Colour: Sea Green
Daily LIBRA Horoscope:
You will get the opportunity to go on a leisure trip with your near and dear ones. There is a strong possibility that you will meet someone from your past today and that person is likely to play an important role in your future.  Your partner may do something that will increase your confidence in your relationship. Your upbeat mood will keep the domestic front in a happy state. Saying it with flowers will strengthen the bonds of love.  Lucky Colour: Peach
Daily SCORPIO Horoscope:
Keeping a low profile on the academic front will be important today. Money comes to you from an unexpected source. You may find yourself more fit and energetic, than before but might catch a cold or similar infection.  Lonely hearts are set to strike it rich on the romantic front today. Driving off to some exotic destination cannot be ruled out.  Lucky Colour: Beige
Daily SAGITTARIUS Horoscope:
The day is perfect for showing your talents. A close relation may come up with a marriage proposal for you. You will need to remain vigilant on the road. Health may not allow you to enjoy an outing or a family gathering. The one you love may become incommunicado for no rhyme or reason. Try to initiate a more passionate period in your relationship. Lucky Colour: Forest Green
Daily CAPRICORN Horoscope:
Try starting the day with some calming exercises to control your energy.  Those panicking over a deal can lay their worst fears to rest. The health of those ailing for long is set to improve. Tempers can flare up on the home front over some issue.  Spend time with your family to show your care and concern. Those romantically inclined can expect the day to rock. Lucky Colour: Dark Yellow
Daily AQUARIUS Horoscope:
Today is a bright time for creative people. Plans to travel to someplace exotic will get to see the light of the day.  There is a possibility of an inheritance coming your way.  Some of you will need a helping hand at work, so don't hesitate to ask. You can be tensed regarding a family issue involving the elderly.  Travel is on your card. An outing on the sly with a lover can make your day. Lucky Colour: Red
Daily PISCES Horoscope:
Monotony is not your cup of tea. It bores you. Harmony prevails on the family front and may motivate you to plan an outing with your near and dear ones. Cards show some discord with the partner today or even separation. Addressing an issue hanging fire for long now will save you from problems later. A balanced diet will be the first step in achieving good health. Lucky Colour: Dark Slate Grey
ALSO READ:  Cancer Love Horoscope: Personality,Traits, Compatibility and Celebs Born Under This Sign