Daily Horoscope 20th June 2021: Check Astrological Prediction For All Zodiac Signs
Check out today's Horoscope for all the zodiac signs.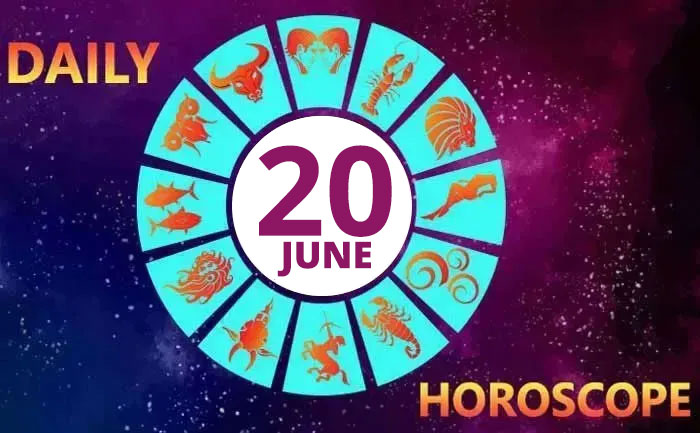 Horoscope Today, June 20, 2021: IF TODAY IS YOUR  BIRTHDAY: Your lucky number is 8. Today, with the help of a close friend, some businessmen are likely to gain monetary benefits. This is a number seeking stability, power, accomplishments, and material pursuits. Your lucky colors are Orange and White. Your lucky days are Wednesday and Monday.
This article has brought you today's astrological predictions for all the sun signs like Gemini, Scorpio, Leo, Taurus, Cancer, and others. Check out the astrological prediction for all zodiac signs.
Horoscope for June 20, 2021: Check today's astrological prediction
Daily ARIES Horoscope:
Today, with the help of a close friend, some businessmen are likely to gain monetary benefits. This money can overcome many of your troubles. Your ability to impress others will bring rewards. Today you will miss true love in your life. Don't worry everything changes with time so will your romantic life. Today you will get a lot of interesting invitations- and a surprise gift could also be coming your way.
Lucky Color: Black and Blue
Daily TAURUS Horoscope:
You could be more interested in looking for details instead of concerning yourself with the bigger picture. Moon's position in Libra may make you feel creative and this may help you in sorting or organizing for that matter, dear Taurus. This is an inspiring day for you so make sure you take advantage of this time accordingly. Your intuition is strong today and this may help you to avoid any problem which may leave you feeling perplexed and confused.
Lucky Color: Cream and White
Daily GEMINI Horoscope:
You may want to get your life back in order after spending some time partying or socializing over the past few days. It would be best for you to take out some time to plan and prioritize your work and focus on completing the pending tasks
Lucky Color: Green and Turquoise
Daily CANCER Horoscope:
Today, you are likely to attain economic benefits due to your children. This will make you very happy. You need to spend some time with children and teach them good values and let them know their responsibilities. Understand the feelings of your beloved today. After completing household chores, housewives of this zodiac sign can watch a movie on TV or get engaged in their mobile phones in their free time today.
Lucky Color: Red and Maroon
Daily LEO Horoscope:
Leo, you find that your self-confidence will be on the rise today. And it is all because of the presence of the Moon in Libra. Use it to your advantage and you will surely be in a position to impress those around you with your positive attitude and self-assurance. Also, if you are lucky enough you may come across someone who is impressed with you and may present you with an offer you just can't refuse.
Lucky Color: Cream and White
Daily VIRGO Horoscope:
Today, you should stop yourself from overspending unnecessarily, otherwise, there can be a shortage of money. Your brother will be more supportive of your needs than you had thought. You can brighten your love life by visiting some picnic spots. Your personality is slightly different from others, and you like to spend time alone. Today, you will get time for yourself but will be occupied by office work.
Lucky Color: Green and Turquoise
Daily LIBRA Horoscope:
The Moon in Libra may make you feel a bit mischievous today, dear Libra. There is a possibility that you may come across an old friend and you may spend some time chatting with your friend, recalling the good old days. Reconnecting with a friend after long brings back many memories and you would end up feeling nostalgic. Old friends are dear friends and maybe it's time for you to rekindle the friendship.
Lucky Color: Black and Blue
Daily SCORPIO Horoscope:
Today you may find yourself disappointed on a few fronts as a result of the Moon present in Libra. You may find that the goals you set out for yourself today are not being met very easily and it affects your confidence levels. You may be worried about your productivity, take a breather, do not stress over it. Today is just one day and you will see improvements on all these fronts soon.
Lucky Color: Orange and Gold
Daily SAGITTARIUS Horoscope:
Keep your patience as your continuous effort coupled with common sense and understanding will guarantee your success. You seem to know exactly what people need and want from you-but try not to be too lavish in your spending today. Go out with friends who are positive and supportive. It is not right to show off your love in every situation. Sometimes, it can spoil your relationship instead of improving it. Travel plans if any-might get postponed due to last-minute changes in your schedule
Lucky Color: Cream and White
Daily CAPRICORN Horoscope:
It is your luck rather than your courage and determination that will help to carry you through today. You should feel lucky as this is one of those days when everything goes your way with minimal effort from your end. Ride this wave of luck and good fortune and it will carry you through but do not take these times for granted.
Lucky Color: Cream and White
Daily AQUARIUS Horoscope:
The day ahead will be a hectic one and paying attention to everything that calls for your attention may prove to be difficult due to the presence of the Moon in Libra. You need to stay careful and keep everything around you well organized, dear Aquarius. Life gets better for you when you do not give in to your urges to hide your emotions and disconnect from others. Communicate and express your feelings, as difficult as it may seem to you.
Lucky Color: Brown and Grey
Daily PISCES Horoscope:
Some pressure at work and home will make you short-tempered. Control your tendency to live for the day and to spend too much time and money on entertainment. Do not let your children take advantage of your generous behavior. Today, you might go out with your life partner and spend a wonderful time together. You can get into a tiff with your senior at school today, which isn't right for you. Hereby, keep your anger under control.
Lucky Color: Silver and White.
ALSO READ: Daily Horoscope 19th June 2021: Check Astrological Prediction For All Zodiac Sign