Daily Horoscope 23rd June 2021: Check Astrological Prediction For All Zodiac Signs
Check out today's Horoscope for all the zodiac signs.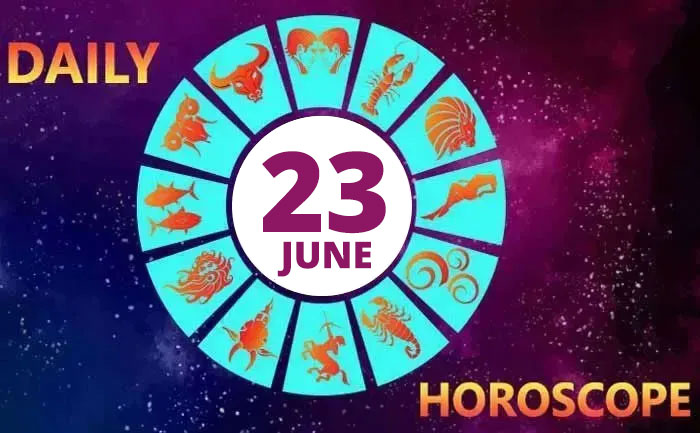 Horoscope Today, June 23, 2021: IF TODAY IS YOUR  BIRTHDAY: Your lucky number is 5. As a person born on 23rd June, you are likely to be an energetic, adventurous crab. Also tender-hearted individuals with feelings that are easily hurt.  You are also very protective, thoughtful, and sensitive. Your lucky colour is peach and the lucky numbers for you are 55, 28, 98, 21, and 62.
This article has brought you today's astrological predictions for all the sun signs like Gemini, Scorpio, Leo, Taurus, Cancer, and others. Check out the astrological prediction for all zodiac signs.
Horoscope for June 23, 2021: Check today's astrological prediction
Daily ARIES Horoscope:
Your day may not have begun on a happy note but it will definitely end on one. Your lucky color for the day is white. The possibility of attaining an important administrative position exists at this time. There have been some potential marriage plans floating around as of late and your parents` desires may conflict with yours.
Daily TAURUS Horoscope:
Your intelligence and common sense, as well as effective communication, will take you far towards reaching your goals. Your innovative ways of doing things will gain the respect of your seniors at work. You may misunderstand your partner today and this may result in some hurt feelings all around. Wear Grey for luck.
Daily GEMINI Horoscope:
It's a great day ahead for you and will find that all the nice things you do for others today will pay you back in more than one way. Lucky colour for you today is light green. if you want to increase your turnover and your public name recognition, you need to advertise. Remind yourself that the grass is not always greener on the other side.
Daily CANCER Horoscope:
Your enthusiasm will be on an all-time high. So it's important to channelize your energy wisely. You can express yourself fully but ensure that the harshness of the truth doesn't break down the person in front. Ensure several and choices before settling onto something specific. Your lucky colour is golden
Daily LEO Horoscope:
As a new relationship unfolds you will even be skeptical about your relationship with this new friend.  Your charm and inherent determination work wonders for you in your professional and social sectors.  Today you may find that you feel some extra concern for the health of your partner. Bright Blue is the lucky colour of the day.
Daily VIRGO Horoscope:
You will be brimming with fresh ideas so use all your energy and motivation to push forward your pending plans. Options chosen today regarding overseas opportunities would bring you joy in the long run. You may find yourself in an extramarital relationship. Stay away from temptation; it will NOT be worth it. Orange is your lucky colour for the day.
Daily LIBRA Horoscope:
Today an influential person will help you gain your long-term goals. If you are concentrating on professional affairs,  push forward with confidence in your future. Today will be a day for you to focus on prioritizing the things that matter to you most. Lucky colour is blue
Daily SCORPIO Horoscope:
Try to refrain from overthinking about a particular situation that may be a source of worry for you. Red will be your lucky colour. If you have been wondering what decision to make related to a work problem, take the advice of your spouse today. Your current relationship is solid and requires your effort to become vibrant again.
Daily SAGITTARIUS Horoscope:
Today you may be able to free your mind from all the weighty issues that may have been lingering on for quite some time now. Enjoy your newly found peace. At work, any problems you face in the beginning will be triumphed by your keen intellect. It is a day when you will go all out to please your spouse. Wear red for luck.
Daily CAPRICORN Horoscope:
You have this sudden urge to get all your unfinished work done. You also want to return all the borrowed things. Just ensure that they are in good shape. You also want to be careful regarding what you are keeping and discarding. You might have a misunderstanding with your partner. Brown is a lucky colour
Daily AQUARIUS Horoscope:
This could be a wonderful day where you can focus your mind and prioritize your duties so that no major responsibilities go undone. Wearing turquoise will help you deal with stress at work.  Sound advice from a qualified professional is indicated to be very helpful today, Today is a day when you may meet someone who intrigues you.
Daily PISCES Horoscope:
Some conflicts could crop up in the morning on the personal front. But as the day progresses you will back to your happy mood as always. Physical and mental well-being enhances your performance levels. You feel motivated to work very hard in your workplace. You are in the mood to indulge in anything that makes your partner happy. Rose Pink is lucky.
ALSO READ:  Cancer Love Horoscope: Personality,Traits, Compatibility and Celebs Born Under This Sign