Daily Horoscope 25th July 2021: Check Astrological Prediction For All Zodiac Signs
Check out today's Horoscope for all the zodiac signs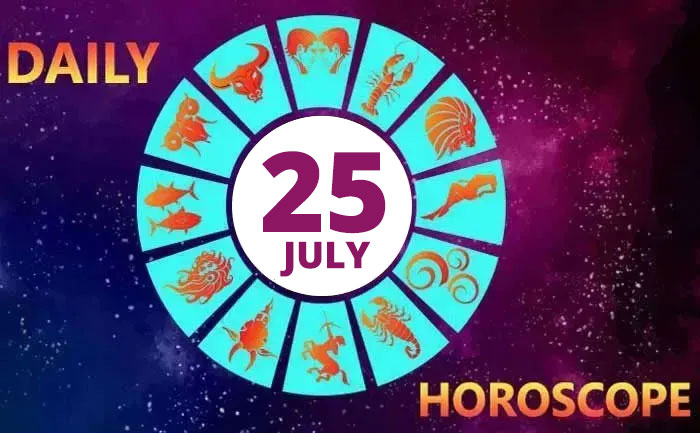 Horoscope Today, July 25, 2021: IF TODAY IS YOUR BIRTHDAY: Your lucky number is 9. People who are born on July 25 are more likely of being creative, enthusiastic as well as a loving people. They like being around like-minded people and they always brighten up their surroundings. The lucky colour for those born on the 25th of July is emerald green. Lucky numbers for you are 4, 8, 12, 16, 18.
Horoscope for July 25: Check today's astrological prediction
Daily ARIES Horoscope:
Keeping attention to your body is very important for few days from today onwards. If you see any odd symptoms, do not ignore them. Your stamina could face a few challenges today. Save your energy and be active all throughout the day. Reading spiritual or other books might help. Be an active recipient of your surrounding. There are good signals for your finances deals.
Daily TAURUS Horoscope:
You might end up feeling a little lethargic todau. Your fitness levels could also be low than usual. Make sure to dedicate the day to some healthy habits, overall aim of the day for you is to improve your health and feelings. Unexpected travel plans are on your way. If you have been struggling to maintain peace in your life, believe in destiny and do not stress. Everything would fall in its place eventually. Things are starting to change in your career as well as your personal life.
Daily GEMINI Horoscope:
It's the day to embrace happiness and good health. Be more active and indulge in building healthy habits. Focus on your career and business, there are good opportunities on your way. Traveling is not advisable. Save money, if you have been planning to spend on expensive purchases. You might consider relaxing.
Daily CANCER Horoscope:
Believe in yourself and go ahead with your plans. There are signals of life-changing opportunities. Try to be proactive when it comes to business and job responsibilities. You shall travel with friends or family. This might not be a very lucky day for you, however, it is enough good for taking initiative in your love life. Stay calm and stay away from violent people in your surroundings. You can take a decision is money matters as well.
Daily LEO Horoscope:
It's the day to take big decisions related to your career and business. It's favorable for you, try to avoid traveling unless it's very urgent. Keep attention to your love life and try to dedicate some time with your loved ones. If you have been considering revamping your surrounding and the way you live, then it's a perfectly suited environment to embrace the change.
Daily VIRGO Horoscope:
If you have been struggling with health-related issues, then today you might receive some good news. Your stars are in your favor today, so make sure to use the day for good things only. You might feel lonely today. If you have been considering investing your money or other assets, then dedicate this day to proper plannings. Try to remain in a calm state of mind, indulging in spiritual activities is also suggested.
Daily LIBRA Horoscope:
Take time for your self-care routine. Keep attention to your mental as well as physical health. The day might start a little slower than usual, however, there are signals of you being on the side of advantage. You can plan outings with your friends and family. You need to make a little effort to make this day more special. You are likely to feel more energetic and enthusiastic. Consider navigating your surrounding and keep attention to what people around you are doing that affects you and your goals.
Daily SCORPIO Horoscope:
Take long walks and keep your mind busy thinking about your life goals. It's a positive day for you to make changes in your lifestyle. Don't make any big decisions based on your changing emotions today. Also, don't let your guards down when it comes to legal or money matters. Stay positive, alert, and warm today, there might be some abrupt changes on projects that you have been working on for a very long.
Daily SAGITTARIUS Horoscope:
Today's planetary alignments suggest caution for you in terms of overall well-being. Your business, job, or love relationships could be put on a few tests. Make sure to be alert and attentive to your surroundings. Make each decision after consulting a trustworthy and elderly person. Pay attention to what's bringing challenges in your life. Be aware of spending money on useless things.
Daily CAPRICORN Horoscope:
Small issues could crop up in your relationship, family or friend circles, however, nothing to worry about them. There are temporary confusions. You might feel a little discomfort. You can consider giving second chances in matters of the heart. Travelling is suggested. Maintain a positive environment around you and keep those happy, who love you.
Daily AQUARIUS Horoscope:
The alignment of stars and planetary elements are in your favor today. Thus make good decisions and embrace the changes for good. There are no obstacles for you today. You might make new connections or love relationships. An important person might step into your life today. Better things are still to come so be patient and your financial status should also improve.
Daily PISCES Horoscope:
Your love and professional life might get affected due to outside influence. Have patience and don't get distracted by the temporary changes in life. Believe in yourself and your ideologies and make things turn around in your favor. Traveling is not suggested, instead, focus on your family members' health. You might have to deal with tense situations in family circles.
For more such updates, stay hooked on to The Live Mirror.
Also Read: Daily Horoscope 24thJuly 2021: Check Astrological Prediction For All Zodiac Signs