Daily Horoscope 25th Sept 2021: Check Astrological Prediction For All Zodiac Signs
Daily horoscope 25th September. Check out today's Horoscope for all the zodiac signs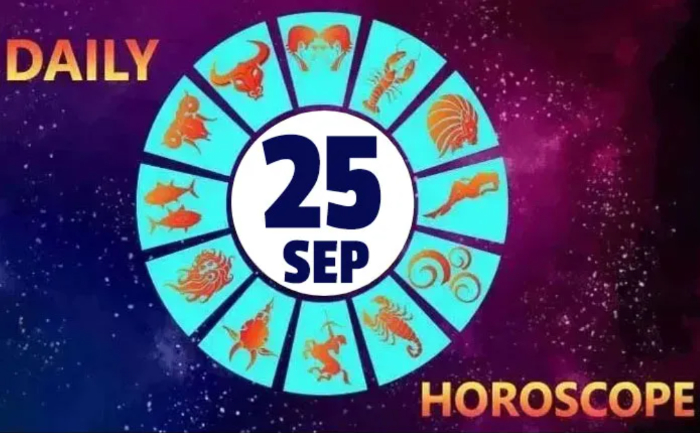 Horoscope Today, September 25, 2021: IF TODAY IS YOUR BIRTHDAY: Your radical number is 2. Those with a birthday on September 25 are usually caring, enthusiastic and introverts. The lucky color for those born on the 25th of September is emerald green. The luckiest numbers for those born on the 25th of September are – 2, 16, 18, 22 and 74. This article has brought you today's astrological predictions for all the sun signs like Gemini, Scorpio, Leo, Taurus, Cancer, and others. Check out the astrological prediction for all zodiac signs.
Horoscope for September 25: Check today's astrological prediction
Daily ARIES Horoscope:
Aries people might feel that their partners are not listening to them. The complicated environment to change to change soon. If you are taking legal, business and financial decisions, then do consult the experts. Don't get caught up by emotions and give space for your mind. You might not feel refreshed or recharges, however, the low feelings are temporary. Your lucky numbers are 18, 38, 74.
Daily TAURUS Horoscope:
There are good energies coming around you from Venus, the planet love is radiating. Its a great day for your to take road trips or plan for vacations. In financial circles Jupiter is sending you the good vibes and energy, make sure to use the day for great financial deals having Jupiter people around. You might feel little drained, pay attention to the task at hand. Your lucky numbers are 11 and 18.
Daily GEMINI Horoscope:
Your immune is getting better, don't miss out on paying attention to your diet and fitness regimens. People traveling by airplane, might encounter some technical issues while being on the way. Surround yourself with your loved ones, friends and family. Mars is sending you the good energy. Your lucky number is 42.
Daily CANCER Horoscope:
You might feel the urge of taking your relationship to a next level, however, you might have to face a few complications. Keep patience and practise mindfulness. You might find it difficult to find your luck while testing a few important things, wait for the good energies coming your way. Be around your friends and pay attention to your surroundings. Your lucky numbers are 12 and 18.
Daily LEO Horoscope:
If you have been delaying your tasks, its the day to complete the important ones. Today, avoid being a procrastinator and focus on completing the task at hand. You will feel motivated and ease. You can take big decisions in financial, legal and business matters. If planning to invest in real estate, consider taking elders advise. Your lucky numbers are 11 and 99.
Daily VIRGO Horoscope:
Your ex might try to reconnect or communicate with you. You might come across cheap travel deals, make use of the opportunity. Number 4 will bring a luck side to you today. Saturn is sending the energies to you, which is known for putting on the restrictions. There might a few disappointments, however, you will perform well in your business and career space.
Daily LIBRA Horoscope:
Its the day for you to care of your mental health. You might consider taking a day off and practise mindfulness. Those in relationships, might feel the urge to take their relationships to next level. Make sure to have healthy conversations with people you love. Pay attention to your family. The Sun and Uranus, both are sending you the good energies and you might also experience the luck being on your side. Your lucky numbers for days are 19 and 27.
Daily SCORPIO Horoscope:
Sudden travel plans might erupt with friends or loved ones. There is an off energy in the surrounding and you might feel it getting cleared throughout the day. You will feel filled with extreme emotions and love. Your career is about to take off. Although money has been the root of suffering in your life since long, the environments are changing now. Believe in yourself and pay attention to your gut feeling. Your lucky number is 5.
Daily SAGITTARIUS Horoscope:
You will experience moderate luck being on your side today. Venus which is known for governing the love and money matters, is sending your the financial luck today. Emotionally you might experience little drained today. However, be prepared to feel overwhelmed. Surround yourself with people, who helps you in challenging situations. Do not take big decisions without consulting the experts of the field. Students might score greatly. Your lucky numbers for the day are 11 and 17.
Daily CAPRICORN Horoscope:
Capricorns would feel the urge to change their life, this is because you were probably not paying attention to your mental health and close circle. Consider taking break and treat yourself with all the good things in life. Recharge and become refreshed. Even though travelling plans might be little difficult today, you might experience a cultural difference if these plans are successful. Married couples might indulge in financial arguments. Your lucky numbers are 2 and 16
Daily AQUARIUS Horoscope:
Be careful with what you do today. If you have enough money, then try to invest them wisely with elders advise. Go somewhere where you can see the art, this will make your feel refreshed and inspiring. Jupiter is sending you good energies, so experience moderate luck on your side. Financially, you are doing better than yesterday. Your lucky numbers are 8 and 9
Daily PISCES Horoscope:
Some light exercise will help you feel little relaxed. You are ready take on new challenges to change your environment. Pay detailed attention to your surrounding. Your co-workers might trouble or annoy you, however, be focused on your task at hand. You will experience an improvement in business/career space. Your lucky numbers for the day are 10 and 22.
For more such updates, stay hooked on to The Live Mirror.
Also Read:  Daily Horoscope 24th Sept 2021: Check Astrological Prediction For All Zodiac Signs