Daily Horoscope 27 April 2019: Check Astrology Prediction for Libra, Scorpio & Pisces
Today's Horoscope for zodiac sign Libra, Capricorn, Aries, Leo, Cancer and others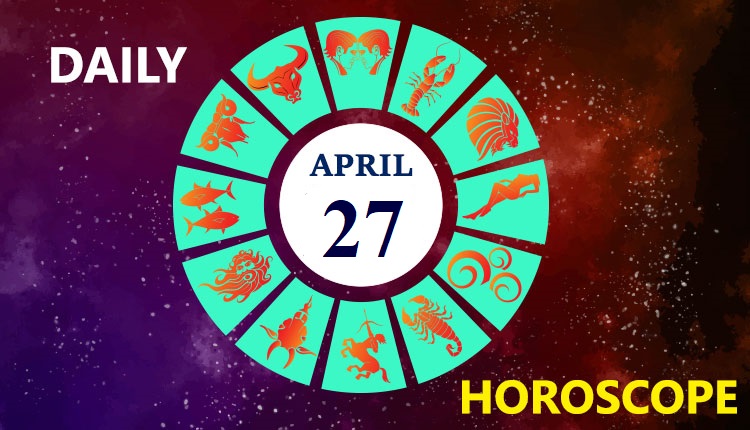 Horoscope Today, April 25, 2019: IF TODAY IS YOUR BIRTHDAY: If you were born today your lucky number is 9. Lucky days are Tuesday, Thursday and Friday and your lucky colours are Red and Pink. Careers suitable for you are garments, industry and medical.
Here's your daily horoscope as per your sun sign here:
Daily Horoscope ARIES (Mar 21 – Apr 20)
Moon settles in Capricorn today and this may keep you in a happy and cheerful mood.  There is a growing sense of understanding and respect between you and your loved ones.  You've moved beyond the problems of the recent past and are entering a more peaceful phase.  Wear color lavender for good luck and positive energy.
Daily Horoscope TAURUS (Apr 21 – May 21)
As Moon positions itself in Capricorn, you can expect a good day ahead of you and this planetary transit will make you feel optimistic and positive. The current alignment of the planets show that a  piece of good news may come your way.  Wearing Olive green for luck.
Daily Horoscope GEMINI (May 22 – June 21)
The transit of Moon in Capricorn may keep you in a grumpy mood. But this time of high pressure will pass and you will be back to feeling normal again. This will be a day rich in reflection, Gemini, you will be able to observe what is going around you while keeping a distance. Wear orange for luck today.
Daily Horoscope CANCER (June 22 – July 23)
As the Moon transits in Capricorn, today you may find yourself in the position of lending a much-needed ear to a friend who needs support. Single people may find someone new today . Some long-awaited recognition could come your way today, Cancer. Wearing something in Violet will bring luck.
Daily Horoscope LEO (July 24 – Aug 23)
As Moon positions itself in Capricorn, you could be feeling upset and frustrated. You should resist your urge to overspend today at all cost. You've entered a period of rethinking your identity and objectives.  So you have a day of profound reflection ahead. Wearing Bright Orange is lucky.
Daily Horoscope VIRGO (Aug 24 – Sept 23)
As Moon is placed in Capricorn it is likely that you may make acquaintances with few important people you meet professionally.  Make sure you put your best foot forward in order to make a great first impression. This would also be an ideal day to take extra good care of your body,  Wear blue to attract luck.
Daily Horoscope LIBRA (Sept 24 – Oct 23)
As Moon makes its presence felt in Capricorn you may be in a mood to consider your spiritual needs.  This may be one of those rare days where you will not be in a mood to do anything serious. Pay special attention to the choices you've made in your professional life. Wear the color purple for luck.
Daily Horoscope SCORPIO (Oct 24 – Nov 22)
As Moon enters Capricorn, some of you may feel confused regarding a few things in your life. However, your loved ones may be there to support you. Use this day to revel in the love of your close ones. Don't allow yourself to start new projects based on anything superfluous. Wear green for luck.
Daily Horoscope SAGITTARIUS (Nov 23 – Dec 22)
As Moon moves in Capricorn today, some of you may feel slightly irritated today. Try to keep a check on your temper.  Maintain emotional calm to avert problems.  Be careful not to go overboard, what you do today provides the blueprint for your future. Wear something in yellow for luck.
Daily Horoscope CAPRICORN (Dec 23 – Jan 20)
As Moon makes its presence felt in Capricorn, you will be in a happy and cheerful mood.  For businessmen, today you will finally see a return from an investment you made long ago.  Kiss your worries goodbye. Your efforts pay off as people listen to your advice.  The color Mauve will be lucky for you.
Daily Horoscope AQUARIUS (Jan 21 – Feb 19)
After some turbulence, your life may be slowly getting back on the path of progress You will be in a happy mood and your loved ones will keep you in good spirits,  Aquarius, don't ignore any urge you feel for solitude. Orange is your lucky color for the day.
Daily Horoscope PISCES (Feb 20 – Mar 20)
A good day lies ahead of you with the Moon's position in Capricorn, expect positive things to happen today. Money will flow into you from the most unexpected sources. Sometimes friends become a person's real family. Your friendships are deep and enduring. Wear Magenta to attract good luck.