Daily Horoscope 27th Aug 2021: Check Astrological Prediction For All Zodiac Signs
Daily horoscope 27th August. Check out today's Horoscope for all the zodiac signs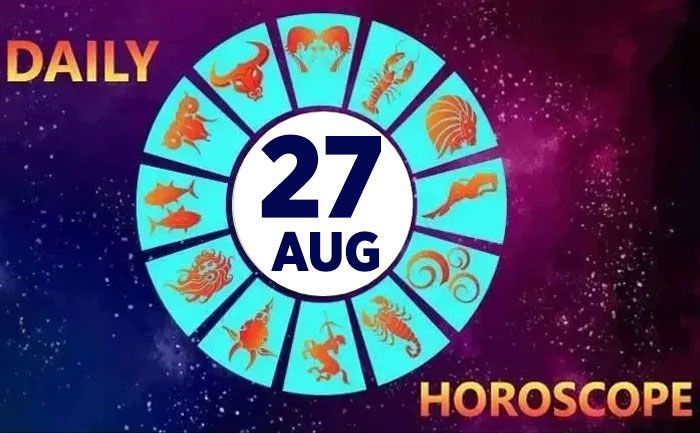 Daily horoscope 27th August 2021: IF TODAY IS YOUR  BIRTHDAY: Your lucky number is 9. Love is in the air on your birthday! The more you can open up and receive the love that is available now, the greater you will benefit from this bonanza all year long. Whether it is romantic, platonic, or family love, you are bound to be on the receiving end of a great deal of affection and appreciation now, as those around you express their gratitude for your presence in their life. Your lucky colors are red and pink. Lucky numbers are 6, 9, 14, 15, 18, 24, 27.
This article has brought you today's astrological predictions for all the sun signs like Gemini, Scorpio, Leo, Taurus, Cancer, and others. Check out the astrological prediction for all zodiac signs.
Horoscope for August 27: Check today's astrological prediction
Daily ARIES Horoscope:
Have you been thinking about adopting a pet? Even if you haven't, a lovely little dog or cat could come into your life now and show signs of wanting to stay with you, Aries. Don't let mundane considerations get in your way. An animal could bring a lot of joy into your life now. Your health should continue to thrive, though your energy might come and go in spurts.
Daily TAURUS Horoscope:
Good news will make your day. You were working towards an important thing for a long time and it will bear fruit today. An outing with colleagues is indicated. You will enjoy yourself and have a good time. You may make a decision regarding finances that will benefit you in long term. You may also visit holy places today.
Daily GEMINI Horoscope:
A sudden feeling of love for your home could catapult you into redecorating, Gemini. The news could come your way of sudden good fortune involving a family member. This is likely to affect the entire family in some way, so while you're happy for your relative, be glad for yourself, too. Don't be surprised if you feel a touch of envy. You're human, after all.
Daily CANCER Horoscope:
You are in a dominating mood today. You want to take the lead and demonstrate your authority. However, you have to be careful not to throw your weight around. You may accidentally step on some toes. Though you feel that you know better and can handle the situation better, you should still try for cooperation and harmony while tackling any project.
Daily LEO Horoscope:
Memories from your past could resurface, Leo. You might wonder why you're suddenly thinking about them, but they probably represent a release of old emotional hang-ups that have been holding you back. By midafternoon you should feel more focused, determined, and ready to take on just about anything. This is definitely a great day to start new projects or complete old ones.
Daily VIRGO Horoscope:
Rise and shine today. The stars predict that they have an important job for you. You need to make anyone near you happy today, this act in return will open the flood gate of good fortune for you. However, do not lend money today as you are prone to lose it forever. There should not be any issues with your health.
Daily LIBRA Horoscope:
Emotions could be running high today, Libra. Someone in your entourage may have a problem with an authority figure, and political issues could come up. You may feel powerful right now and tempted to throw your hat into the ring. However, it's best to stay out of anything political and channel that power and passion into your own project. That's far more likely to bring positive results.
Daily SCORPIO Horoscope:
Your inner strength lets you undergo some multilevel thinking. You are able to see varied sides of any issue. You are right in judging your friends and peer. Follow your intuition under circumstances where logical thinking has no scope. This is the time to explore the hidden potential within you. Stir away from any arguments as they may create a problem for you later.
Daily SAGITTARIUS Horoscope:
Sagittarius, your intuition is increased today to the point where you feel like a mind reader, like you could deduce the thoughts and motives of people you've never met before. Reading about news events might bring sudden insights as to how they're going to turn out. You could decide to put this ability to work advancing your financial condition. Do this if you can, within reason. Your insights are probably correct!
Daily CAPRICORN Horoscope:
You are going to fare much better today both at home and at work if you enter into a partnership. Individual efforts may run into snags that seem unexplainable and impossible to remove. Working as a team will go a long way in negating these blocks. Cooperation and team effort will end up with success for you at any venture.
Daily AQUARIUS Horoscope:
If you've been feeling less like yourself lately, Aquarius, a surge of inner power could push you over the top and make you feel strong and healthy again. You could decide to finish the unfinished tasks around you today. You might get most of them done by day's end. Don't forget to enjoy yourself, however. You will want to make the most of your newfound energy.
Daily PISCES Horoscope:
Life has been monotonous and lackluster over a long period of time. Try to spice up your life with little adventure. It may be a visit to your favorite holiday spot or undertaking some expeditions. Separate yourself from social and personal involvements for sometime to accomplish certain goals needing your full attention.
ALSO READ: Daily Horoscope 26th Aug 2021: Check Astrological Prediction For All Zodiac Signs