Daily Horoscope 28 April 2019: Check Astrology Prediction for Libra, Scorpio & Pisces
Today's Horoscope for zodiac sign Libra, Capricorn, Aries, Leo, Cancer and others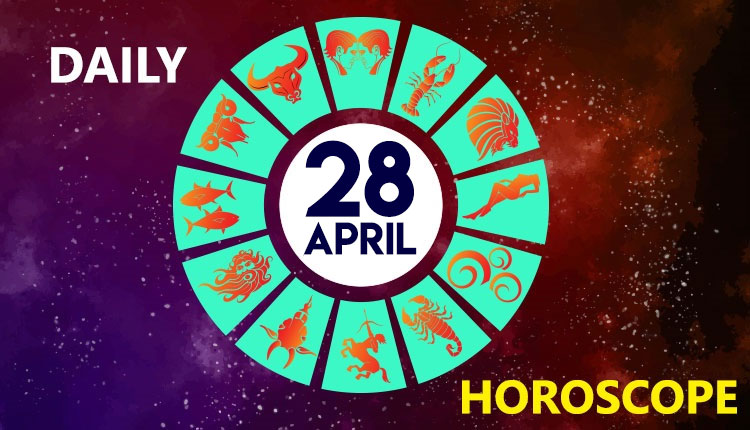 Horoscope Today, April 28, 2019: IF TODAY IS YOUR BIRTHDAY: Your Lucky Number is 1. Lucky days are Sunday and Monday, Lucky clours are red, orange, gold, yellow. Career medical and engineering.
Here's your daily horoscope as per your sun sign here:
Daily Horoscope ARIES (Mar 21 – Apr 20)
As you independently like to take decisions, you can be quite impulsive sometimes. Today, the Moon in Aquarius will make you go back to have a look at some of your unfinished tasks.  As for your love life, some exciting opportunities may arise.  Wearing a shade of red will attract good luck.
Daily Horoscope TAURUS (Apr 21 – May 21)
Today, the Moon in Aquarius will have you worked up about some pending tasks that could have come in at the last minute.  Do not panic, Taurus simply let go of your laziness and re-organize your schedule to include the new workload.  Do have faith in your actions. Wear blue for good luck.
Daily Horoscope GEMINI (May 22 – June 21)
Being full of energy, you like to be 'on the go' all the time.  The Moon in Aquarius today, will encourage you to plan your next trip soon.  This is a moment to start being creative in your life and stop being afraid of not having any talent. Wear gold for luck today.
Daily Horoscope CANCER (June 22 – July 23)
Being sensitive and reserved, you are also a hoarder.  The Moon in Aquarius will make you feel relaxed about your future. Your generosity will overflow and you will help anyone who turns to you for assistance.  It is a good day to spend time with family. Avoid the colour yellow today.
Daily Horoscope LEO (July 24 – Aug 23)
Today, you could be reminiscing about some good times you had with your loved ones. The Moon in Aquarius will remind you to indulge more often in activities that you love.   Don't be afraid to express your feelings today. Wearing indigo will prove lucky for you today.
Daily Horoscope VIRGO (Aug 24 – Sept 23)
Your perfection can be a bane sometimes to your health. The Moon in Aquarius will today, encourage you to de-stress both your mind and body. Wearing something in olive green today may help bring you some peace. Hold tight to your money, Virgo.
Daily Horoscope LIBRA (Sept 24 – Oct 23)
Always ready to sort out other people's problems in a just manner, life can be quite stressful. The Moon in Aquarius today will make you want to move away from people's melodrama and just head out to be on your own for sometime. Dark blue is your lucky color for today.
Daily Horoscope SCORPIO (Oct 24 – Nov 22)
You may give cause for someone to antagonize you today. It is well known that you make a delightful friend, but a terrible enemy. The Moon in Aquarius could very well put you in a dilemma today to forgive or seek vengeance.The color purple will bring positive vibes.
Daily Horoscope SAGITTARIUS (Nov 23 – Dec 22)
You do have a positive attitude about life. The Moon in Aquarius will caution you to keep tabs on your finance and put away some money for the rainy days. Sagittarius. You can rely on today's aspects to restore your confidence, White is your color for good luck.
Daily Horoscope CAPRICORN (Dec 23 – Jan 20)
Today, you may be feeling a little low as things may not be moving according to your plan. The Moon in Aquarius may make some Capricorns pensive as some project may have come to a standstill. You may have some trouble communicating today, Your lucky color for today is yellow.
Daily Horoscope AQUARIUS (Jan 21 – Feb 19)
You can make a good catch as a partner, since you are so caring.  Today, the Moon in Aquarius will make you come across some friend in a social do, towards whom you could get romantically inclined. You're radiant and glowing with happiness today. Light orange is your color today
Daily Horoscope PISCES (Feb 20 – Mar 20)
You may be feeling quite desolate today. The Moon in Aquarius will make you feel today like you are the odd one in this world. You will want to go into your comforting corner and shut everyone out. Be careful of what you do and how you do it! Light brown is your lucky color.