Daily Horoscope 30th Oct: Check Astrological Prediction For All Zodiac Signs
Daily horoscope 30th October. Check out today's Horoscope for all the zodiac signs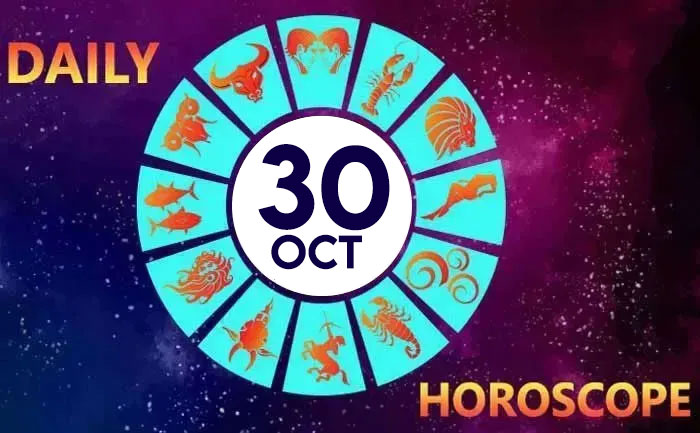 Daily Horoscope 30th October. 2021: IF TODAY IS YOUR  BIRTHDAY: Your lucky number is 3. Forget who you thought you were, on this birthday you will catch a glimpse of who you really are. Over time you have been maturing and during the process you've tried your hand at many different skills and life roles that did not seem to quite fit. The randomness of life is now giving way to an understanding of what really works for you and what does not.
This article has brought you today's astrological predictions for all the sun signs like Gemini, Scorpio, Leo, Taurus, Cancer, and others. Check out the astrological prediction for all zodiac signs.
Horoscope for October 30: Check today's astrological prediction:
Daily ARIES Horoscope:
As an Aries, your answer to the fearless, pioneering planet, Mars. Saturday's skies find Mars on the move as it transitions from peace-seeking Libra into the dark, emotional caverns of Scorpio. This is a supportive transition for you, as it provides you with increased strength, stamina, and a revitalized sense of independence. At the same time, your focus now turns towards resolving long-standing relationship complexes, now through December 13.
Lucky Colour: Yellow
Daily TAURUS Horoscope:
With a little patience and forbearance, the day can turn out to be very productive for you. But having that patience can be the greatest challenge now. Time will seem to slow down to a crawl and nothing would move fast enough to suit your mood. But if you try to hurry up the process, you can completely mess up your agenda. Try starting the day with some calming exercises to control your energy.
Lucky Colour: Rosy Brown
Daily GEMINI Horoscope:
Saturday's skies see a change in pace for you, Gemini. After weeks of deepening your connection to your creative capacities, you're ready to begin honing your craft and getting down to business. Motivated Mars moves out of peace-seeking Libra and transitions forward into sharp-focused Scorpio. This transition provides you with increased energy to apply towards your workload and exercise regimen, now through December 13.
Lucky Colour: Electric Blue
Daily CANCER Horoscope:
It is high time that you took a break from your hectic schedule and have a calm look at your surroundings and your condition. You have been rushing about fulfilling your various obligations. Now, you have completed all that you can do and it is time to relax and enjoy the fruits of your planning and your efforts.
Lucky Colour: Golden Brown
Daily LEO Horoscope:
Saturday's cosmic landscape holds several important shifts in store, Leo. After weeks of increased mental tension and tough conversations, the universe is working to bring some relief to your inner world. Go-getter Mars departs from indecisive Libra and moves forward into deep-feeling Scorpio, sending the bulk of your emotional energy towards resolving any looming home and family issues. Mars remains in Scorpio now through December 13.
Lucky Colour: Chocolate
Daily VIRGO Horoscope:
Your peaceful mental state may be intercepted by the interrogation from others. They are pretty curious to know whatメs up in your personal and professional arena. Someone close to you has leaked out your future plans in front of mouths that just donメt stop talking at all. Try to ignore all this and remain focused.
Lucky Colour: Rust
Daily LIBRA Horoscope:
A welcome wave of relief is likely to wash over you today, Libra. The past month has had you dealing with hotheaded Mars inhabiting your sign, which has added heaps of irritation and inflammation to your sense of independence. Saturday's skies find Mars sliding forward into sharp-minded Scorpio, increasing your need to hustle and activate your talents and skills, now through December 13.
Lucky Colour: Dark Grey
Daily SCORPIO Horoscope:
You are in an outgoing and exuberant mood. A number of opportunities on various fronts will open up in front of you and you are more than ready to take full advantage of them. Following your instincts today can lead to great things both in your finances and in your personal life and relationships. The day is going to be full of events and you are going to enjoy every moment of it.
Lucky Colour: Purple
Daily SAGITTARIUS Horoscope:
Open your mind to share your philosophies and ideas today with someone and you will find a kindred spirit. This can pave the way for a beautiful friendship or a viable partnership. With little observation, you will be able to learn a lot of things from others and this knowledge can be very beneficial for you. You may also meet someone who will share your opinion and ideas.
Lucky Colour: Peach
Daily CAPRICORN Horoscope:
Certain crucial planets are lining up in such a way that you will be presented with a rare opportunity to heal and make amends. You would be able to confess to some wrong that you have done in the past and will be able to atone for it. In doing so, you will be able to remove a great burden from your soul.
Lucky Colour: Lavender
Daily AQUARIUS Horoscope:
While the day indicates that you are going to enjoy great fun, it will be prudent to take some time in the morning and complete the tasks that you have left pending. Also, adjust and coordinate your schedule with other family members and colleagues so that no difficulties or misunderstandings arise later on. You can also get some good news today.
Lucky Colour: Dark Grey
Daily PISCES Horoscope:
The emotional heaviness you've been swimming through finally eases up today, Pisces. You've been digging up ancient relationship issues and addressing them head-on. Fortunately, Saturday's skies bring a welcome form of relief as self-assertive Mars departs from other-oriented Libra and moves forward into emotionally-rich Scorpio. Mars' time in Scorpio offers you the chance to apply energy toward travel and educational ventures, now through December 13.
Lucky Colour: Pink
ALSO READ: Daily Horoscope 29th Oct 2021: Check Astrological Prediction For All Zodiac Signs