Daily Horoscope 3rd Nov 2021: Check Astrological Prediction For All Zodiac Signs
Daily horoscope 3rd November. Check out today's Horoscope for all the zodiac signs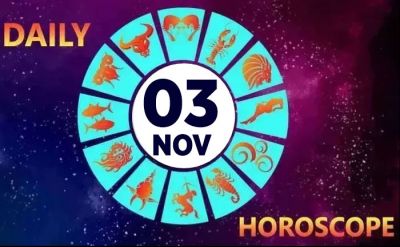 Daily Horoscope 3rd November. 2021: IF TODAY IS YOUR  BIRTHDAY: Your lucky number is 3.  This is a strong year for publicity and any other endeavors that involve spreading the word. As well, your ability to be objective–or to see the "big picture"–can be especially pronounced and rewarding this year. A project could complete and bear fruit.
This article has brought you today's astrological predictions for all the sun signs like Gemini, Scorpio, Leo, Taurus, Cancer, and others. Check out the astrological prediction for all zodiac signs.
Horoscope for November 3: Check today's astrological prediction
Daily ARIES Horoscope:
As an energetic Aries, it can be hard for you to focus on accomplishing one thing at a time. Tuesday's skies aim to slow your pace and help you hone your focus as the balance-seeking Libra moon forms a supportive alignment with capable Saturn. Use this steady and smooth energy to tackle future-oriented conversations in partnerships or group settings, as it's easy to ground plans and follow through.
Lucky Colour: Magenta
Daily TAURUS Horoscope:
Today you are more emotional than usual thereby risking your vulnerable self to others. At work, you will absorb pressure which will tire you by day end. Try to divide your work among team mates or schedule some work for some other day. Take a few works and produce quality work. You may enjoy delicious meal with someone special.
Lucky Colour: Light Grey
Daily GEMINI Horoscope:
Today, you will be able to take the first step towards discharging an obligation or return a favour. This can be mental, financial or spiritual. This does not mean that all your obligations will be settled today, but you will feel relieved that you are at last doing something to actually settle your debts. This will prove to be very rewarding for you.
Lucky Colour: Brown
Daily CANCER Horoscope:
You have no option but to heal yourself from the past to the present, Cancer. You've been steadily addressing any lingering emotional issues, especially those concerning your ability to form meaningful commitments. Tuesday's skies make it easy to gain headway in this department as the peaceful Libra moon aligns with grounded Saturn. Aim to keep things simple and reconnect to your core through cooking, journaling, and connecting with family.
Lucky Colour: Lemon
Daily LEO Horoscope:
Today is decision time. You have been worrying about some issues for the last week. However, today you need to take a decision which may seem tough at first. Your heart will guide you in the right direction. Think what youᅠwantᅠto do rather than what youᅠhaveto do and follow your heart. This will prove beneficial for you in the long run.
Lucky Colour: Violet
Daily VIRGO Horoscope:
Honor your need to be productive and useful today, Virgo. Tuesday's cosmic landscape thrusts you into action when it comes to your work environment and craft as the logical Libra moon aligns with self-disciplined Saturn. This supportive and steady alignment makes it simple to accomplish whatever you set your sights on, especially when your goals include activating your personal talents.
Lucky Colour: Sea Green
Daily LIBRA Horoscope:
You may have to trace back to the initial stages of few events. The cause for certain mishaps lay hidden in the roots. Your reputation in the eyes of others has suffered greatly because of this. It is very much necessary to be reserved and cautious in your approach lest people will try to be a hindrance in your quest.
Lucky Colour: Magenta
Daily SCORPIO Horoscope:
Remember that long pending job? You will get it done today. Today is marked for hard physical work. You are also supposed to gain both socially and financially for the hard labor. Be careful to avoid any confrontation today with your loved ones. The stars predict that a confrontation today will escalate to higher proportions in no time at all.
Lucky Colour: Rose
Daily SAGITTARIUS Horoscope:
Get your list of goals out, Sagittarius. Tuesday's cosmic landscape finds you needing to fine-tune the things you actually want to accomplish vs. those grandiose plans that may be too far out of reach. The logical Libra moon forms a grounded link with reality-based Saturn, making it easy to apply yourself towards any project that demands sober, steady thinking and clear communication skills.
Lucky Colour: Magenta
Daily CAPRICORN Horoscope:
This day can be especially significant for you. A new insight will occur to you or your viewpoint may be influenced by another person who may be a complete stranger. What you will learn and understand about yourself can play a key role in shaping your future life and your way of dealing with a pressing issue in your life which is preoccupying you right now.
Lucky Colour: Lemon
Daily AQUARIUS Horoscope:
Greener pastures feel painfully alluring today, Aquarius. The idealistic Libra moon has you pondering the instances of "should have, could have, would have" in your world today. Rather than get caught up in fantasy, work to see how you can establish a change of course. The moon's union with expressive Mercury gives a voice to stagnant feelings, while her square with potent Pluto illuminates long-held hurts. Thankfully, Luna's meeting with Venus later offers brightened moods through friendship.
Lucky Colour: Cream
Daily PISCES Horoscope:
You need to be in a more flexible frame of mind, but today you are likely to dig your heel in and refuse to listen to either common sense or good advice. This rigidity on your part will probably create some tension both at home and at work. The only remedy is to try to keep an open mind and listen to what other people have to say.
Lucky Colour: Brown
ALSO READ: Daily Horoscope 02nd Nov 2021: Check Astrological Prediction For All Zodiac Signs