Daily Horoscope 8th July 2021: Check Astrological Prediction For All Zodiac Signs
Check out today's Horoscope for all the zodiac signs.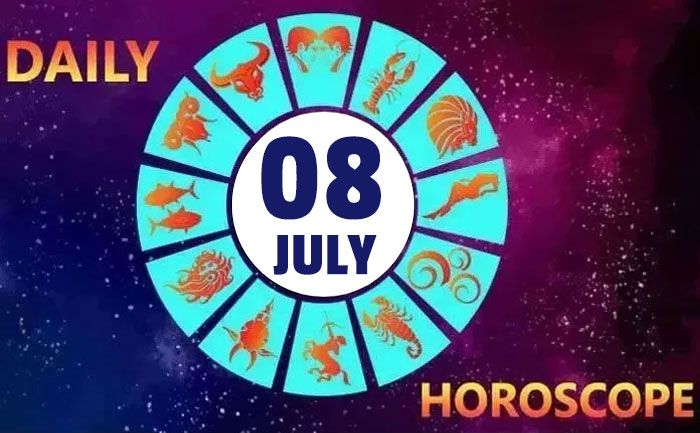 HOROSCOPE, Today, July 8th, 2021: Your lucky number is 8. The year is strong for being active with a partner or for a special relationship to boost your confidence, courage, and assertiveness. If you are not learning something new now, it may be a good year to try. Whether it be a two-day workshop or going back to school, this is the year to expand your mind. The more hard work and attention to focus on strengthening and growing your talents, the more this will pay off by the end of the year. Your lucky color is- red, black and blue. Your lucky numbers- 1, 4, 7, 8, 10, 16, 17, 19, 25, 26, 31.
This article has brought you today's astrological predictions for all the sun signs like Gemini, Scorpio, Leo, Taurus, Cancer, and others. Check out the astrological prediction for all zodiac signs.
Horoscope for July 07, 2021: Check today's astrological prediction
Daily ARIES Horoscope:
Open your mind to share your philosophies and ideas today with someone and you will find a kindred spirit. This can pave the way for a beautiful friendship or a viable partnership. With little observation, you will be able to learn a lot of things from others and this knowledge can be very beneficial for you. You may also meet someone who will share your opinion and ideas.
Daily TAURUS Horoscope:
Look at your resources today, Taurus. What skills of yours need dusting off? What needs changing around your approach to finance? These questions are ripe in your mind today, as the moon roams through hyperactive Gemini. Keeping things balanced in your world means getting your needs met as well. Don't sacrifice your well-being just to maintain peace.
Daily GEMINI Horoscope:
Inflated egos might block your progress today, Gemini, so be on the lookout for people trying to get a bigger slice of the pie than they deserve. Be realistic in terms of how you allocate resources to people around you. Someone may be trying to take advantage of your generous spirit. Use your detective skills to get to the root of the problem and make any necessary changes.
Daily CANCER Horoscope:
You feel full of energy and are ready for some seriously hard work today. Your flow of positive energy will even influence others so that you will energize every one of your team to work better. Even at home, you will shoulder much more responsibilities than you normally do, pleasing those near to you. You just need to make sure that this trend continues and you do not burn yourself out.
Daily LEO Horoscope:
Honor your need for solitude today, Leo. The moon crawls into cozy Cancer this morning, prompting you to disconnect from social media and to reconnect with your spiritual center. Luna's healing connection with big-hearted Jupiter offers room to sweeten bonds on the intimacy front. Elsewhere, magnetic Venus rumbles with change-bringer Uranus, delivering an intense need for freedom around career demands.
Daily VIRGO Horoscope:
Things might reach a climax in some way today, Virgo. Set aside time to think about what you can do to love yourself. Maybe you've been thinking so much about group needs that you've failed to think about how to take care of yourself. Preaching your ideas and values to others means nothing unless you apply them to yourself.
Daily LIBRA Horoscope:
There may be a sudden uproar of emotions in someone close to you. And the reason could be possible you! You have a tendency to quickly jump to conclusions! And have blamed the person for being unfaithful without properly looking into the matter! So you should better inculcate the patience of sitting back and watching the things get revealed at the right time.ᅠᅠ
Daily SCORPIO Horoscope:
Thursday's cosmic landscape helps you break through any tired, worn-out perceptions of your world, Scorpio. The moon wades into deep-feeling Cancer and immediately links up with big-hearted Jupiter, bringing a boost to your creative potency and craving for pleasure. Elsewhere, magnetic Venus dukes it out with authenticity-demanding Uranus. This unsettling aspect can bring potent relationship revelations to the surface.
Daily SAGITTARIUS Horoscope:
You might find that your emotions are going through a powerful transformation, Sagittarius. Use it to add a bit of spice and passion to your day. Set the tone by showing people that you have something to say and you aren't afraid to say it. Put a humorous spin on everything you do. This attitude will get you through any locked door.
Daily CAPRICORN Horoscope:
There seems to be an imbalance between your personal and professional life! The best way to sort it out is to clearly demarcate your work schedule for each day, which seems to be varied for each upcoming day! Donメt worry your dear ones wonメt fail to recognize your commitment towards them in spite of receiving less attention from you lately.
Daily AQUARIUS Horoscope:
Proceed with passion, Aquarius. Get out of gloomy mode. Don't sit home and mope. Get out in the sunshine, literally as well as figuratively. Don't stay cooped up inside when there is a big world out there to explore. This is a day to keep things light and energetic. Remember that happiness is a decision.
Daily PISCES Horoscope:
This day is particularly favourable for spending time with your family. Go for some bonding with your parents or sibling or enjoy a quiet time with your spouse. Get involved in a fun activity with your children. Even if work pressure threatens to mount, put them aside for today and celebrate the togetherness. You may be surprised at what you can learn from these family sessions.
ALSO READ:  Daily Horoscope 7th July 2021: Check Astrological Prediction For All Zodiac Signs