Daughter's Day 2020: Akshay Kumar to Shilpa Shetty, B-town celebs share special post for their daughters
Bollywood celebrities like Akshay Kumar, Amitabh Bachchan, and many others share a special post for their daughters.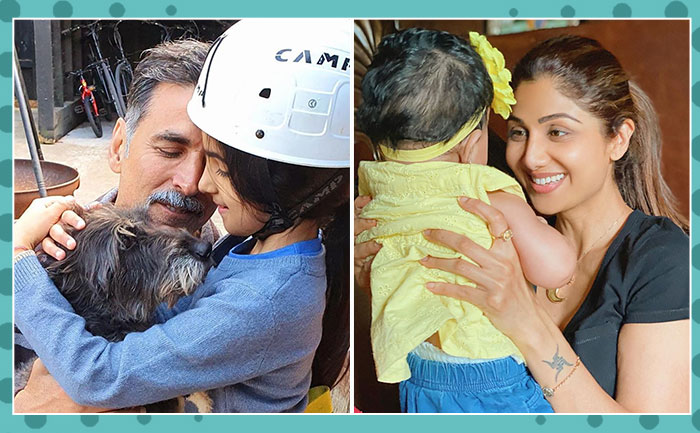 Every year, the fourth Sunday of September is observed as International Daughters' Day. On this special day, Bollywood celebrities like;  Amitabh Bachchan, Kunal Kemmu, Ayushmann Khurrana, Ajay Devgn, and many others took to social media handle to share heartfelt posts for their daughter's.
Check it out:
Amitabh Bachchan: "Happy daughter's Day ..🙏♥️🌹"
Ajay Devgn: "My daughter, Nysa is many things. My sharpest critic, my biggest weakness & strength as well. She's a young adult but to Kajol & me, she will always be our baby girl 🤗 #HappyDaughtersDay"
Soha Ali Khan: "May you never lose that twinkle in your eye, that bounce in your step or my favourite lipstick hidden in your pocket #happydaughtersday"
Kunal Kemmu: "When the world fits in your arms and you can embrace the life in it..the only relationship that's cemented for life the moment it starts is that of a parent and their child. To every parent and to every daughter. #happydaughtersday ❤️"
Lara Bhupathi: "Do I need a day to celebrate the undiluted, unfiltered, unrestrained, ball of love and joy and pureness that is my daughter???!! 😍😍😍 #nationaldaughtersday"
Neha Dhupia: "Words fall short … #happydaughtersday today and everyday my little chatter box ! #roar #simba ❤️ @mehrdhupiabedi"
Angad Bedi: "My lifeline… #happydaughtersday ❤️ waheguru mehr kare😊🙏 📸 by the late @ashishjparmar @nehadhupia #daddyslittlegirl #babygirl"
Shilpa Shetty: "Who says Miracles don't happen… Holding one in my hands now😇Life is such a miracle, isn't it?✨ That's the happiness I'm celebrating today on #DaughtersDay as I hold 🧿Samisha🧿 our daughter ❤️ I definitely don't need a day to celebrate her.. Cant thank God and the Universe enough for answering & manifesting our prayers, especially Viaan's, so beautifully; will be eternally grateful.
Don't forget to give your daughters a tight hug today 🤗❤️"
Akshay Kumar: "You are my definition of perfect! And I love you so much more than just to the moon and back ♥️ #HappyDaughtersDay my baby girl 🤗
Ayushmann Khurrana: "This was clicked in the Bahamas, in the beginning of 2020. We thought it'll be a very special year, and special it is. I get to spend so much of time with you. Happy Daughters Day my jaan.❤️"
Tahira Kashyap: "I celebrate you everyday!"
Perhaps she wants to change the world. Perhaps it's a world that needs changing" ENOLA HOLMES"
Soni Razdan: "I have two ♥️♥️'s and they beat within these two… #daughters #happydaightersday"
The Live Mirror wishes all the beautiful daughters a Happy Daughter's Day!