Delhi's garbage dump is getting hilarious reviews on Google
Delhi's Ghazipur garbage dump is receiving rave reviews on Google with some saying it is as tall as Qutub Minar.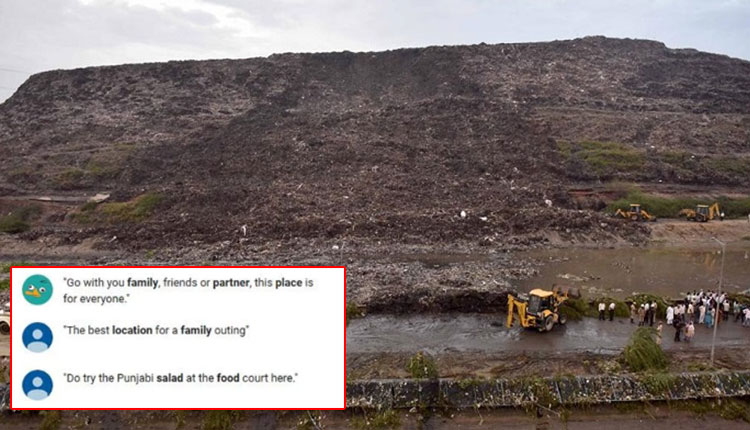 Delhi has been facing the bane of pollution since long. But there is another threat to the environment that is growing at an unbelievable speed. This is the Delhi's huge un-engineered dumping grounds that have grown by several metres. The garbage dump in Ghazipur is getting rave reviews on Google too. By now there are more than a hundred reviews on the dumpsite.
The waste pile at East Delhi's Ghazipur garbage dump is now almost the height of historical monument Qutub Minar. Of the three garbage dumping grounds in Delhi, this one is the oldest; it came up in 1984. The waste that is generated in East Delhi, Old Delhi and Central Delhi are usually dumped here. Though the landfill is long saturated, the civic authorities are turning a blind eye to it.
Locals are so disgusted with the authorities that they are now resorting to sarcasm to attract the attention. It has been a year since the locals have been rating the Ghazipur Landfill comparing it to the Himalayas and also dubbing it the most beautiful place in Delhi.
If one reviewer called it the "must go place with your friends, family and business partners," another termed it the "best location for a family outing" on Google. "Do try the Punjabi salad at the food court here," wrote another, in an attempt to highlight, ironically, the unhygienic place that gives off a particularly powerful stench.
Check out some of the reactions tweeted by Delhites here:
People have been rating the Ghazipur garbage dump of Delhi. It has mixed reviews with a rating of 2.9 out of 5. pic.twitter.com/GXSzQ3oVSt

— Siddharth Singh (@siddharth3) May 1, 2019
Rate and Review #Ghazipurlabdfill to popular tourist spots , tickets amount can be used for greening this landfill which is not only a #healthhazard for us citizens, but a blot on the global image of our national capital #Delhi and on our collective vision of #SwachhBharat pic.twitter.com/41Sikw1xYo

— Seema Mishra (@SeemaM4) May 1, 2019
I was driving my partner (who is based out of the country) at night once and he said 'oh wow you area has mountains?'. FHSAUGFKHJSAFGKJHAFGKAS CRINGE 🙁 (yep, this happened for real)

— Tanu D (@TDogra) May 1, 2019
Lol I actually confused it for a hill when I went there a few years back.

— Oindrila (@I_yam_nendu) May 1, 2019
"this is my destination wedding place" ?

— calmwinds (@eratticritic) May 1, 2019
Reminds me of that famous song 'My landfill brings all the boys to the yard..'

— Vinay Menon (@vinmenon) May 2, 2019
I have been there and it's the place you must visit before you die, in East Delhi.

— Kapsicum (@kapilrautela) May 2, 2019
The landfill is a constant source of air pollution and accidents. In 2017 a part of it had collapsed claiming two lives. The overall current rating of the garbage dump on Google is 4.0.
Also Read: Despite new waste-management rules, Delhi's Ghazipur landfill grows 15 metres in a year