Demonetisation Scam: RTI reveals black money exchange of Rs 11,300 crores; Shah-Modi in a fix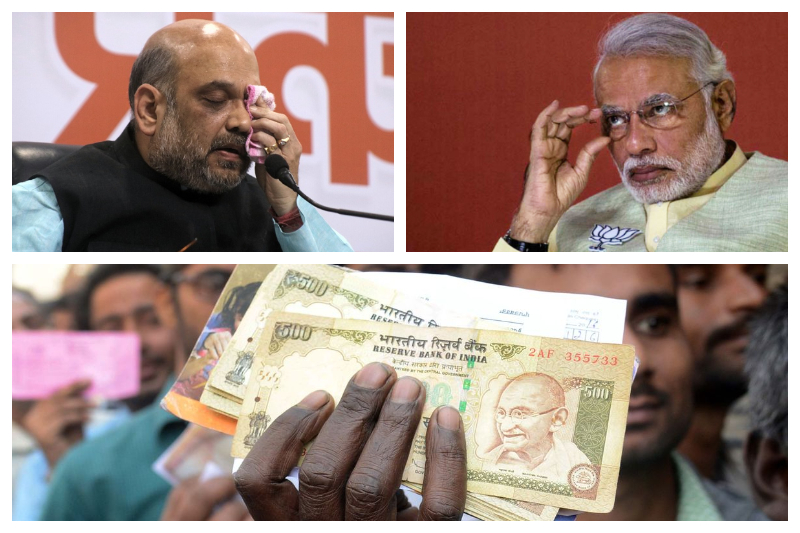 For the first time in four years, Prime Minister Narendra Modi is in a fix. An RTI reply from NABARD, received by a Mumbai resident reveals a scam of 'Rs 11,300 crores' during demonetisation by the 370 co-operative banks across the country, managed by Bharatiya Janata Party parliamentarians and legislators, which also includes the name of party president Amit Shah.
The reply states, that only in Gujarat state alone, 11 co-operative banks were involved in exchanging the old Rs 500 and Rs 1,000 currency notes, amounting to a whopping Rs 3,118 crores.  Co-incidentally, one of the bank – Ahmedabad District Cooperative Bank (ADCB), whose ex chairman and (allegedly) present director was none other Amit Shah – secured deposits of Rs 745.59 crores, just between a tenure of five days after demonetisation was announced on November 8, 2016, i.e. from November 10-14, 2016.
'Biggest Scam in Independent India'
Calling this as the 'Biggest Scam in Independent India' just to convert the black money into white in the BJP ruled states, Indian National Congress had challenged Modi to take action Amit Shah and come clean. Allegations of buying eight properties in Bihar and 18 properties in Odisha in the name of BJP and RSS, post demonetisation, were also charged by the Opposition.
Briefing the media and explaining the content details of the RTI reply, Congress spokesperson Randeep Singh Surjewala, not only thrashed the non-corrupt image of the saffron party – which they claim, but demanded that the Prime Minister answer to the people of India in the same fashion, he addressed the nation on November 8, 2016.
Taking a jibe at Modi, Surjewala commented that prior to 2014 General Elections Prime Minister stated a 'Jumla' that 'Na Khaunga Na Khane Dunga' (Neither take bribe, nor let others to do so), questioning that was this line 'Parantu Kala Dhan Safed Karwa Nahi Dunga' (Not let convert black money into white) a hidden addition to it?
Tall Claims, Fake Agenda
Since the BJP came to power at the Centre in 2014 and at numerous states in the consecutive assembly elections after it, the Indian Premier had made tall claims to make India corruption free, with his policies.
But media reports state that just before demonetisation was to be announced on November 8, 2016, a Maruti Swift car was caught with Rs 3 crores in old currency notes of Rs 500 and Rs 1,000 in Ghaziabad. The two drivers caught had stated that this money belonged to Amit Shah, which they were taking to Lucknow BJP office from 11 Ashoka Road in the national capital – residence of Shah. Numerous other incidents like these were reported after the demonetiation was announced.
Though the BJP-led Central governments and its ruled states made tall claims of success of demonetisation, now we do know whose success was it and who benefitted from it. As the data are in public domain, there is a suspicion whether there would be a fair enquiry into the matter, as it relates with BJP head honchos or not?.
Roaming Indian states and in his foreign tours, Modi had a numerous times boasted the success of his schemes like Digital India. But, the allegations of Rs 11,300 crores scam in 370 BJP-ruled states, and Rs 3,118 crores alone in Gujarat co-operative banks, with added charge of party president Amit Shah's involvement in helping exchange of Rs 745.58 crores old currency notes; it's a wet mud for Modi. The country is looking at the Prime Minister to answer on these released facts, revealed by a RTI from NABARD.