Diljit Dosanjh Hits Back At Kangana Ranaut After She Accuses Him Of Provoking Farmers 
Kangana Ranaut Has Recently Slammed Priyanka Chopra And Diljit Dosanjh Of Provoking The Farmers During Protest. The Punjabi Hunk Now Hits Back At Her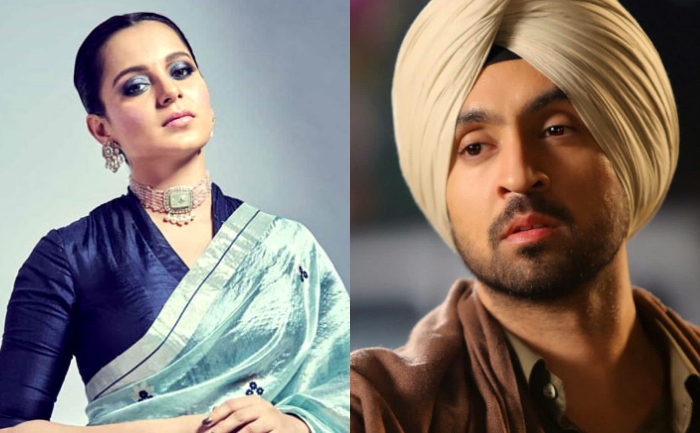 The 'Queen' actress in her recent tweet posts slammed Priyanka Chopra and Diljit Dosanjh and accused them of provoking the farmers during the protests for the new Farm Bill. The actress posted a cryptic note reacting to a viral video, wherein the host is seen checking protestor's knowledge on the Farm Bill and he also cross questioned farmers on why have been protesting so far. Now, Diljit Dosanjh took to his handle to slam the actress on her provoking remark.
Giving his response to Kangana's provoking remark, Diljit shared a cryptic post on his official Twitter handle. The Punjabi hunk shared, "Don't even think that I have disappeared. Who gave her the authority to decide who is a patriot and who is an anti national? Who made her the authority? Have some shame before you label farmers as anti nationals."
Disappeared Wala Tan Bulekha Hee Kadh Deo..

Naley Kon Desh Premi Te Kon Desh Virodhi Eh Decide Karn Da Hakk Ehnu Kiney De Ta ?

Eh Kithey Di Authority aa ?

Farmers Nu Desh Virodhi Kehn ton Paihlan Sharm Kar Lao Koi Maadi Moti.. https://t.co/4m4Ysgv7Qh

— DILJIT DOSANJH (@diljitdosanjh) December 16, 2020
Both the actors have been expressing their views on the ongoing Farm Bill and the protest.
For all the latest updates, stay hooked on to The Live Mirror.
Also Read:  Kangana Ranaut Alleges Diljit Dosanjh And Priyanka Chopra Of Provoking The Farmers During Protest-View