Ahead Of His UK Visit, Donald Trump Calls Meghan Markle 'Nasty'
The US president Donald Trump, who is all set to visit UK next week described Meghan Markle as Nasty and supported Boris Johnson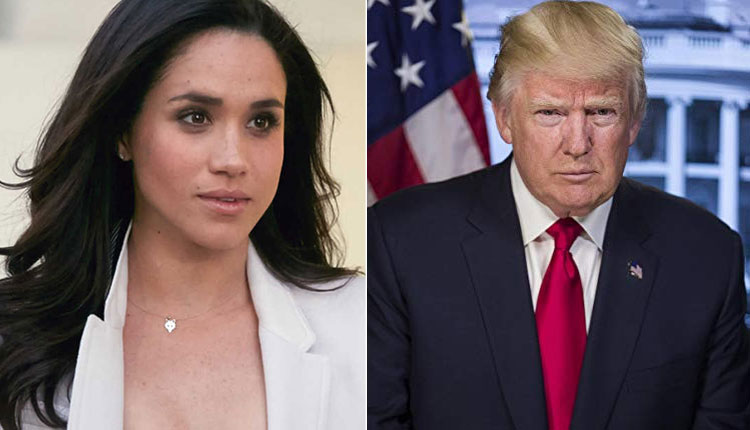 Days before his United Kingdom visit, the President of the United States Donald Trump called Meghan Markle 'nasty'. The beautiful former actress has recently given birth to royal baby, Archie. Donald Trump on his UK Tour is likely to meet several prominent personalities including Queen Elizabeth, Prince Charles, Prince Harry and Prince Williams.
It is to be noted that Meghan Markle had one called Donald Trump 'misogynistic' and 'divisive'. It is yet to be confirmed, the wife of Prince Harry, Duchess of Sussex, will meet the US President or not.
In an exclusive interview, when the President was asked he thought about Markle's misogynistic and divisive comment. Trump said that he had not heard those comments. He added,  "What can I say? I didn't know that she was nasty."
Notably, Meghan Markle was born and brought up in Los Angeles, California and worked in several American films and television has announced her engagement to Prince Harry, grandson of Queen Elizabeth II, in 2017. Later, she moved to London and retired from acting and started undertaking public engagements as part of the British royal family. Markle became Duchess of Sussex upon her marriage to Prince Harry in 2018.
Trump went on and admitted that it is nice to have an "American princess" and is sure she will do "excellently" in the role. "She will be very good. I hope she does [succeed]," Trump added.
Notably, Trump's UK visit comes at a time when UK Prime Minister Theresa May is all set to resign as a leader on June 7. Reacting to Theresa's decision, Trump said that he respects May but doesn't believe she has dealt with Brexit correctly.
He extended his support for Boris Johnson, saying he would do excellent if he was to take over as Prime Minister, and said he may meet with him during his visit.
Also Read: Priyanka Chopra Dismisses Rumours Of Meeting Meghan Markle's Royal Baby Archie