How To Download 'WhatsApp Status' Images And Videos Of Your Friends
How to save WhatsApp Status Images, Videos from your friends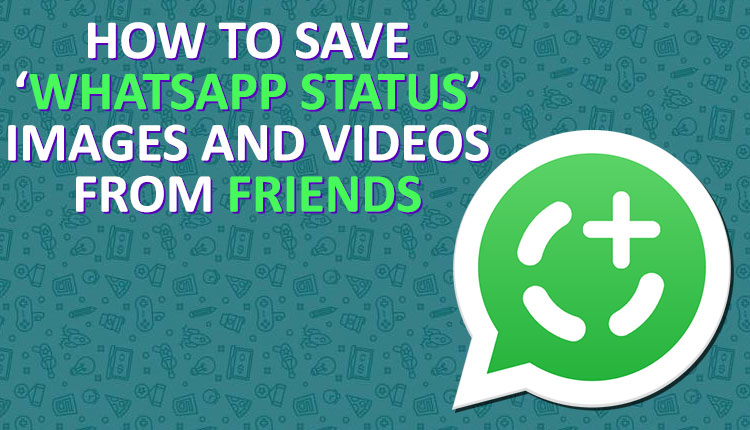 Everyone is busy searching on Google 'How to save 'WhatsApp Status' images and videos your friends put up as a status. Do you know that WhatsApp Status is a clone of Snapchat Story but now it seems to have overtaken the originators? You must know that whatever pictures, videos you put on WhatsApp status are automatically disappeared once 24 hour completes.
The status feature update is not only used by common people. Celebrities across the world are currently using WhatsApp, Instagram status feature to engage their fans. Instead of sending pictures and messages individually, you can directly send it so all by using the feature. But when the same thing is done by your friends, family members and beloved one and you want to save it, how would you do it? Top 15 Free Movies Download Websites To Download HD Movies
As we all know that WhatsApp is one of the most secured end-to-end encryption app, which only allows the sender and receiver to see the message. You might be failed to save or download WhatsApp status several times or ended up taking a screenshot of the same. In this guide, we will show you how to download WhatsApp Statue, irrespective of images, videos or GIF and What it the best way to save it in its original quality.
Here is how to Save/Download WhatsApp "Status" Photos and Videos
First of all, let me tell you that there is no WhatsApp official application to copy WhatsApp status. But there are certain Android applications which provide you options to copy and save WhatsApp statues of your friends. In this article, we will talk about two ways to save WhatsApp Statuses easily.
In the first method, you will have to use a dedicated Android app.
In the second method, you have to follow the manual way.
1. Save WhatsApp Status Using Dedicated App
In order to avoid any hassle or complexity finding a better suitable third-party application, we will drop the link of the best application to copy WhatsApp status. You do not need to do anything, the app will automatically collect the statuses you have seen and will show you in an organised way. Following is the procedure and steps to download status easily.
Open WhatsApp and see which status you want to copy or download.
Open Play Store on the same Android mobile and search Status Saver'.
Install Status Saver. 
Select the photos and videos which you want to copy and tap on the save icon ().
Images or videos which you save will be stored to the internal storage of your phone.
Yeah… You just learned the way to download your friends WhatsApp status and it would not disappear ever.
If you are finding it difficult the location where you have saved pictures and videos, you have to open File Manager App and go to Internal Storage and then Status Saver, all the filed you saved via Status Saved will be stored in this folder.
2. Save 'WhatsApp Status' files manually (using File Manager)
First of all, you should know that you will need a File Manager application to perform this method. There are several smartphones have it but if you don't, then download it from Google Play. We will recommend you to download Solid Explorer or ES File Explorer.
Here is the manual procedure of downloading WhatsApp Status: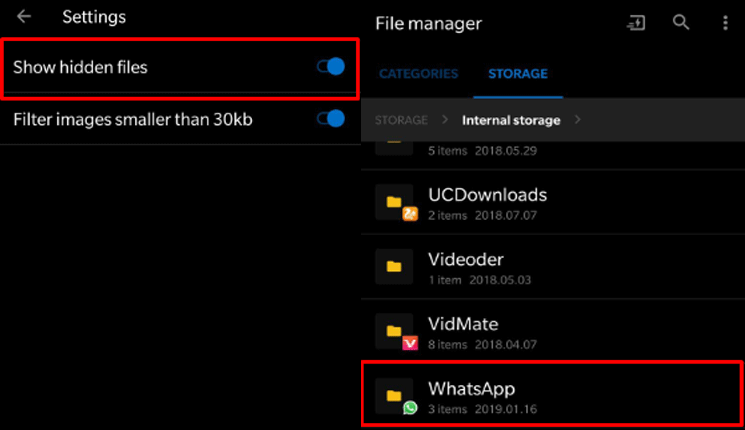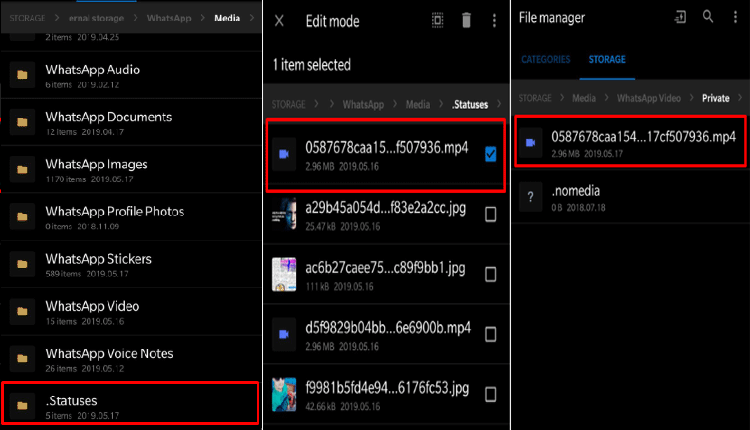 View the status which you want to download. Notably, this will not be available on your phone's storage for forever.
Open your File Manager or Solid Explorer
Enable 'show hidden files'
You are required to open the setting of your File Manager and set it to show hidden files.
If you are using Solid Explorer you can follow the path: Internal Storage>WhatsApp> Media> Statuses
Copy the photos and videos which you want to save.
Paste them into a different folder.
That's it! The copied photos or videos will be stored permanently. You can access them later by opening the folder where it was copied to.