7.1 Magnitude Earthquake Hits Southern California
A magnitude 7.1 earthquake struck Southern California causing multiple fires and injuries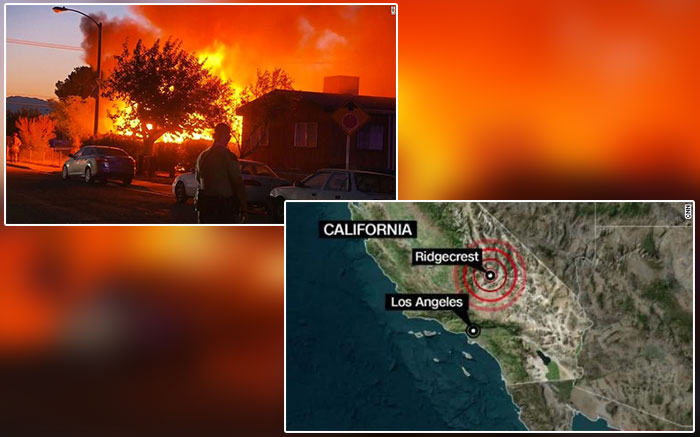 A 7.1-magnitude earthquake rocked Southern California on Friday night. This is a second tremblor to rock the region in less then two days. The second Earthquake occurred 11 miles northeast from Ridgecrest. It comes a day after a 6.4-magnitude earthquake centered near Ridgecrest on Thursday. The earthquake rocked buildings and cracked foundations, sending jittery residents out on the streets.
The newest earthquake's epicenter was about 10 miles north northeast of Ridgecrest. It was about 150 northeast of Los Angeles, near where Thursday's quake occurred. The Ridgecrest area has had more than 100 aftershocks since Thursday's earthquake. Multiple fires and injuries have been reported in the earthquake hit zone. The county has activated an emergency operations center.
About 3,000 residents in Ridgecrest and the surrounding areas are without power following the earthquake.
As reported by CNN, The San Bernardino County Fire Department said, "Homes shifted, foundation cracks, retaining walls down. "
MORE: Cracked buildings, fires, broken roads and several injuries have been reported in and around Ridgecrest, the area already trying to recover from the July 4th quake, California authorities said #EarthquakeLA

Read more @business: https://t.co/R1DE1DM3Wb pic.twitter.com/fAe8e5RJp2

— TicToc by Bloomberg (@tictoc) July 6, 2019
CalTech seismologist Lucy Jones said that both the earthquakes are part of an ongoing sequence. "The latest 7.1 earthquake was the main shock, while Thursday's 6.4 magnitude shake was a fore shock., " she added.
The shaking was felt as far as Mexico, according to the USGS website. Officials are not ruling out that there could be more earthquakes coming.
Also Read: Mild Earthquake hits parts of West Bengal and Jharkhand