Kishor Kumar's 'Ek Chatur Naar' To Be Recreated For TV show Bhabiji Ghar Par Hain
Bhabiji Ghar Par Hain to recreate Padoson film's classic song Ek Chatur Naar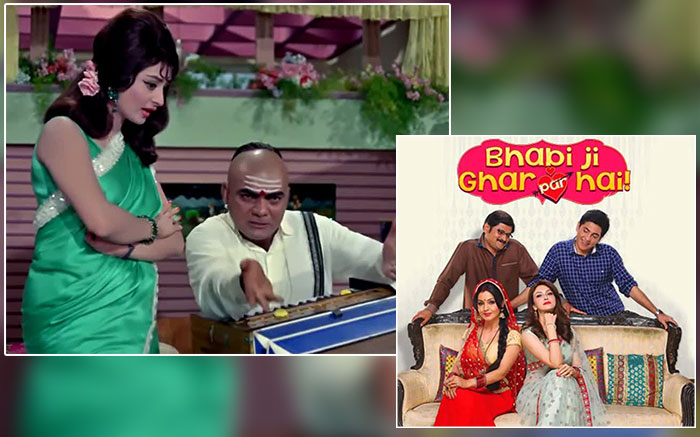 Kishor Kumar's iconic song from 1968 film Padoson, 'Ek Chatur Naar' will be recreated for one of the most popular Indian TV show, Bhabiji Ghar Par Hain. In the original song, Mehmood challenges Sunil Dutt to a musical duel to impress the beautiful actress Saira Banu.
According to a report in Mumbai Mirror, in Bhabiji Ghar Par Hai, Angoori bhabhi wish to learn Classical Carnatic music but her stingy hubby Manmohan Tiwari does not allow her to hire a teacher. Somehow, their neighbour, Vibhuti Narayan Mishra, overhears their conversation and transforms into Master Pillai, complete with a bald pate, dhoti and kurta, and offers his services.
Watch the original version of Ek Chatur Naar:
Notably, this is not the first time when a popular song is being recreated for Bhabiji Ghar Par Hain. Earlier, Raftaar and Anmol Malik had come together to record a single for &TV's runaway success. The song was loved by the masses and complimented the humour on the show.
Speaking about his transformation, Aasif Sheikh, who plays Vibhuti, shared, "Recreating Mehmood's magic wasn't easy, I had to closely follow his mannerisms and comic timing to bring the character to life."  Angoori Bhabi has revealed that she has watched the film more than 20 times. "Recreating this cinematic classic has been an amazing experience," she gushed.
Aren't you excited for the recreated version of 'Ek Chatur Naar' in Bhabiji Ghar Par Hai?
Also Read: 'Bhabiji Ghar Par Hai' Actress Saumya Tandon Flaunts Her Baby Bump