England vs India: Rain washes out first day of Lord's Test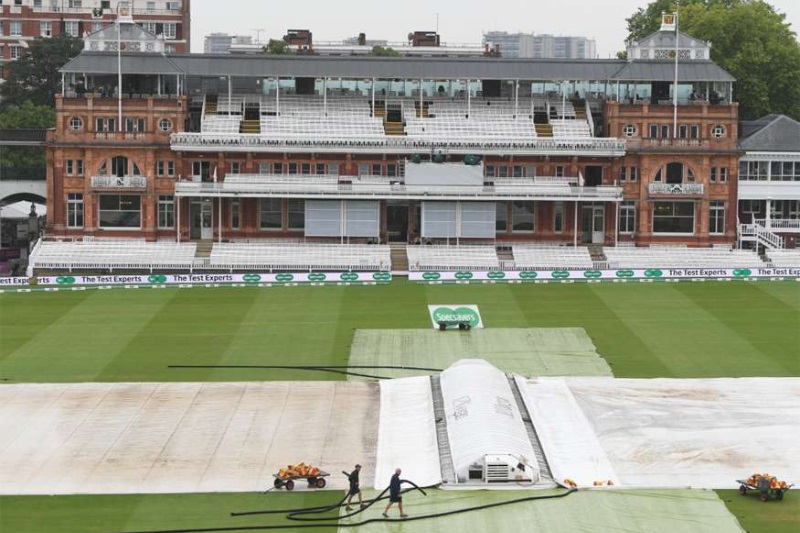 Persistent rain washed out an entire day one of the second Test between India and England at Lord's on Thursday.  The play was called off at 4:50 pm local time without a single ball being bowled after the umpires had taken a second inspection during what would have been the final session of play.
A mild drizzle has lashed the city since Wednesday night, meaning that players could not step-out to do their warm-ups and with heavy clouds lingering in the sky throughout the day, the Toss also could not take place.
Thousands of fans who had flogged into the stadium early morning were left disappointed because of the incessant rain. Many had gathered at the iconic Lord's stands in hope of seeing both the team play after the opening match proved to be a thriller. India despite Kolhi's heroics lost the match by 31 runs, handing England a 0-1 lead in the five-match series.
Also Read: England vs India: Will Lord's Luck change India's fortunes
With the drizzle not looking to stop, the umpires were forced to take lunch, half an hour before the scheduled time. But with no respite from the rain, the match officials decided to call off the opening day, 45 minutes after Tea was taken.
It was the first time a complete day of Test match was washed-out at Lord's since May 2001, against Pakistan.
In order to make up for the lost time, 96 overs will be played for each of the next four days. The weather forecast has however predicted rain over the weekend and also on Monday, meaning there may be stoppages in between play at regular intervals.
Both sides had earlier predicted the probability of playing an extra spinner on the dry pitch at London but with the sky, still heavy forecasted and rain predicted, Fast bowlers may once again be the decisive factor.
England is without their all-rounder Ben Stokes and has replaced him Chris Woaks. They announced their team of 12 on Wednesday, giving 20-year-old Oliver Pope his debut.
Meanwhile, India is yet to confirm their team for the Lord's Test, but Virat Kohli had said at the pre-match conference that he was tempted to play two spinners. This thought perhaps has changed after continuous rain throughout the first day.