For Mango Lovers: Everything about World's Most Expensive Mango- Miyazaki
Apparently, a couple has deployed security guards for their Mango plants in Madhya Pradesh (India). They are growing the rare Miyazaki mango primarily found in Japan. Here's everything you need to know about the world's most expensive mango-Miyazaki
Ever heard about Japanese Miyazaki plants? These are the Mango plants that grows the world's most expensive Mangoes. Well, now you must be wondering what makes these fruits so special? In the International market, the Miyazaki Mangoes are prized for being extra sweet and tasty. It is usually grown in great quality control to ensure that the fruit has up to 15% or more sugar content. Apparently, a couple in Madhya Pradesh left astonished after they saw that the two of their saplings produced ruby-colored mangoes which are primarily grown in Japan and are known to be the world's most expensive Mangoes variety. They come for a hefty price tag.
An orchardist couple Rani and Sankalp Parihar, based in Madhya Pradesh, reported planted the Mango siblings two years back. As per the couple, they have got the sapling of the Miyazaki plant from a man on a train. The couple was waiting to see the sapling turn a tree in a matter of few years. However, as the sapling developed it bore fruits. The couple was astonished to see the ruby-colored mangoes hanging on the sapling. To everyone's surprise, the sapling turned out to be a Japanese Miyazaki variety. And thus not wasting much time, they deployed heavy security for the sapling including dogs.
A FARMER COUPLE FROM JABALPUR OF MADHYA PRADESH HAS HIRED FOUR GUARDS AND SIX DOGS το PROTECT THEIR TWO MANGO TREES.

THIS IS BECAUSE THEY'RE HAVING SPECIAL MIYAZAKI MANGOES IN THEIR FARM & IT'S SOLD FOR RS 2.70 LAKH/KG IN INTL. MARKET @ParveenKaswan @deespeak pic.twitter.com/n07UgS5Sd7

— Anita Chauhan (@anita_chauhan80) June 17, 2021
Interesting details about the Miyazaki Mango:
Miyazaki Mangoes are typically different from yellow Mangoes. These are widely grown in Southeast Asia, according to the Japanese trade promotion center. Miyazaki's mangoes are shipped all over Japan, and their production volume is second in Japan after Okinawa.

These most expensive Mangoes are a minimum weight of 350 grams. They have very strict growing conditions to meet these criteria of being the sweetest and tasty Mango in the world. 

These Mangoes are grown in Kyushu (Japan) mostly as the climate in these locations during the warmer months is perfect for the variety to grow nicely
These Mangoes generally harvest between April and August.
The Miyazaki mangoes considered to be the world's most expensive. Which are usually sold for the whopping sum of Rs. 2.70 lakh per kilogram.
Reportedly, the production of these types of Mangoes first began in Miyazaki in the late 70s and early 80s. The extremely warm conditions in the city comforted the growth of the saplings.
Among its great nutritional properties include rich antioxidant, beta-carotene and folic acid.
Here check out few pictures of the Miyazaki Mango: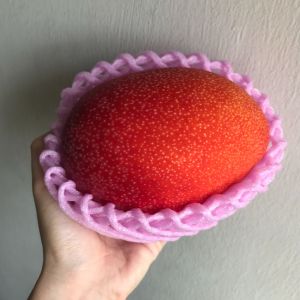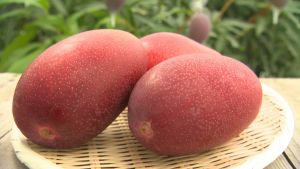 For more such updates, stay hooked on to The Live Mirror.
Also Read:  It's Mango Season! Top 7 Sites To Get Fresh Mangoes This Summer