Farmers Protest: Braving Water Cannons, Tear Gas Shells Farmers Inch Closer To Delhi
Farmers Protest: Farmers from Punjab stopped from entering Delhi at Singhu border; police use tear gas shells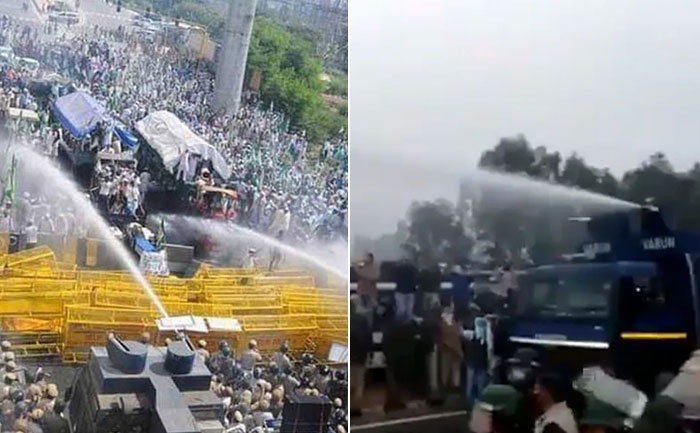 Farmers are protesting the three farm laws and have started the 'Dilli Chalo' protest from November 26 and 27. More than three lakh farmers, including over two lakh protesters from Punjab alone, have reached Delhi border. The governments in Haryana, Uttar Pradesh and Uttarakhand have adopted severe repressive measures to restrain them. They have not only used water cannons and tear gas shells but also arrested more than 100 local farmer leaders. Several others were detained to prevent their movement through states.
#WATCH Police use tear gas shells to disperse protesting farmers at Singhu border (Haryana-Delhi border).

Farmers are headed to Delhi as part of their protest march against Centre's Farm laws. pic.twitter.com/Z0yzjX85J5

— ANI (@ANI) November 27, 2020
According to a joint statement released by Samyukt Kisan Morcha and All India Kisan Sangharsh Coordination Committee (AIKSCC), farmers in and around Delhi, Uttar Pradesh and Haryana are preparing for massive protests in their villages and government offices, to move into Delhi to demand that the central government withdraws the three farm laws and the Electricity Bill, 2020.
पुलिस और सरकार ढेरों तरीके अपना रही है किसानों को रोकने के लिए। अगर गड्ढे नहीं , पुलिस द्वारा पानी और आंसू गैस के गोले की बौछार नहीं, तो प्रचार तंत्र ( न्यूज़ चैनल्स ) उन्हें देश द्रोही , खालिस्तानी और राजनीतिक दलों के पिट्ठू बताने में जुटे हुए हैं । https://t.co/E7XZD1FYHf

— Abhisar Sharma (@abhisar_sharma) November 27, 2020
They added, lakhs of farmers have crossed police barriers at four places on Punjab-Haryana border and are just 100 km away from Delhi. Large tractor convoys are expected to enter Delhi either tonight or tomorrow morning.
Delhi Police seeks permission from Delhi Government to convert nine stadiums into temporary prisons, in view of #FarmersProtest

— ANI (@ANI) November 27, 2020
720 farmers have been arrested in Delhi while they were marching from Majnu ka Tila towards Rajghat. Detained protesters were taken to a stadium in Hari Nagar.
Also Read: Karnataka Police Lodges An FIR Against Kangana Ranaut After Her Remark On New Farm Laws