Mamata Banerjee tweets support for Delhi CM Arvind Kejriwal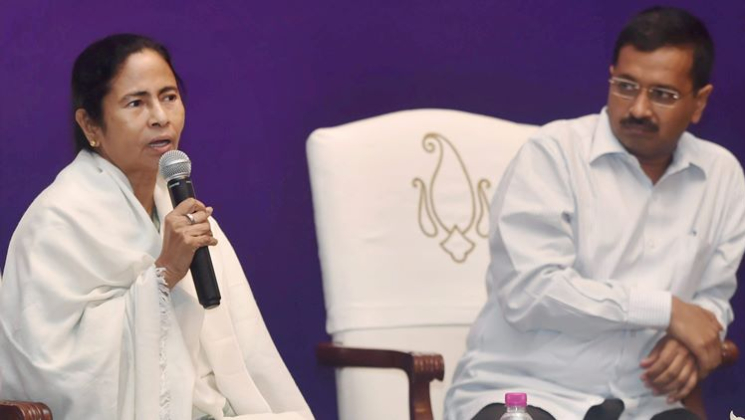 Four non-BJP Chief Ministers met Prime Minister Narendra Modi on Sunday at the meeting of the NITI Aayog's fourth general council meeting here and urged him to immediately resolve the problems of the Delhi government. The four Chief Ministers – West Bengal's Mamata Banerjee, Kerala's Pinarayi Vijayan, Karnataka's H.D. Kumaraswamy and Andhra Pradesh's N. Chandrababu Naidu – have extended their support to Delhi Chief Minister Arvind Kejriwal's sit-in protest at the Lt. Governor's office. "I along with the Chief Ministers of Andhra Pradesh, Karnataka and Kerala have requested the Prime Minister to resolve the problems of Delhi government immediately," Banerjee tweeted. She is in Delhi to attend the NITI Aayog meeting.
The meeting, chaired by Modi, was not attended by Delhi's Arvind Kejriwal among others. In a bid to show their solidarity with Kejriwal, the four Chief Ministers on Saturday met and discussed a strategy to provide support to the AAP leader who wants IAS officers to end their non-cooperation with his government. The four Chief Ministers visited Kejriwal's residence and met his family. They also wrote to Delhi's Lt. Governor Anil Baijal seeking to meet Kejriwal, who is on a protest at Baijal's office-cum-residence, Raj Niwas. They said the permission was denied and wondered if this was possible in a "democracy". At a joint press conference, they accused the Central government of "restricting the federal system" and termed it a threat to the nation. "We will tell the Prime Minister to intervene in this matter and solve it. Had the President been here, we would have told him too. This is a democracy and that is not how a democracy functions.
They (Centre and Lt Governor) are not allowing the government to function. They (Kejriwal government) say they are not able to work. What will they do? Their work has been obstructed and restricted," Banerjee had said on Saturday. Kejriwal, along with Deputy Chief Minister Manish Sisodia and Cabinet ministers Satyendar Jain and Gopal Rai, is camping at Raj Niwas since Monday demanding a direction to the IAS officers working in the Delhi administration to end their undeclared strike. He also wants the central government to approve his government's proposal to deliver ration to the poor at their houses.