'Friends: The Reunion' censored in China, cut out BTS, Lady Gaga, Justin Bieber
'Friends: The Reunion' aired on May 27. Here's why China censored BTS, Lady Gaga, Justin Bieber from the episode.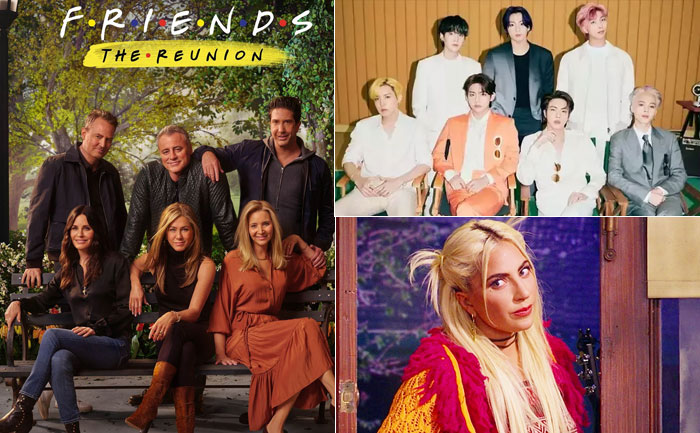 On May 27, 'Friends The Reunion' also known as 'The One Where They Get Back Together', aired globally. The show's main cast, Jennifer Aniston, Courteney Cox, Lisa Kudrow, Matt LeBlanc, Matthew Perry, and David Schwimmer reunited after 17 years.
The episode was filmed in Los Angeles, California, at Stage 24, also known as the "The Friends Stage" at Warner Bros. Studios, Burbank, where Friends had been filmed since its second season.
The unscripted episode show the main cast revisiting the sets of the original show, meet with guests who appeared on the show as well as celebrity guests, and re-enactments of Friends episodes, and share behind-the-scenes footage.
Guest celebrities like Christina Pickles (Ross and Monica's mother Judy), Elliott Gould (Ross and Monica's father- Jack), Larry Hankin (Mr. Heckles), Tom Selleck (Richard), James Michael Tyler (Gunther), Maggie Wheeler (Janice), Reese Witherspoon (Rachel's younger sister Jill), David Beckham, Justin Bieber, BTS, James Corden, Cindy Crawford, Cara Delevingne, Lady Gaga, Kit Harington, Mind Kaling, Thomas Lennon, Malala Yousafzai were also be featured.
However, in China, the reunion episode was censored wherein the bits of BTS, Lady Gaga, and Justin Bieber were removed. While other guest stars remained in the Chinese version. The special was streamed on iQIYI, Youku, and Tencent Video.
it is unclear who had ordered the cut. Lady Gaga has been banned following her 2016 meeting with Dalai Lama. Justin Bieber was also banned from performing in China, with authorities blaming his "bad behavior" in 2017. However, Bieber has been promoting his past two albums Justice and Changes on Chinese music platforms. BTS faced boycott calls in China in 2020 after band member RM endorsed the alliance between the United States and South Korea during Korean War.
Many fans expressed anger for cutting several scenes on Twitter, while many came out in support of the censorship.
ALSO READ: 'Friends: The Reunion' Goes Live, Fans Turn Emotional