Ganesh Chaturthi: Here's the significance of Gauri Pujan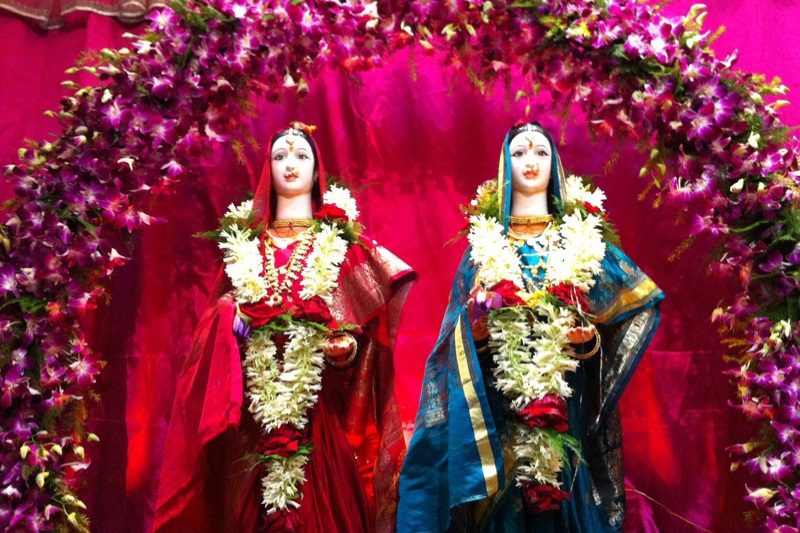 The idols of Gauri, the incarnation of Parvati, are brought usually two days after the outset of Ganesh Chaturthi. It is placed for three days – first day is the arrival also known as avahana, next day it is worship or the Satyanarayan puja, and on the third day Gauri is immersed in water. Arrival of Goddess Gauri in homes is the herald of health, wealth, happiness and prosperity. Two idols of Goddess Gauri are brought home and adored.
These two Gauri idols are regarded as sisters of Ganesha. In West Bengal, goddess Lakshmi and goddess Saraswati are sisters of Ganesha, and all three are the progenies of goddess Durga. In some places, Laxmi is invited along with Gauri. Some legends suggest that Laxmi and Saraswati always stay with lord Ganesha in
the form his two wives Riddhi and Siddhi. Goddess Laxmi is always worshipped associated with some other gods or goddesses. When no one is associated with Laxmi, then she comes with her twin elder sister Kulaxmi, the goddess of strife. That is why Laxmi alone is not invited or worshiped. In this festival of Ganpati, Laxmi comes with Gauri.
Gauri is normally followed by Ganesha, and hence their relationship is tied up as of sisters and brother. In the past, the married girls were under draconian family restrictions. At a few occasions, they were allowed to visit their parents' home. Gauri-Ganpati was such an occasion, when the married girls could see their parents and stay with them. After being worshipped, these idols are immersed in water, a reminder of the cyclical nature of all existence. The idols of Gauri are brought usually two days after the beginning of Ganesh Chaturthi.
Satyanarayan puja is an essential part of the entire festival. Satyanarayan is a form of Lord Vishnu and it is believed that by worshipping the Lord of truth, all deeds of previous birth or similar factors can be overcome. The puja started with cleaning the place where the picture was to be placed.  Names of Vishnu were chanted along with various offerings. Hereafter, the story of Satyanarayan popularly known as the Satyanaryan katha was heard by all the devotees. The prayer is concluded with a ritual called Aratika, a ritual consisting of revolving a fire lit lamp with close vicinity of the image. Once the puja is over, the devotees seeked blessings and were offered the Prasad.
Also read: Ganesh Chaturthi celebrations: Surat shines with diamond