Glenn McGrath: Ishant Sharma should figure out his role in Indian cricket Team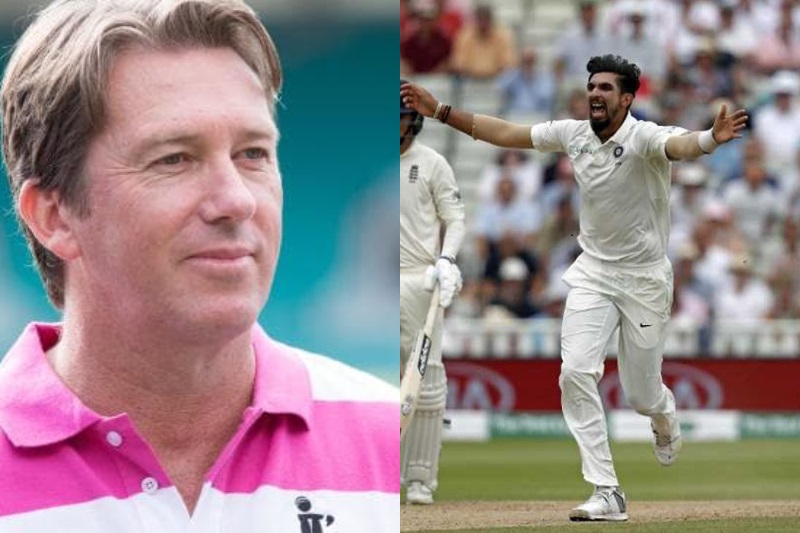 Australian fast-bowling legend Glenn McGrath on Monday said that Ishant Sharma needs to figure out his role in the Indian team and must decide on what he wants to be doing,
Sharma, who took a five-wicket haul in the second innings against England, impressed McGrath with his length and adaptability at the green wicket in Edgbaston.
"When Ishant started off, he took the world by storm bowling good pace. He is probably not bowling at the same pace. But he is much more experienced now with good control. The Edgbaston Test showed that Ishant has started adopting a bit more," McGrath told PTI on the sidelines of a cricket camp organized by the Haryana Cricket Association and MRF Pace Foundation.
But despite his success, McGrath feels that the lanky pacer has been more of a work-horse than an attacking bowler.
"I guess a lot of pitches in India are tough to play on. Probably, he didn't bowl that many spells. Maybe, he has been used more as a workhorse rather than an attacking bowler. I think he needs to find in what role he fits in," said the three-time World Cup winner.
Currently leading the Indian pace attack, Ishant has taken 244 wickets in 83 Tests and McGrath believes that the 29-year-old needs to increase the wicket column. He advised Ishant to heat the seam more often for better results.
"You have got to hit the seam and maybe a bit of movement off the pitch will help," he said. My weapon was bounce and occasionally a bit of seam movement. In my case, there was Warnie, Lee and Gillespie bowling from another end to build pressure.
"I liked bowling long spells and that helped. If you are only bowling short of length always, you are looking at stopping runs but you need to take wickets."
Following his wonderful spell of bowling in the second innings of the first Test, Ishant who played county cricket after being snapped by the IPL franchise had acknowledged that it had helped in understanding English conditions better. McGrath echoed the same sentiments on Monday.
"In England, where the ball swings, you have got to be a bit fuller, so his stint at Sussex did him a world of good."
"My good mate Jason Gillespie (coach of Sussex) has done incredible work as a coach. I played county in 2000 and 2004 and learned a lot to bowl in English conditions," he added.
McGrath who has taken 563 wickets in his Test career and is fourth on the all-time list was however disappointed with India's batting in the opening Test.
"I was a bit disappointed in the manner India batted as they have a quality line-up. But if you take out Virat, they have struggled. Maybe it's not as settled as the bowling," he said.
He also spoke about the length he would bowl to current world number one Test batsman Virat Kohli, saying that he would just look to bowl in the right areas as the Indian skipper does not have any weakness.
I would have enjoyed the challenge (of bowling to Kohli) no doubt. It's just about getting enough balls in the right area. You don't see any obvious weakness there and it's just about building pressure.
"I loved bowling to guys like Sachin Tendulkar, Brian Lara, and Rahul Dravid because as a bowler, you want to step up and enjoy that challenge. By the end of his career, Kohli will be up there with guys like Sachin and Rahul," added the right arm pacer.