Good governance and reforms must empower last man in queue: Venkaiah Naidu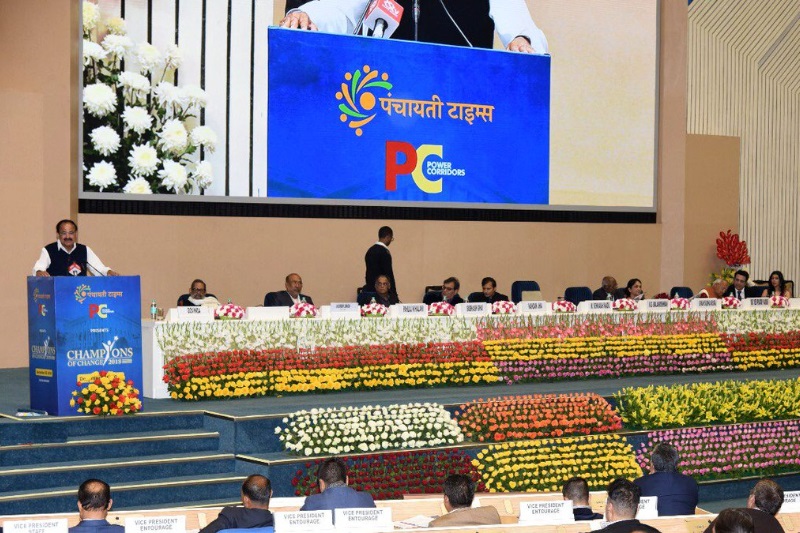 Vice President Venkaiah Naidu said that ultimate aim of good governance and reforms was to empower the last man in the queue and providing a say for such persons in the process of development should be the ultimate aim of governance.
Addressing the gathering at a function to present the Champions of Change Awards 2018, instituted by medial platforms Power Corridors and Panchayati Times (Media platforms) on Tuesday, Venkaiah Naidu said that for any development strategy to be effective, it should help achieve broad-based economic growth to ensure balanced development across all regions and states and across sectors.
The Vice President said that 'Antyodaya' should go from being a long cherished dream, a work in progress, to being an everyday reality as he advocated the use of new technologies, promoting innovation and skill development at a rapid pace to realize 'Antyodaya'.
VP Naidu further stated that Champions of Change Awards was an endeavour to tell the world about positive developments in India. "It is crucial that the stories of people who toil for the betterment of their brethren be told again and again," he added.
"Such stories would serve as a call to action and inspire people to take up their own projects of positive change," he noted.
The Vice President also pointed out that reform agenda of the government and series of steps take to improve governance mechanism of the country made Indian economy is robust and resilient.
In the end, he said India that witnessed a growth rate of 7.1% during the last quarter of 2018 must build on the growth story further by taking advantage of the youth power by realising the demographic dividend.
Also Read: Vice President Venkaiah Naidu meets PV Sindhu; appreciates her consistency