Game Of Thrones Fans Spot Starbucks Coffee Glass At Dany's Table, Did You Notice?
Did You Notice This Big Blooper In Latest 'Game Of Thrones' Episode?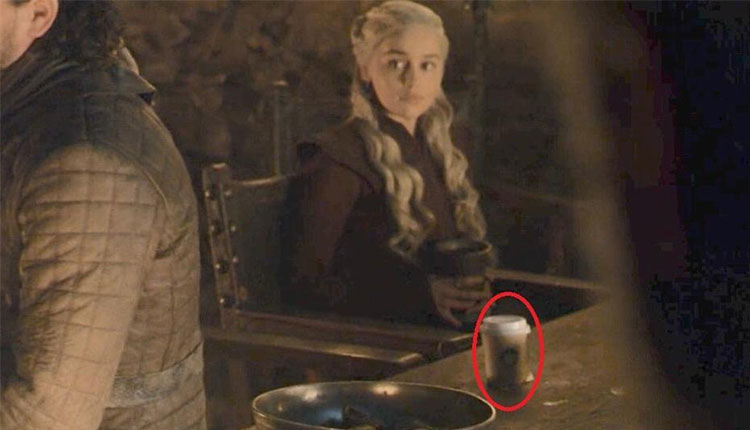 If you are a fan of the world's most popular television show — Game of Thrones — you must have seen the fourth episode of GoT season 8 today. But, did you notice the Starbucks cup in the scene when Jon Snow and his fellowman were celebrating the victory on Night King and Emilia Clarke (Daenerys Targaryen) was sitting at the table?
Yes, Game of Thrones must be one of the most popular TV shows around the world, they also make mistakes and even blunder. The makers of fantasy show did not know the existence of Starbucks cup unless an Eagles Eyes fans pointed it out on Twitter.
Following that user, there were several others took to the microblogging site and pointed out the big blooper that makers might have missed. In 'Game Of Thrones' season 8, episode 4, netizens noticed a scene with a Starbucks coffee cup lying on the table in front of the Dragon Queen.
There are fans who felt like cheated or annoyed due to this editing error. Many took to social media to slam the makers for getting "lazy" after giving viewers years of meticulously planned and detailed episodes. Whiles, others are laughing over the best goof-up ever in TV history. A glass of Starbucks somehow made its way to Winterfell.
Here is how GoT fans reacted to Starbuck Cup in Winterfell
So this is where we're at now! A Starbucks cup! #GameofThrones pic.twitter.com/dhWXyDo15w

— Nehal Mahran (@NehalMahran) May 6, 2019
They really took 2 years to make 6 episodes and left a Starbucks cup in a scene #GameofThrones pic.twitter.com/90Li696AmM

— Allison Minick (@Allison_Minick) May 6, 2019
You're telling me they had TWO YEARS to put together a decent show and they couldn't even spot the goddamn Starbucks cup in Winterfell??!?! #GameOfThrones pic.twitter.com/8opg7nyydv

— Jenna Guillaume (@JennaGuillaume) May 6, 2019
I just watched the Inside the Episode for last night's @GameOfThrones and now I not only hate the episode but I finally can no longer excuse the writing as "it's an adaptation". David and Dan are bad writers without source material to go off. Just bad.

— Kelley Piper ?⚽️ (@kpiperphotos) May 6, 2019
No spoilers but was there not a *weird* ass camera pan early in tonight's episode? I know this was prolly the ep with no budget, but like, do another take. (Also I love every single person – cast and crew – who brought this show to our lives, even that camera op. Carry on.)

— Anna Kendrick (@AnnaKendrick47) May 6, 2019
ooooh i get it now they all have STARBUCKS names pic.twitter.com/SSj5skShLo

— jonny sun (@jonnysun) May 6, 2019
Others wondered what Daenerys's favourite flavour of coffee would be, while another contingent debated as to whether it is a Starbucks cup at all.
"The fact that there was a Starbucks cup in tonight's Game of Thrones that no producers or editors noticed throughout multiple cuts merely 1 week after the DP yelled that the show's not too dark to see is truly *chef's kiss*," one fan wrote on Twitter.
Also Read: Game Of Thrones Season 8 Episode 4 Review: Daenerys Is On The Verge Of War With Cersei