Greta Thunberg Thunders "How Dare You?" At UN Climate Summit
Teen Activist Greta Thunberg Chides World Leaders at UN World Climate Action Summit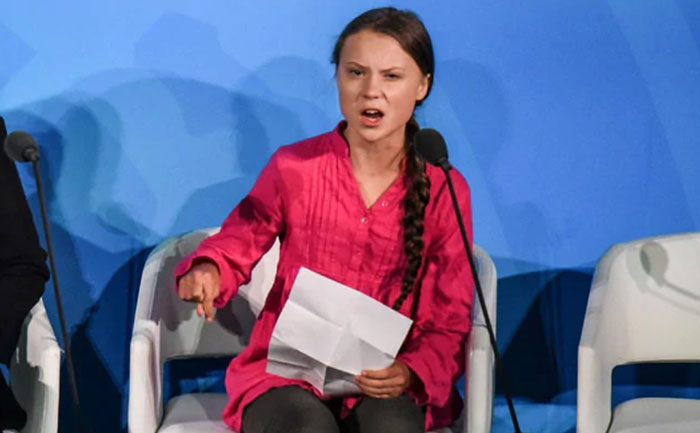 Greta Thunberg a 16-year-old Swedish teen who has become the global face of the environmental movement slammed World leaders at the recent UN Climate Summit. Accusing the World leaders of failing to tackle the problem of Green House Gas emissions, she thundered "How Dare You?" at the World leaders. This was during an emotional speech at the event that was held in New York on Monday.
Check out her speech here:
Greta Thunberg tearfully tells world leaders at UN: 'You have stolen my dreams' pic.twitter.com/6bo7kmE2t2

— The Independent (@Independent) September 23, 2019
After more than four million people went on strike around the world to demand transformative climate action, Greta Thunberg, the 16-year-old Swedish climate activist, told the world leaders her generation would not forgive them if they "choose to fail" them. She and 15 other children later filed a complaint against five countries over the climate crisis.
In the UN climate summit that was held on Monday, Greta Thunberg said, "We are at the beginning of mass extinction, and all you can talk about is the money and fairy tales of eternal economic growth. How dare you! My message is that we'll be watching you."
"You have stolen my dreams and my childhood with your empty words, yet I'm one of the lucky ones. People are suffering, people are dying, entire ecosystems are collapsing."
In August 2018, Greta Thunberg started a school strike for the climate outside the Swedish Parliament that has since spread all over the world and now involves over 100,000 schoolchildren. The movement is now called 'Fridays For Future.'
Also Read: World Environment Day: Akshay Kumar, Anushka Sharma, Varun Dhawan and others create awareness about nature