Halloween 2019: Google Doodle celebrates with Interactive animal game
Halloween Google Doodle Celebrates Creepy Creatures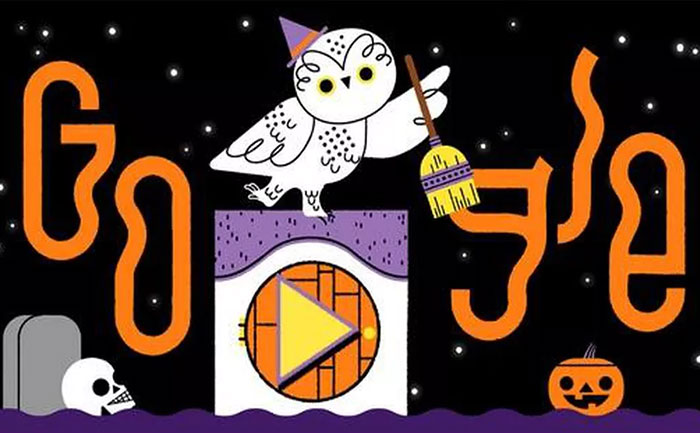 Google is celebrating Halloween with an interactive animal-themed Google Doodle. The mini game allows users to click on doors that each contain an animal. Users have to choose one of the seven doors to reveal the unique animal behind each. The animals include an owl, bat, tarantula, wolf, octopus, or a jaguar. Once an animal is revealed, Google users can choose to trick or treat.
Trick makes the animal perform a cool animation while treat reveals an interesting tidbit about the animal. For instance, the wolf will play basketball if a user chooses trick. If they choose to treat instead the following fact will be revealed "Howling is just one way we wolves communicate. We're pros at body language and facial expression."
The orange doors go dark once user have met an animal. There are also a lot of other interactive features in the Halloween Google Doodle. The pumpkin, chimney, and weather van all produce animation results. The Google doodle also has its spooky theme music.
The choice of animals used in the Google Doodle wasn't arbitrary. Owls are nocturnal creatures that are often linked to witches. The myth around bats is that they can transform into vampires. Wolves are considered creatures of the night. In addition, octopuses are related with the legend of the Kraken while tarantulas are feared by many. The jaguar is a version of a black cat that are often associated with witches.
The lead art for this Google Doodle was done by Lydia Nichols and the animation was taken up by Stan Cameron, Alyssa Winans, and Lydia Nichols. Sils Hite spearheaded the music and sound.
The  Halloween Google Doodle will be up in the following countries:
The U.S.
Canada
Mexico
Cuba
The U.K.
Ireland
France
Spain
Portugal
Germany
The Netherlands
Italy
Sweden
Denmark
Switzerland
Austria
Hungary
Slovenia
Romania
Bulgaria
Greece
Latvia
Lithuania
Serbia
Czechia
Slovakia
Russia
Iceland
Japan
South Korea
Taiwan
Thailand
The Philippines
Indonesia
Australia
New Zealand
Argentina
Chile
Peru