Heavy Rains Lash Bengaluru; Netizens are Delighted
Heavy Rainfall with Strong Winds Lash Bengaluru; MED department predicts rainfall till May 30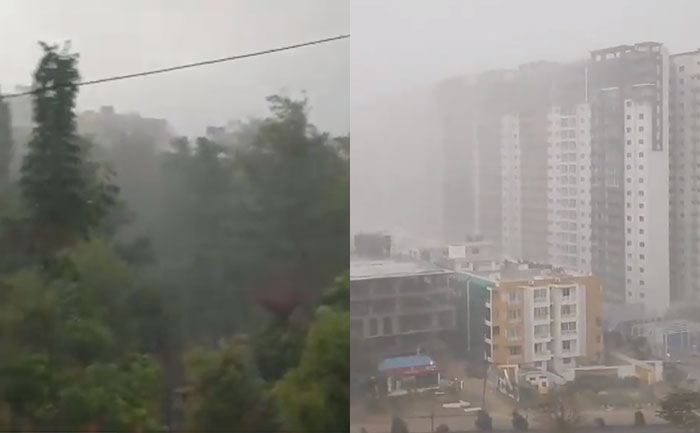 Heavy rains lashed the city of Bengaluru on Sunday leading to waterlogging in low lying areas. The torrential rains were accompanied by strong winds that uprooted the trees. The sudden weather change has thrown life out of gear in the 'silicon valley'. The Heavy rain also caved-in roads of the city. The MET department has predicted rainfall in the city will continue till May 30.
Bangalore weather right now⛈😍#BangaloreRains #Bangalore #thunderstorm pic.twitter.com/xTeJvQsWJT

— Pranav Nair (@PranavN88231888)

The MET department further stated that the sky would be partly cloudy. Spells of heavy rain and thundershowers will continue.

The sudden showers have led to hundreds of users taking to social media to share the status of the storm from their location. #BangaloreRains started trending on Twitter. Check out some of the tweets here:

Bangalore weather in mood swing mode. Morning too hot and afternoon this. #BangaloreRains #Bangalore pic.twitter.com/EvqFooF9gI

— Anoop Jain (@jainanoop111) May 24, 2020

This was so short and intense . #BangaloreRains pic.twitter.com/HtFsEl3uIh

— Madhur Chadha (@madhurchadha) May 24, 2020

Heavy rain and Strong winds in bangalore #Bangalore #Bengaluru #BangaloreRains pic.twitter.com/cQyd0fx4DM

— Rahul Singh (@desiprogrammer) May 24, 2020

Scary #BangaloreRains. Can't we just 2020 on May 31st.

Reset the new year to June 1st. Call it 1st June 2021. pic.twitter.com/80bXKsbRra

— Amit (@Amit_RedDevil) May 24, 2020

Some parts of #Bangalore right now #BangaloreRains pic.twitter.com/KNzQEoBpmY

— Prema Sridevi (@premasridevi) May 24, 2020

Rains drops on window glass is sort of love, no? #BangaloreRains @WeAreBangalore pic.twitter.com/6IVNENCkY1

— Pallavi Singh (@bombaywaali) May 24, 2020

The MET has forecast 'heavy rain with thunderstorms over Chikmagalur, Hassan, Kodagu Mandya, Shivamogga and Mysuru on May 27, 28 and 29.

Also Read: KGF 2 star Yash visits Bangalore thrice amidst shoot. Find out the reason!