Here's Your Horoscope for December 11, 2019 (All Zodiac Signs)
Here's your horoscope for Today's (11th December) 2019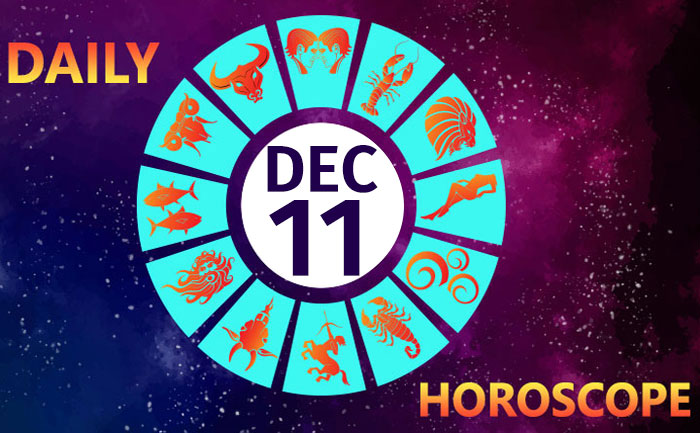 Today's Horoscope December 11, 2019: Know what astrology has to offer you today (December 11, 2019). Check Today's Horoscope to know what Stars Fortell about your Zodiac Sign. Here is the forecast for every sun sign for the day. Find out all about new opportunities, important relationships' motives and also know if today is' the day to take a chance on love. Sagittarius Love Horoscope 2019
Horoscope Today, December 11, 2019: Check Astrological Predictions for All Sun Signs
ARIES Daily Horoscope
Your brilliance and glow upstage everyone else today. Today, your wish is everyone's command. The people around you may be counting on you to be their head. Although you enjoy this role, you shouldn't forget to indulge in more private pleasures. A little gift for yourself, an adventure for fun, or perhaps some time alone may be what you need.
TAURUS Daily Horoscope
Today is a positive day. You will feel calm and balanced and more patient than usual of the variable moods and passions of others. If you can manage it, take a break from your busy schedule and allot a few minutes to you. You're not used to such self-gratification, but today it would do you a world of good. Wearing blue will bring luck.
GEMINI Daily Horoscope
Take a lesson from the unprofessional behavior of someone who has been irritating you lately. They are speaking without thinking and being quite a loudmouth. Their activity is not winning them any friends right now, and you would do wise to separate yourself from them. But if your core group of friends is anxious to hear what you think about a recent development, do not be shy about sharing your ideas. Wear the color yellow for positive energy.
CANCER Daily Horoscope
You'll be very endearing today. Your alluring powers will be at their maximum and be most intense in your professional life. If you have wishes or dreams or want a raise, this is the time to express those wants. You need only give voice to what you want and let your charm do the rest.
LEO Daily Horoscope
Someone, in your opinion, will be wasting time exploring ideas when they should be working hard at work and making practical things happen. But today you should take a page from their lesson book, spend a little less time with your work. Thinking big thoughts is important, and you need to find time every day to fit in a couple. Ignore reality and practicality for a while, and think about 'what-ifs.' Wearing the color purple will prove lucky for you on this day.
VIRGO Daily Horoscope
The firm can sometimes feel like a battleground. Other times, it feels like a love-in. Unfortunately, today, the former simile will probably apply. The good thing about having problems with coworkers is that you can solve them easily if you just focus on the common goal. You are all on the same team, so when conflict arises, help everyone keep your shared interests in mind. Once everyone stops taking things personally, they'll be able to resolve their differences more quickly.
LIBRA Daily Horoscope
From time to time, there is nothing wrong with doing just enough to get by. The least minimum effort can be just the right amount. Life is a matter of balancing your energy, and sometimes the balance tips against hard work. Today, you will see a direct relationship between effort and award. So if you are not expecting much, don't invest much. But if you think there's a chance for real success, go ahead and give it all you've got.
SCORPIO Daily Horoscope
If the air has been tense for the last few days, you may notice that things will be significantly improved today. You may even succeed in exchanging polite remarks with people you've always had a hard time talking to before. This is going to be a peaceful day, so go with the flow of the calming astral energy and enjoy it. Wearing a shade of grey will be lucky for you.
SAGITTARIUS Daily Horoscope
Are you determined to win the affection of a special someone? Have you devoted a great deal of energy to that goal lately? Are you interested in recreating your marriage? Today is an extremely optimistic day for love. Now is the time to flirt, write love letters, and take that walk down lovers' lane!  Wear something in white today.
CAPRICORN Daily Horoscope
Getting in touch with your emotions is not a once-in-a-lifetime thing. You need to stay on top of them, especially today when out of the blue events could make your mood unpredictable. Just like your physical health, your emotional health requires regular maintenance. Open up and tell someone something that you have been holding back. Wear yellow to stay in a peaceful frame of mind.
AQUARIUS Daily Horoscope
Is someone casting a spell on you? Be careful not to let the religious charms of someone fog your mind and keep you from having a realistic view of who they are as a person. Listen to your common sense and not to your heart. Find out what other mutual friends think about this person—they will splash some cold water in your infatuated face, but your affection nay not diminish one bit. If that's the case, your connection could be built on real things after all. The color dark red will help you attract the positive cosmic energies in your life.
PISCES Daily Horoscope
You may have been dark lately, but today should reinstitute your good spirits. You can step aboard on your journey with full confidence in its astrological aspects. You'll be even more attractive than usual, and people will find your charm attractive. There's the promise of many rewarding experiences in your career and love life! Wear forest green to enhance your luck.
Our Horoscope Prediction about the future and how the stars may impact your life daily routine. Sun signs play an important role in our day to day life. Sometimes we go through the day easily but some days are too stressful. Here are some predictions for the day that will help you overcome the obstacles easily and also give you an inner insight on how to have a positive outlook.
ALSO READ: Weekly Horoscope December 08-14: Check Astrological Predictions For All Sun Signs