Hina Khan's upcoming film Lines' poster gets launched at Cannes
Hina Khan launches poster of her film Lines which is set at the backdrop of the Kargil War at Cannes 2019.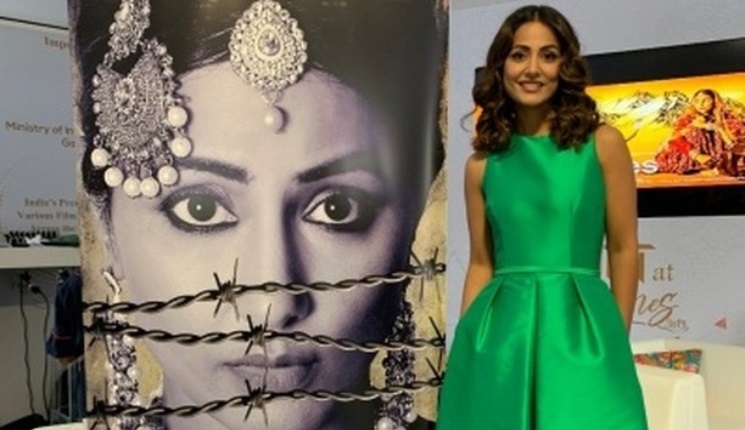 'Kasauti Zindagi Kay' star Hina Khan has been rocking the Red Carpet at the prestigious Cannes Film Festival with her amazing sense of style. This happens to be the first ever red carpet appearance of Hina Khan at the mega event.
The Diva is at the French Riviera for the premiere of her film 'Lines' that is based on the backdrop of the Kargil War.
The beauty has now launched the poster of her film at the mega event. Hina Khan is looking stunning in a green ensemble as she launched the poster at the festival's India Pavilion on Friday. She even gave a talk on the film at the event.
She had captioned it, "Emotions don't change because of the borders in between, the life and plight of #Nazia is a simple portrayal of any girl who faces the magnitude of ordinary challenges in a not so ordinary story." "#Lines is my debut in films. I hope you all love it as much we loved it. This is the first look launched at @festivaldecannes and an official poster which depicts more than a poster can! #cannes2019."
Check out the poster here:
In the poster, we can see Hina wearing traditional jewellery on her forehead. There's a map at the backdrop which hints that the film might be about some political issues.
'Lines' depicts the story of a strong young woman portrayed by Hina living on the country's border (LoC) with special emphasis on her struggle and problems of daily life. It has been produced by Rahat Kazmi, Tariq Khan, Zeba Sajid and has been co-produced by Jayant Jaiswal's Hiro Faar Better films.
Also Read: Farah Khan's Tweet is all supportive to Hina Khan, takes dig at other B-Towners