Hina Khan remembers late father wearing his T-shirt in live session 
Actress Hina Khan conducted a live session addressing her fans. She carried her late father's T-shirt in the video and got emotional remembering him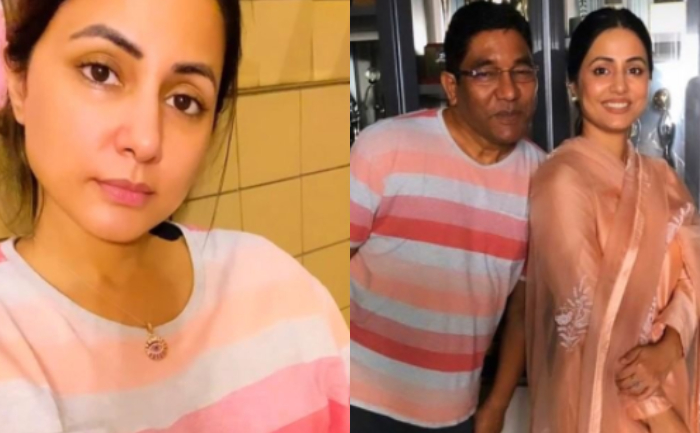 After the unfortunate demise of her father, Hina Khan addressed her fans in a live session on her Instagram. She updated everyone about her health condition and revealed that she has tested negative for COVID-19. As a gesture of love for her late father, she was seen carrying his multicolored T-shirt in her live conversation. Although she tried to maintain her smile all through the video, she didn't look completely well. She mentioned that she is still on her way to the recovery path.
On Wednesday i.e May 12, Hina Khan hosted the live session. She started the conversation by thanking all the people for standing strong with her in these challenging times. She opened up that even people from whom she had no expectations have come out to help her and she expressed her gratitude towards them for being nice. Hina also revealed that she has not been able to fast during Ramadan because she is still "very weak."
Hina shared the same live video on her Instagram feed. "Smile #DaddysStrongGirl," she captioned the video:
View this post on Instagram
For the unversed, Hina Khan's father, Aslam breathed his last after suffering from a cardiac arrest. The actress was shooting in Kashmir and she had to rush back to Mumbai immediately. After few days, there were reports that she tested positive for Covid-19. Now she has finally tested negative for the same and recovering well.
On the work fronts, Hina Khan will be soon releasing her song- Patthar Wargi.
Also Read:  Hina Khan Takes Social Media Break As She And Her Family Mourns Demise Of Her Father