Hina Khan and boyfriend Rocky Jaiswal display love as they head for Rajasthan vacation
Hina and beau Rocky headed to Rajasthan on holiday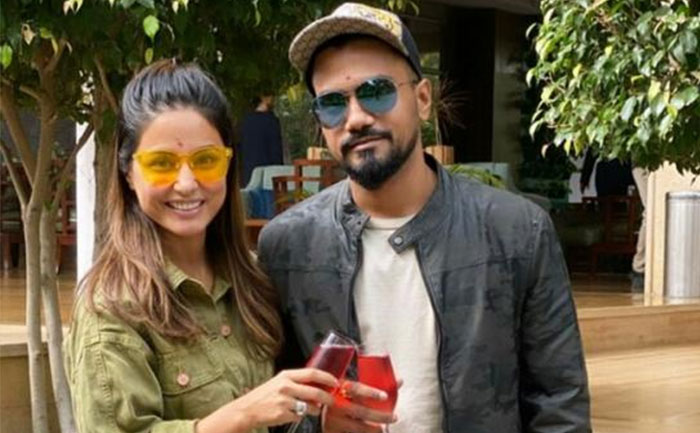 Hina Khan and her beau Rocky Jaiswal headed off to Rajasthan for their holiday getaway. Hina and Rocky are considered as the most adorable couple. Lately, the couple headed to Rajasthan to enjoy their vacation. Meanwhile, Hina and Rocky shared pictures on their social media as they made themselves ready for their Rajasthan holiday.
Early in the morning today, Hina Khan and Rocky Jaiswal jetted off to Rajasthan to have a relaxing vacation in Rajasthan. While the couple were on their way, Hina posted some lovely selfies with her beau Rocky Jaiswal from the flight. As soon as the couple landed to their destination, checking into a resort at Pushkar, the duo raised a toast to kickstart their holiday.
In all the selfies Hina and Rocky can be seen posing delightfully and with joy. By the look of the pictures, it seems the couple were all set with a bright mood to commence their vacation in Rajasthan. In another picture, we can see Hina and Rocky happily toast their beginning for the rejuvenating, relaxing getaway. Check out the pictures below.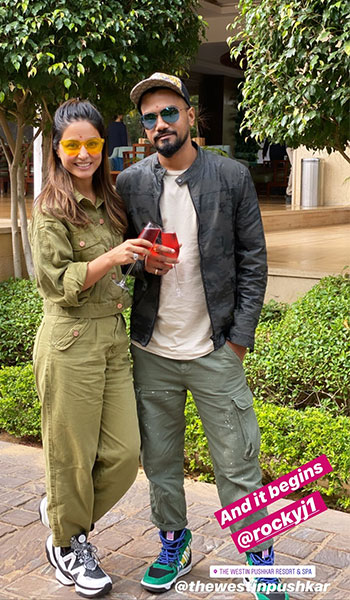 For the unversed, Hina Khan apparently wrapped up her Bollywood film Hacked with Vikram Bhatt. With this movie, Hina Khan will mark her debut in the Bollywood. Moreover, the story outline of the film is that it is based on perils of digital world and also stars Mohit Malhotra. The movie is slated to release on January 31, 2020.
The latest pictures of Hina and Rocky clearly shows how to unwind for a holiday getaway.
Also Read: Country Of Blind: Hina Khan's First Look From Indo-Hollywood Debut Film Out