How to download Instagram stories with music: A complete guide
If you want to save your Instagram stories, there are a few ways you can try to save Instagram stories with music in the gallery.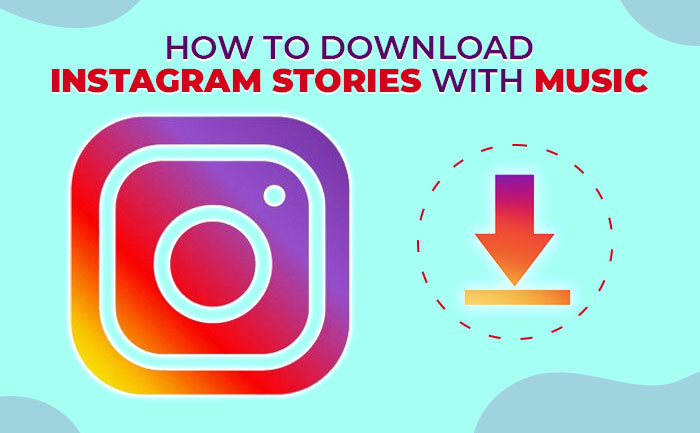 What is Instagram Story?
Instagram is an American photo and video sharing social networking service created by Kevin Systrom and Mike Krieger. In August 2016, Instagram launched Instagram Stories, a feature that allows users to take photos, add effects and layers, and add them to their Instagram stories. Images uploaded to a user's story expire after 24 hours, but a video inside your Story can be up to 15 seconds long before cutting to the next piece of content. Mostly, users add text, music, stickers, and GIFs to bring stories to life.
As Instagram is owned by Facebook, you can also share your Instagram story straight to your Facebook story to reach your friends on both platforms. Instagram introduced "Story Highlights," also known as "Permanent Stories", which are similar to Instagram Stories but don't expire. They appear as circles below the profile picture and biography.
How to use Instagram story:
There are two ways to add to your story:
First is by going to your profile page and clicking on your icon.
The second is going to your main feed and clicking on the camera icon on the top left corner. Once you are done adding text, drawings, and stickers to your story you tap the "+ your story" icon at the bottom right corner and it has officially been added to your story.
Just like Snapchat, you can swipe left to add filters that can be applied to your photo or video clip.
You can also tap on the Save icon to save your image or video on your phone.
If you click the Arrow icon, you can share your image with one of your friends as well as your Story. Just tick the bubble by Your Story and the person you want to share with.
Managing your Instagram stories:
From the analytics page you can also customize who can view your story and send you messages by clicking the cog in the top left:
Go to your profile page, select the settings, and selecting 'Story Controls'. From there you can:
Block users from viewing your story
Customize who you would like to be able to reply to your stories.
How to add music to Instagram story:
You can add a soundtrack to your story that fits any moment and helps you express how you're feeling.
Open Instagram on your Android or iOS device and swipe left to put a story.
When you're ready to add a tune to your story, tap the Sticker icon at the top of the screen.
Tap on it to open a library of thousands of songs and search for your favorite songs and add them.
You can also add lyrics and choose from various formats.
Tap Share and your story will be added.
When your friends watch your story, they'll hear the song playing and will also be able to see a sticker showing the song title and artist name.
How to download Instagram stories with music:
If you want to save your Instagram stories, there are a few ways you can try to save Instagram stories with music in the gallery.
Websites:
Story Saver for Instagram
InstaStories Viewer
IG Live
Stories IG
EmbedStories
For smartphones:
IOS:
Go to the App Store.
Download Story Reposter.
Open the app, then search the username of the person whose video/photo you want (the profile has to be public).
Select the photo or video you want to save.
Tap the download button, then the save button, to save to your phone.
Go to your camera roll to check out the thing you've saved.
Android:
Go to the Play Store.
Download Story Saver.
Open Story Saver and log in to your Instagram account.
Check out all the Stories from your followers on your main Story Saver page, or search for a username to look at others.
Select the photo or vid you want and hit save.
This will then show up in a StorySaver folder in your phone's gallery of photos.
Stay tuned to The Live Mirror for more updates.
ALSO READ: How To Download Instagram Videos: Step-By-Step Guide