How To Turn Off 'People You May Know' On Facebook: Step-By-Step Guide
Here are the steps to turn off people you may know on Facebook: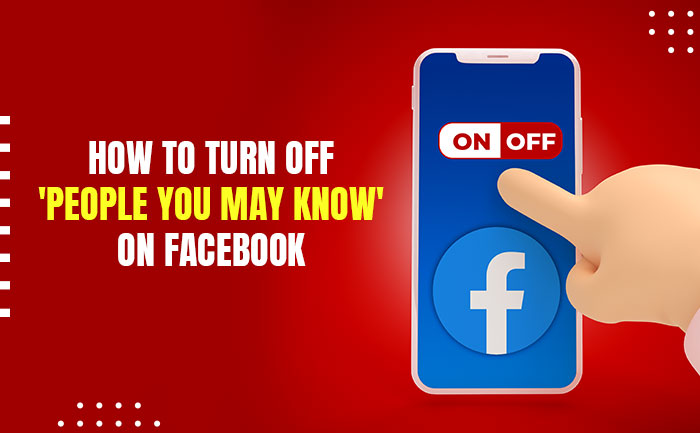 Facebook, Inc. is an American multinational technology company based in Menlo Park, California. It was founded in 2004. The namesake social networking service eventually became Facebook, amassing 2.9 billion monthly users by 2021. The company acquired Instagram in 2012, then WhatsApp and Oculus in 2014. It is one of the world's most valuable companies and is considered one of the Big Five companies in U.S. information technology, alongside Google, Apple, Microsoft, and Amazon. The company generates substantially all of its revenue by selling advertisement placements to the marketer.
Facebook is the most popular social platform that has a specific feature known as "People You May Know." It is a website that allows users, who sign-up for free profiles, to connect with friends, work colleagues, or people they don't know, online. You cannot turn off the People You May Know feature on Facebook, but you can remove a suggestion. "People You May Know suggestions may be based on the contact information you receive from people and their friends.
Sometimes this means that a friend or someone you know might upload contact information — like an email address or phone number — that we associate with you. You might also see suggestions of People You May Know in your News Feed and notifications. 'People You May Know' section, which lists users who could be suggested as part of your contact list that you uploaded to Facebook, or via the company's algorithms that can predict who you might know based on your profile information and who you are already friends with. However, not everyone wants those constant reminders from Facebook. If you want to turn off the notifications for People You May Know.
Here's how you can disable 'People You May Know'
On the desktop or laptop:
Open your Facebook app on the desktop or laptop.
Now select Settings, from this menu.
Click the "Notifications" option on the left.
Now select the 'People you may know' option.
You turn off the "Allow Notifications on Facebook" button to disable all the suggestion options.
You can toggle all of the options off, or simply disable notifications via SMS, via Email, or via push notifications in the app.
These settings will either partially or completely disable the notifications for Facebook's People you may know feature.
If you are not able to access it through the browser, you can also make changes via Facebook's iOS and Android apps.
 However, if you have already made the changes on the desktop, then you do not need to make the same changes on your phone as they will be saved to your profile no matter where you are logged in from.
On mobile devices:
In the menu, scroll to the bottom, then tap Settings & Privacy > Settings.
Scroll through the "Settings" menu and tap the "Notification Settings" option.
In the "Notification Settings" menu, tap the "People You May Know" option.
You can turn off the toggles for Push Notifications, Email, and SMS.
If you want to disable all friend suggestions on Facebook, however, tap the "Allow Notifications On Facebook" slider.
Tap "Turn Off" to confirm.
Stay tuned to The Live Mirror for more updates.
ALSO READ:  How To Download Instagram Reels: Step-By-Step Guide