India to spend over $1 billion on two tallest statues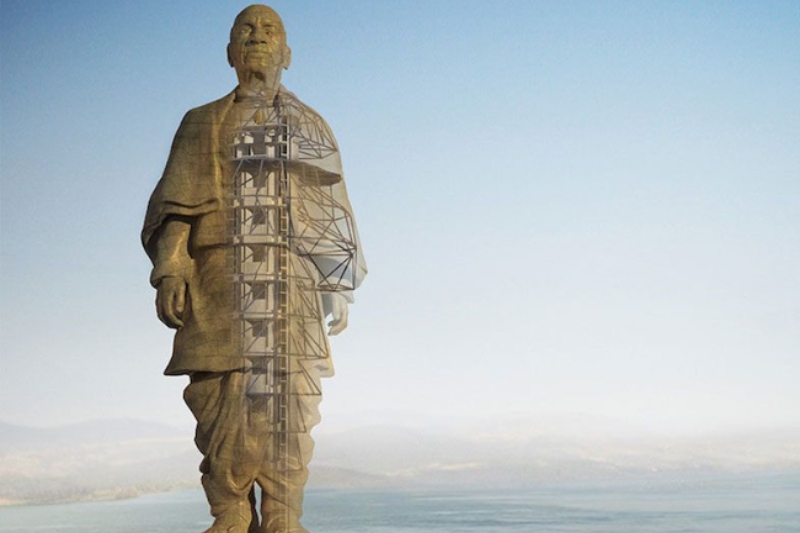 The world's tallest statue will be erected in the sea to honour an Independence hero, but it might quickly be outdone by a monument of a Hindu warrior King in the financial capital of the country, Mumbai. India is going to spend almost $1 billion on the tallest effigies, each will be taller than the Statue of Liberty.
Freedom fighter Sardar Vallabhbhai Patel will be immortalised by building a giant statue of him in Gujarat.  It will be the first-ever statue in the world to dwarf the Spring temple located in China, which is currently the world's biggest statue measuring 128 metres, while Sardar Vallabhbhai Patel statue height would be 182 metres.
According to the report, an army of 2,500 workers including hundreds of Chinese labourers are working round the clock, putting 5,000 squares of bronze cladding on the figure of Patel, to get it ready before 31 October. It will be inaugurated by Prime Minister Narendra Modi.
Rs 29.9 billion ($430-million) Statue of Unity overlooking the isolated Sardar Sarovar Dam is a pet project of Modi government. He has predicted it will attract mass tourists, as the Statue of Liberty does in New York. All visitors will be able to access a viewing gallery up to 153 metres up, about chest height on the standing figure. However, they will have to travel 250 kilometres from the state's main city of Ahmedabad to get there.
While people are calling it just a political motive to attract voters before BJP heading toward the 2019 Lok Sabha election. In the Indian political scenario of yester India, Sardar Vallabhbhai Patel was deputy to Jawaharlal Nehru. Modi's nationalist Bharatiya Janata Party (BJP) believes his name has been unfairly overshadowed by the dominant Nehru dynasty.
Also read: Hyderabad twin bomb blasts: NIA court convicts 2 accused, acquits 2
Vallabhbhai Patel came to be known as 'Iron Man of India'. Because of his persuasion skills (Both through talks and a hint of force), some 550 princely states became a part of India after independence from Britain in 1947. He breathed his last after three years of India's Independence.
"Every Indian regret Sardar Patel did not become the first prime minister," Narendra Modi said while campaigning in 2013.
"Modi has used Patel's legacy a lot in his election campaigns," said Ghanshyam Shah, a former professor of class politics at Jawaharlal Nehru University in New Delhi. "He is very likely to use the Statue of Unity during the upcoming campaign but I am worried about how it will influence voters," Shah added.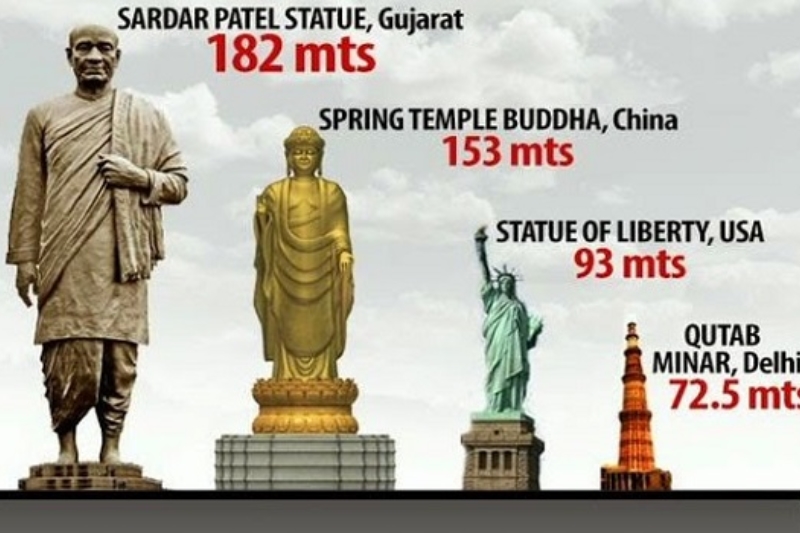 The opposition, Congress party said that a plan to change the Nehru Memorial Museum in New Delhi into a centre devoted to all of India's prime ministers is another bid to taint Nehru's name.
"The BJP has been appropriating icons for some time," said Sudha Pai of the Indian Council of Social Science Research. "Patel has been used to wipe out the Nehru legacy. The BJP wants to change the way history is perceived and show that the right wing was as important in India's freedom struggle."
Preliminary work has started on the controversial project while there are thousands of fishing workers who are protesting against the statue of Shivaji in the sea of Mumbai saying it it is a threat to fishing stocks. 
The price of the monument is likely to rise, analysts say and the state government has already changed the design to bring down costs. How it will eventually look and when it will be finished remains in doubt. India's statue politics often fall victim to 'hard economic reality', according to Badra Narayan, a professor at the Pant Social Science Institute in Allahabad.
The construction work of statue of Shivaji would not be completed at given time, IC Rao, head of a Mumbai citizens' group, which has questioned the cost and safety of the Shivaji design. He said finishing the statue on time, would be 'an impossibility even for the Trojans'. 
Also read: Kolkata Majerhat overbridge collapse: Focus on rescue first, investigation later, says Mamata