Jai Bhim First Song Power Featuring Suriya Is Gripping & Electrifying
Jai Bhim Song Power: This Powerful & Gripping Track Featuring Suriya Urges People To Fight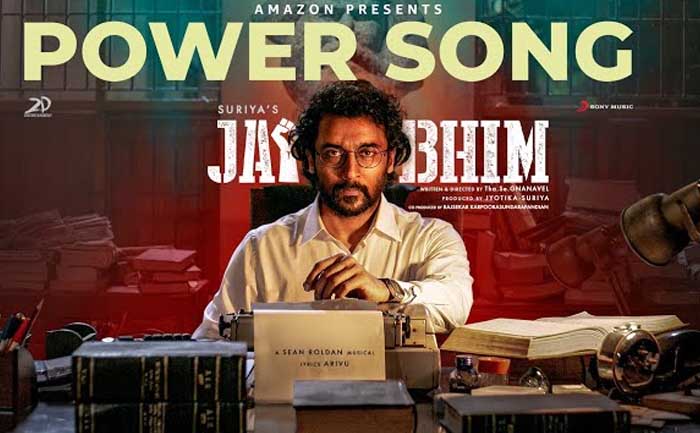 Suriya starrer Jai Bhim is one of the much-awaited Tamil films. After sharing an intense teaser of the Suriya starter, the makers are out with the first song of the film. The song titled Power is an electrifying track that urges people to fight for their rights.
Watch the energetic number here:
Written and sung by Arivu, Power is composed by Sean Roldan. The fast-paced song is high-on-energy and is loaded with power. Power also gives out a strong message on the importance of fighting for social justice and also against untouchability.
It also features BTS moments from the recording studio and shooting spot. The former has Arivu and Sean Roldan recording for the song even as they are seen enjoying the process.
Jai Bhim has the South superstar playing a lawyer Chandru fighting for the rights of the oppressed. Based on real-life events it is a story about a tribal couple named Senggeni and Rajakannu. Rajakannu gets arrested and eventually disappears. Senggeni takes the help of a lawyer Chandru played by Suriya. He leaves no stone unturned to bring justice to the tribal women.
Jai Bhim is co-produced by Rajsekar Karpoorasundarapandian. The movie also features Prakash Raj, Rao Ramesh, Rajisha Vijayan, Manikandan and Lijo Mol Jose. The movie will release in Tamil and Telugu on Amazon Prime Video, this Diwali on 2nd November.
On the work front, three more projects from Jyotika- Suriya's production house will release on Amazon Prime Video. Raame Aandalum Raavane Aandalum releases in September. Udanpirappe in October and Oh my doG in December.
Also Read: Jai Bhim: Suriya-Starrer To Premiere On Amazon Prime Video