50 Shades Of Grey Star Jamie Dornan Volunteers To Be A Part Of BTS. Check Their Reaction
BTS Reacts To 50 Shades Of Grey Star Jamie Dornan's Request To Be Part Of The K-Pop Group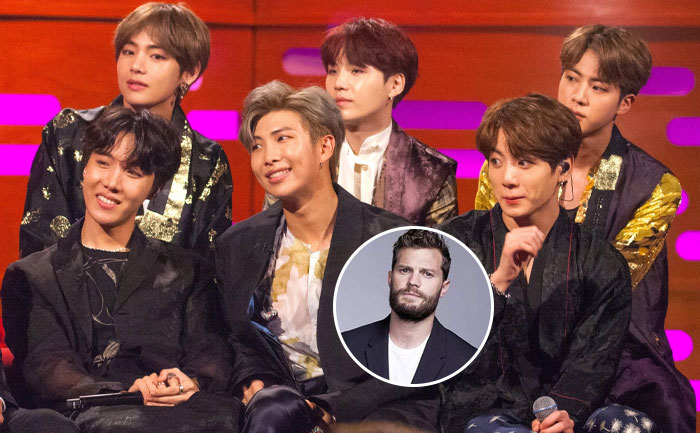 BTS is one of the most successful bands with their popularity soaring with each passing day. The Bangtan Boys have millions of fans called the ARMY across the globe. Their fan base even has a number of Bollywood stars such as Alia Bhatt, Dijit Dosanjh and many more. One more celebrity is an avid fan of the K-Pop group and it is none other than Fifty Shades of Grey actor Jamie Dornan. He had once requested to be a part of the BTS group.
In 2018, BTS appeared as a guest on the Graham Norton show but Jimin was missing. Also present were Hollywood biggies like Whoopi Goldberg, Rosamund Pike, Harry Connick Jr. and 50 Shades Of Grey Star Jamie Dornan. After the boys introduced themselves, Graham asked about Jimin.
BTS leader and spokesperson RM answered, "There's Jimin, his muscle seized up before rehearsal." Jamie Dornan intervened and said suggestively, "Does that mean you're looking for a new member?" This was met by loud cheers by the group. RM didn't seem too hesitant on having the actor on board. J-Hope and RM did a little jig at the thought
Watch the segment here:
On the whole, BTS has had a good year. Their song "Butter" ruled the Billboard Hot 100 charts. The Bangtan boys, comprising RM, Jin, Suga, V, J-Hope, Jimin and Jungkook also released "Permission To Dance," which was co-written by Ed Sheeran.
Also Read: BTS ARMY Celebrate 3,000 Days Of K-Pop Band's Debut