Krishna Janmashtami 2020: 5 Delicious desserts you can enjoy at home
From Gulaab ki Kheer to Malpua- here are some recipes you can try on Lord Krishna's birthday.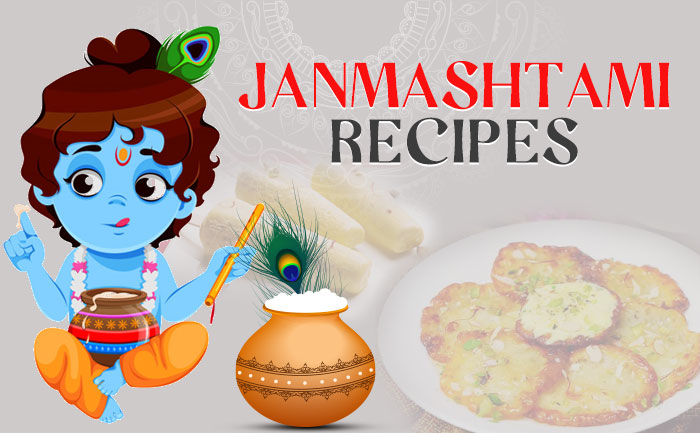 Janmashtami is a widely celebrated festival by the devotees of Lord Krishna. It marks the birth anniversary of Lord Krishna on the eight-day of the Shravana month of Ashtami as per the Hindu lunar calendar.  This year, Janmashtami will be celebrated on August 11, 2020.
On this auspicious day of Lord Krishna's Janmashtami, people offer different sweets and deserts to little Bal Gopal. As we all know that Krishna loves everything made of milk, including butter, curd, thus he is known as 'Makhan Chor.' People belonging to the Hindi community wake up early and prepare some sorts of desserts to please the deity. Here are a few popular recipes that you can easily prepare at home and offer him.
5 desserts you can prepare on Lord Krishna's birthday:
1. Gulab Ki Kheer:
Recipe:
Take a vessel and pour milk and allow to boil on low flame.
Once, milk starts reducing to a slightly thick consistency,
Add sugar and continue to simmer till the sugar is dissolved and the kheer is thick.
Add the rose petals, leaving a few for garnish, dry fruits, and rose water.
Finally, stir well for a few minutes and serve cold.
2. Shahi Tukda:
Recipe:
Cut the bread slices into half, lengthwise, and deep fry in hot ghee, till crisp.
Dissolve the sugar in the milk and bring to a boil
Dip the bread in the milk and sugar solution, and arrange the pieces in a serving dish, in one layer.
Mix the rabri and spoon it over the bread slice.
Garnish with pistachios and almonds.
3. Charnamrit:
Recipe: 
Take the yogurt in a pan, add two to three tablespoons of milk to it and beat well till well blended.
Add the remaining milk and mix again. Add cold water, ghee, sugar, honey, Ganga Jal and mix well.
Break the tulsi leaves with hand into small pieces and add to the yogurt mixture along with makhanas and coconut.
4. Malpua:
Recipe:
Take some maida in a bowl and add sooji and powdered sugar to it.
Mix all these dry ingredients well. Then add water in the desired quantity to make a batter of smooth consistency.
Take three slices of white bread and crumble them in a food processor. Add this crumbled bread to the batter, mix well, and leave aside for 15 minutes to allow fermentation.
Meanwhile, prepare the sugar syrup. Take a broad base pan and add 1/4 cup water to it. Keep it on flame and add sugar to it and heat it for six to seven minutes to get a sugar syrup of flowing consistency.
Add saffron strands and crushed green cardamom to the syrup. Allow the syrup to cool down to room temperature.
Now, take a pan and heat three tablespoons of ghee in it. When it is hot, pour 1 big spoon of the batter into it.
Cook for 2-3 minutes on each side.
Serve hot malpuas garnished with pistachios.
5. Kulfi
Recipe:
Boil the milk in a wide, pan and then simmer over medium heat.
Simmer for about 30-40 minutes, till the half volume of milk is left.
Once done, the color of the milk will change to a beige.
Add the sugar and saffron, bring to a boil again
Add the cardamom and turn off the heat.
Mix well and pour into molds and freeze.
Take the mold out of the freezer and garnish and serve immediately.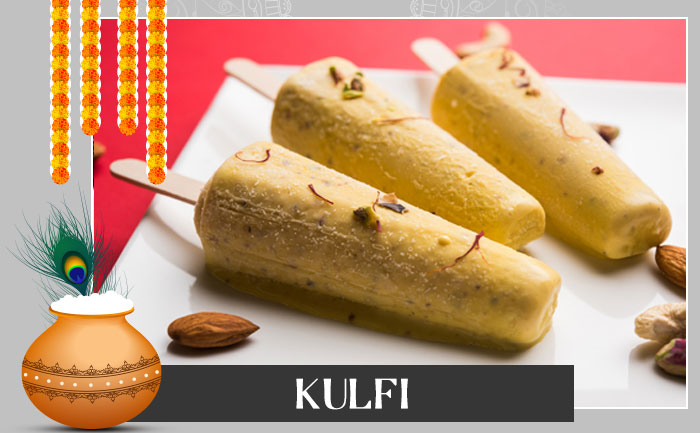 We the team of the Live Mirror wish everyone a very Happy Krishna Janmashtami!
ALSO READ: Krishna Janmashtami 2020: Tune Into These Bollywood Songs For Celebrations