Jimi Hendrix: 41 Best Songs By The Iconic Guitarist
Counting down the top 41 songs by Jimi Hendrix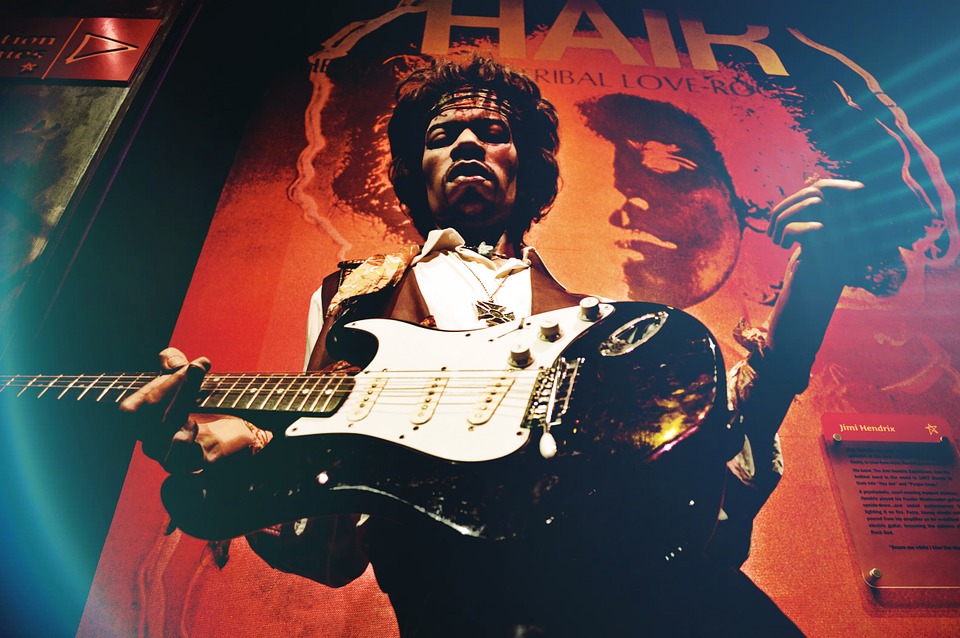 Jimi Hendrix is regarded as one of the greatest guitar players of all time. He also had an undeniable talent for songwriting. The musician has been described as "the greatest instrumentalist in the history of rock music". Hendrix combined his love for traditional music with a splash of experimentation to create unforgettable music. His death was a tragic loss to the music industry as a whole. Hendrix may have died young but his legacy is one that might never die. Here we countdown the top best songs by the iconic musician known as Jimi Hendrix.
Best Jimi Hendrix songs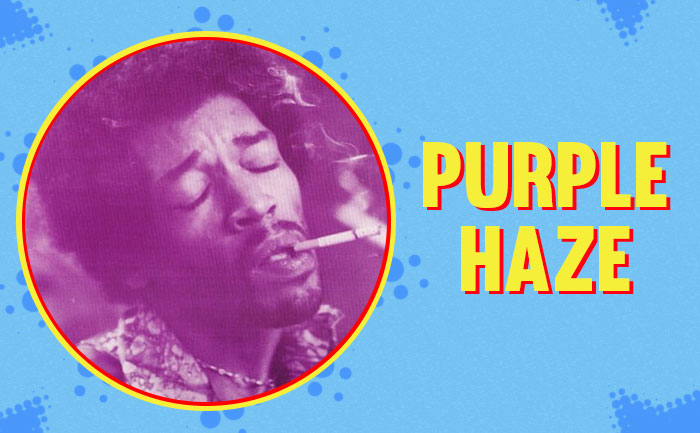 Purple Haze was written by Jimi Hendrix and released on March 17, 1967. It was the second record single by the Jimi Hendrix Experience. It was a record chart hit in several countries. As such, it was also the first exposure to Hendrix's psychedelic rock sound for a lot of people. The song talks about the psychedelic experiences of the writer. Jimi Hendrix mentioned in an interview that the song had over a thousand words in the developmental stage. Purple Haze is considered one of the best Jimi Hendrix songs of all time.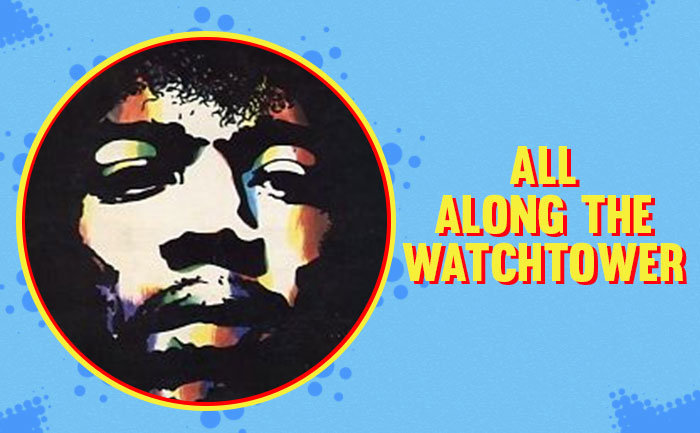 Legendary American musician Bob Dylan wrote All Along the Watchtower. The song is considered to be one of the best by Bob Dylan. However, six months after the song's release, Jimi Hendrix released his own version of the song. Hendrix's version became one of the top 20 songs of the year 1968.
Bob Dylan himself said the cover feels like a tribute to the late musician "Ever since he died I've been doing it [his] way. Strange how when I sing it, I always feel it's a tribute to him in some kind of way."
All Along the Watchtower was quite a popular song and has been used in multiple movies.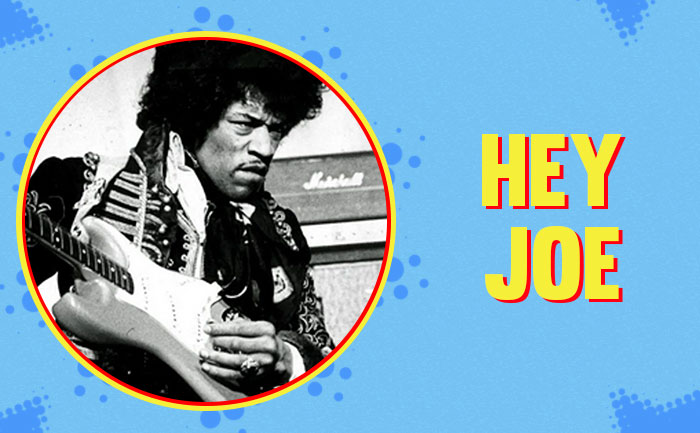 Hey Joe is a song from the 1960s that has gone on to become the rock standard. It has been covered by multiple artists in a variety of different styles. The song lyrics tell the story of a man on the run who is planning on running to Mexico after shooting his unfaithful wife.
However, the Jimi Hendrix version of the song is still considered as one of the best renditions. Hey Joe has had its share of controversies with American singer Tim Rose claiming to have penned the song. The Hendrix version of the song has been applauded for its guitar work.
It's said that former Animals bassist Chas Chandler heard Hendrix playing the song at New York's Cafe Wha? in 1966. He was impressed and brought Jimi Hendrix over to England to cut his debut album.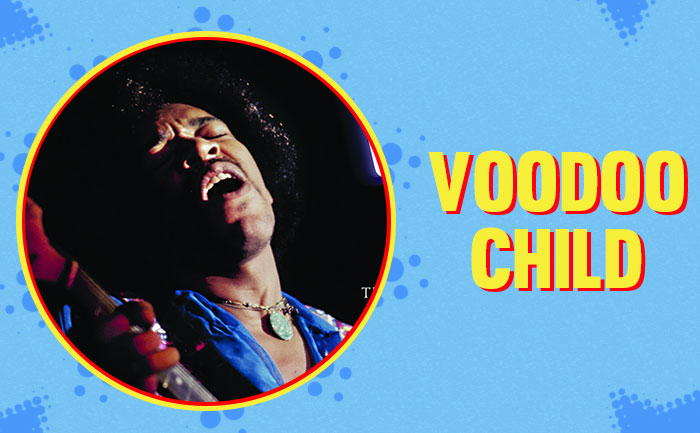 Voodoo Child was the final song on the Jimi Hendrix Experience's final album. It is not only the best but also one of the most popular Jimi Hendrix songs to date. The song came into being after the band cut the 15-minute-long Voodoo Chile.
The story goes that the band didn't feel up to playing the finished track for a film crew that came in to record the band working. In the end, the band ended up improvising and coming up with Voodoo Child (Slight Return). The slight return refers to the song being a slight return to the original Voodoo Chile.
Voodoo Child was released posthumously as a single. While it shot straight to Number One in the UK, it didn't register in the Hot 100 in America. However, the song has been played over 10 billion times on classic rock radio since its release.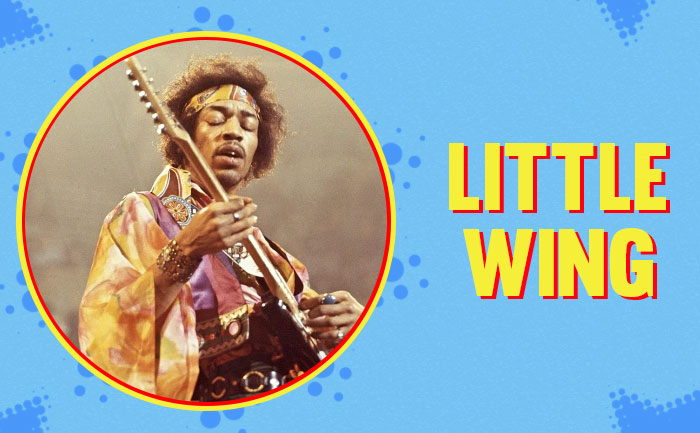 Little Wing was released in 1967 on the album Axis: Bold as Love. It is one of the best compositions by Jimi Hendrix and makes for a poignant and light song. The song has been covered by artists like Eric Clapton, Derek & the Dominos, Stevie Ray Vaughan, and Sting.
While talking to a Swedish writer in 1968 Jimi Hendrix explained the story behind the song many consider to be his best. "It's based on a very, very simple Indian style," he said. "I got the idea when we were in Monterey and I was just lookin' at everything around. So I figured that I take everything I'd see around and put it maybe in the form of a girl, or something like that, and call it 'Little Wing,' and then it will just fly away."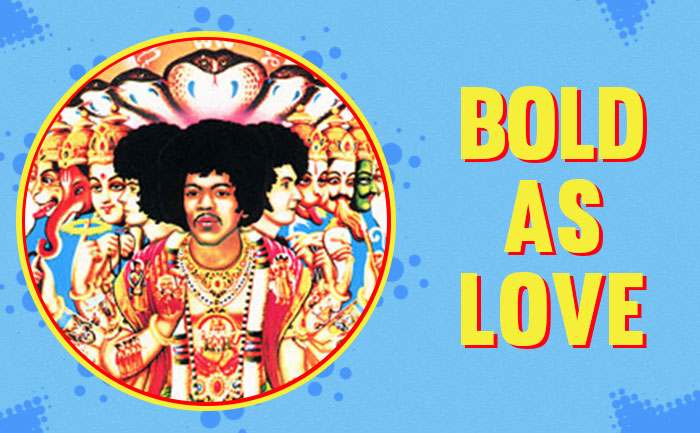 If we're talking about the best Jimi Hendrix songs, it is a given to include Bold As Love. The song is a four-minute grande finale to Hendrix's second LP, Axis: Bold As Love.  As Jimi Hendrix was unable to read music he would often use colors to describe music as well as emotions.
In a 1968 radio interview, Hendrix talked about the song and how love can change a person like the axis of the earth. "If it changes, well, it changes the whole face of the Earth, like, every few thousand years. It's like love in a human being; if he really falls in deep enough, it will change him. It might change his whole life. So both of them can really go together." John Mayer has covered the song on his 2006 disc Continuum.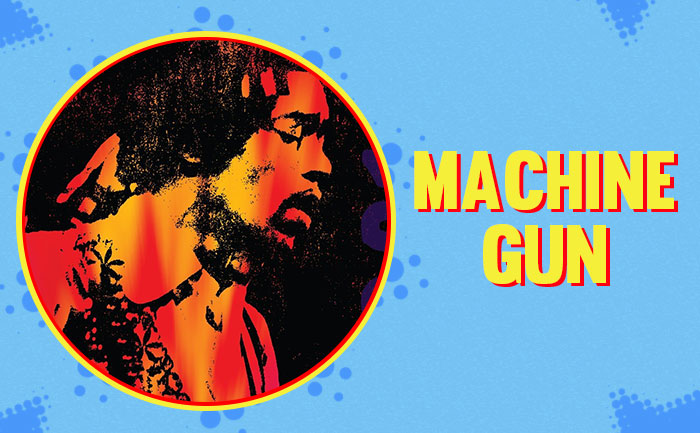 Machine Gun was recorded by Jimi Hendrix during the Vietnam war and is an anti-war song at its best. It's a lengthy song with a duration of over 12 minutes. The song expresses Hendrix's disapproval of the Vietnam War. Machine Gun was never fully recorded on studio though it is a part of the Band of Gypsys live album.
An edited version of the song appears in the posthumous album Midnight Lightning released in 1975. It has been created from an audio recording that Hendrix was working on before his death. The Band of Gypsys version of the song contains some of the most hauntingly melancholic guitar work of Hendrix's career.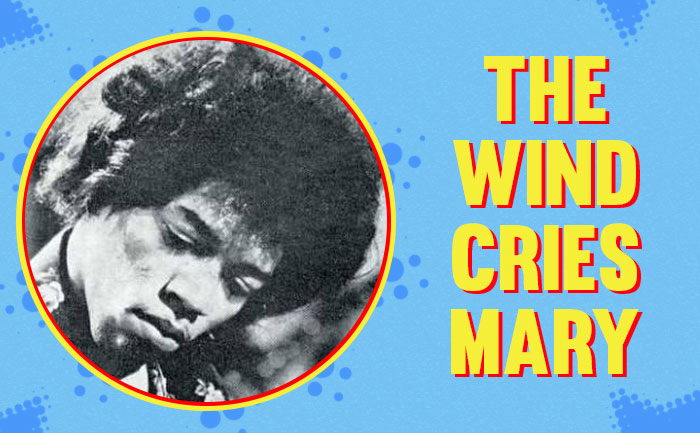 Jimi Hendrix wrote The Wind Cries Mary after getting into a terrible fight with his girlfriend, Kathy Mary Etchingham. The song was written in 1967 for Are You Experienced? and is the third single of the album. Kathy Mary recalled, "We'd had a row over food. Jimi didn't like lumpy mashed potato. There were thrown plates and I ran off. When I came back the next day, he'd written that song about me. It's incredibly flattering."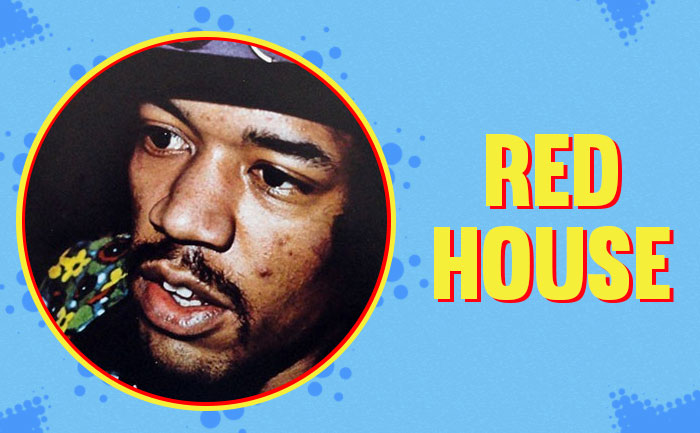 Red House is one of the first songs that Jimi Hendrix recorded with the Experience and it remains his best blues song to date. The song made it to the band's debut LP Are You Experienced? and draws inspiration from Albert King, Jimmy Reed, and Curtis Knight. The song is a fan favorite now and remained the strongest blues influence in Hendrix's repertoire until the end.
However, the song was originally laid off the American release of Are You Experienced? as the label though it wouldn't fit in with the traditional US rock fans.
Castles Made of Sand is a story within a song. It tells the story of a couple, a brave Indian chief, and a handicapped girl. The song follows their downward spiral as the couple breaks apart and the Indian chief is slaughtered in his sleep. However, the third tale has a slightly more optimist ending with the handicapped girl seeing a golden winged ship that makes her halt as she rolls her wheelchair to a cliff.
There have been numerous speculations that the song is autobiographical. Jimi Hendrix has never confirmed the fact himself though. Whatever the truth may be, Castles Made Of Sand undoubtedly ranks as one of the best Jimi Hendrix songs of all time.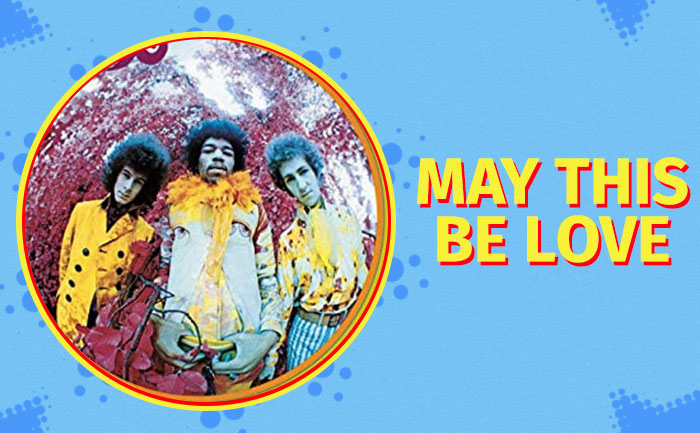 May This Be Love was one of the first lyrically profound Jimi Hendrix songs. It was originally released in 1967 on the debut album of The Jimi Hendrix Experience. The song was written by Jimi Hendrix himself and remains one of the best slow ballad type songs by the musician. May This Be Love is often also referred to as Waterfall.
May This Be Love was first recorded at Olympic Studios on April 3rd, 1967. It has apparently never been played again. This song was a tribute to Jimi Hendrix's mother who passed away when the musician was young.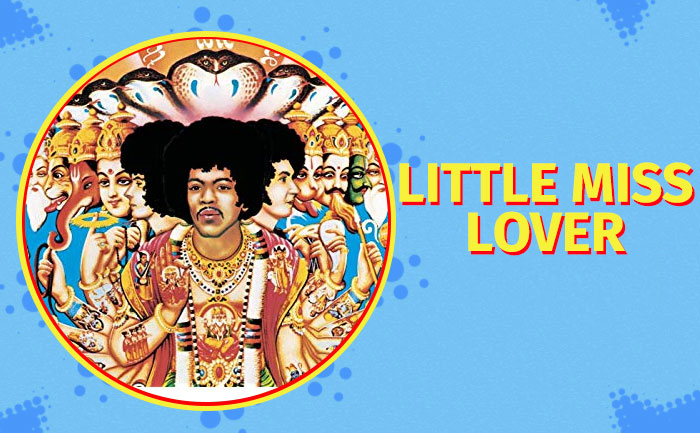 Little Miss Lover is a passionate, flirty number with a classic rock touch to it. The song was released on The Jimi Hendrix Experience's album Axis: Bold as Love in 1967. Little Miss Lover is often neglected from the Hendrix collection and has rarely been performed since its release. However, that does not diminish the fact that Little Miss Lover is one of those tracks you just want a little bit more of. Red Chilli Peppers famously covered the song in 2009. Little Miss Lover is like a guilty pleasure, trite yet enjoyable. While many might not agree, the song certainly has a place at the best Jimi Hendrix songs table.
13. Burning Of The Midnight Lamp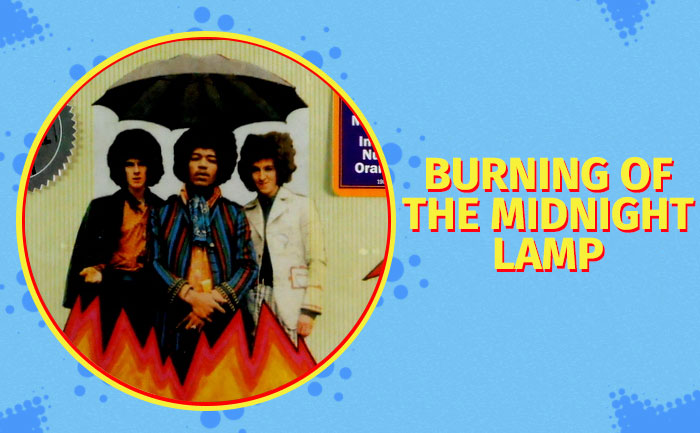 Jimi Hendrix wrote the lyrics to 'Burning Of The Midnight Lamp' on a flight from New York to Los Angeles in 1967. The song is a representation of the confusion he felt at the time. As Hendrix stated, "That's really a song I'm proud of. Some people say this is the worst track we have ever done. I think it is the best. Even if the technique is not great, even if the sound is not clear and even if the lyrics can't be properly heard, this is a song that you often listen to and come back to. I don't play neither piano nor harpsichord, but I had managed to put together all these different sounds. It was the starting point."
The song was first released as a mono single in the UK. It has an intricately arranged instrumentation with Hendrix using a wah-wah pedal on his guitar for this song. The back tunes eclipse into a beautiful mandolin effect to give the listener a feel of the Jimi Hendrix Experience.
14. One Rainy Wish
One Rainy Wish uses a complex rhythm to create a surreal yet colorful track. Jimi Hendrix uses an octavia for this song. The octavia is a device that could raise or lower a guitar by an octave. One Rainy Wish is also known as Golden Rose. In C. Glebbeek's Jimi Hendrix: Electric Gypsy, fellow guitarist Mike Stern talks about One Rainy Wish.
"His playing is so lyrical. It has that same singing quality that I dig in Jim Hall's playing or Wes Montgomery's playing. But the thing about Hendrix was that he had that sound, he could achieve that lyrical feeling with a fatter sound on his Strat than you could get with a regular hollow-bodied jazz guitar"
Brian May covered this on his 1998 solo album Another World featuring Cozy Powell on drums and Neil Murray on bass.
15. Stone Free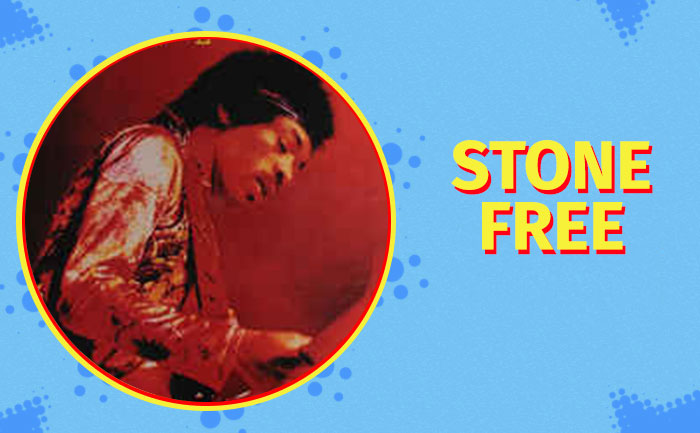 Stone Free was amongst the first songs Jimi Hendrix wrote for The Jimi Hendrix Experience and it is one of his best. However, according to Hendrix: Setting the Record Straight, the musician did not want to write the song. Hendrix wanted to use a cover of Land Of 1,000 Dances but Chas Chandler asked him to write a new song.
As Jimi Hendrix grew frustrated with his management, he recorded a new version of the song. Moreover, he replaced Noel Redding with Billy Cox on bass. This version is available on the 2010 Valleys of Neptune album. Explaining Hendrix's frustrations at the time John McDermott, a co-producer of Valleys of Neptune, said to Musicradar.com "With Jimi, it was all context. Stone Free, he felt, was recorded too quickly, and it was never released in the States; it was only issued as a B-side to Hey Joe outside the US. As an American, it was an important song to him – it was the first song he wrote for the Experience."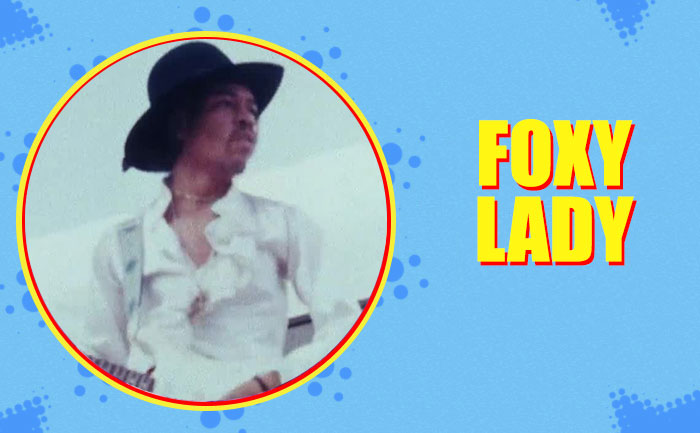 Recorded on December 13, 1966, Foxy Lady might be 50+ years old but the song is still as fresh as it was back then. It is one of the best Jimi Hendrix songs on Are You Experienced? with a dynamic melody ensnared around Hendrix's roaring guitar, creating a robust vital song. As Jimi Hendrix has said himself, Foxy Lady is one of the only happy songs he has written. The musician stated in the booklet for the Experience Hendrix CD that he usually just doesn't feel happy when writing songs.
The strong sexual overtone of the song is said to be inspired by Heather Taylor. Jimi Hendrix's then-girlfriend Kathy Etchingham has also claimed to be the inspiration behind Foxy Lady. While Mitch Mitchell is inspired on the drums, Hendrix smashes through with a guitar solo that is almost a spiritual experience.
The song released with two different spellings. Foxy Lady released in the UK. However, America saw the song released as Foxey Lady.
17. Fire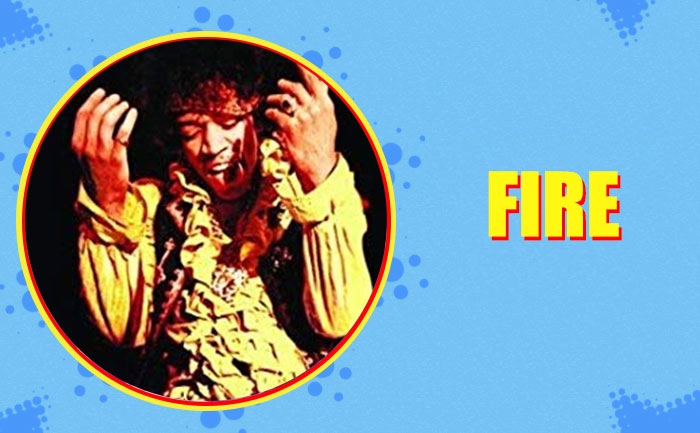 Fire was one of the early works of Jimi Hendrix. While the song lyrics sound romantic, their inspiration was anything but that for Jimi Hendrix. The story goes that the band had just finished a gig around Christmas 1966. They went over to Noel Redding's house. "Let me stand next to your fire" actually came about as a result of Jimi asking bass player Noel Redding's mother if he could "stand next to her fire" to warm up. Hold on though, it gets better. "Move over Rover, and let Jimi take over" is not a lover's challenge but instead Hendrix's appeal to Redding's family German Shepherd who was lying next to the fire at the time.
In conclusion, whatever the inspiration may have been, no one can argue with the firey results.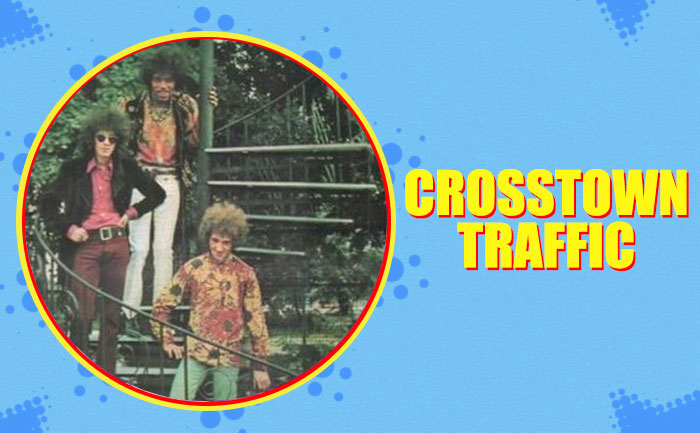 Crosstown Traffic was written by Jimi Hendrix and recorded by the Jimi Hendrix Experience for their third album Electric Ladyland (1968). This recording is unique as it features the entire Experience with Jimmi Hendrix, Noel Redding, and Mitch Mitchell. In addition, Crosstown Traffic sees Hendrix play a makeshift kazoo made with a comb and tissue paper to recreate the ambiance of Crosstown Traffic. The backing vocals are performed by Redding along with Dave Mason. The blues and acid rock mixture serves to make Crosstown Traffic one of the best Jimi Hendrix songs of his early career.
The song speaks about a girl who refuses to understand that she is not wanted. In other words, getting through to her is like getting through crosstown traffic.
19. Manic Depression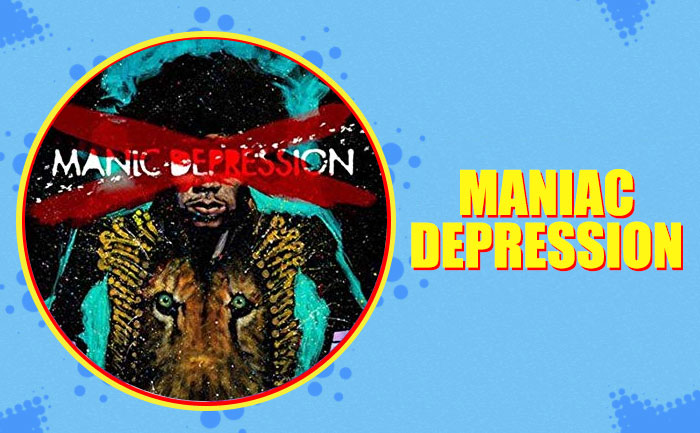 It's never been established that Jimi Hendrix suffered from bipolar depression. However, through Manic Depression Hendrix explores themes of despair and confusion. During a concert, Jimi Hendrix introduced this song, saying, We'd like to do a frustrating kind of song for you. It's called 'Manic Depression' – it's a story 'bout a cat wishin' he could make love to music, instead of the same old everyday woman."
The song is set to a fiery pace that is back up well by Mitchell. The song was not just an allusion to mental illness but his frustration with relationships and his desire to take up music itself, as a lover.
20. Angel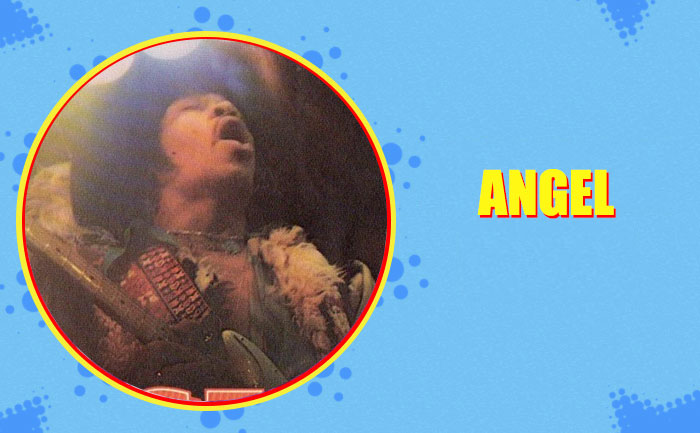 Angel, also sometimes referred to as Sweet Angel, is one of the best posthumously released Jimi Hendrix songs. It originally released in 1971 on The Cry of Love. Jimi Hendrix drew the inspiration for Angel from a dream where his mother came down from heaven to take him with her.
Angel is a mellow blues composition, featuring some classical chord work from Hendrix. In addition, it has an unusually restrained Mitchell on drums. This song is quite removed from Hendrix's usual style with its hauntingly poetic style.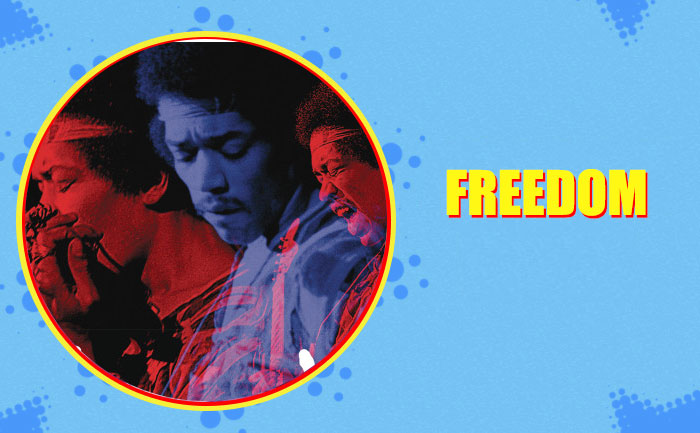 Freedom released posthumously as a single in the United States, Canada, and Japan on March 8th, 1971. The song is a desperate cry for emancipation, lyrically quite different from Hendrix's songs which often explored his relationships. Many say that the song belies Hendrix's harrowing battle with addiction.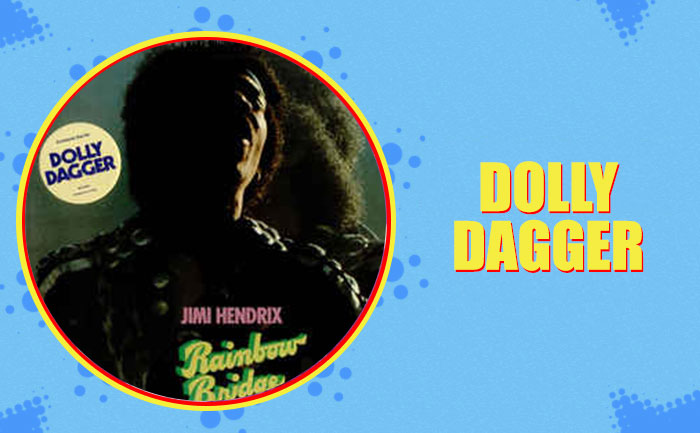 Dolly Dagger is a song with definitive Halloween vibes. On the surface, this Jimi Hendrix song appears to be best suited for Halloween bash but upon closer inspection, it reveals the insanely complex personal life of the singer.
Dolly Dagger released in 1971 on Hendrix's posthumously released album Rainbow Bridge. This album mostly consisted of recordings from after the Jimi Hendrix Experience broke up. Dolly Dagger peaked at 74 on the Billboard Hot 100.
The popular opinion is that Dolly Dagger was written for Jimi Hendrix's girlfriend Devon Wilson. In his book, James describes the dynamics of the relationship, "Her relationship with Hendrix was a continual power struggle, a brutal dynamic they both seemed to enjoy, or at least felt compelled to act out. On the one hand, she assumed the role of his guardian and protector, but then she would sleep with other men to make him jealous. Once, at a party where Mick Jagger cut his finger, Wilson elbowed her way in to suck the blood off as Hendrix watched."
Hendrix immortalized this moment in the song lyrics when he wrote, "She drinks the blood from a jagged edge." While the song might clearly be Jimi's way of escaping his demons, it is still one of the best Jimi Hendrix songs to date.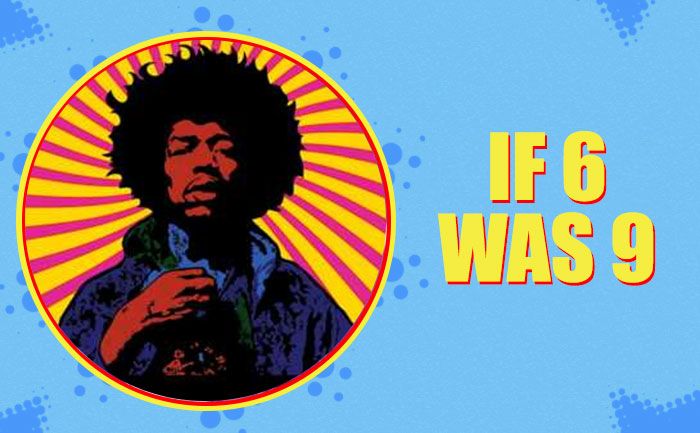 If 6 was 9 is a bit more obscure when it comes to exploring the Jimi Hendrix repertoire of best songs. The song was written by Hendrix and recorded by the Jimi Hendrix Experience. The song appears on the 1967 album Axis: Bold as Love. In addition, the sound also served as the soundtrack for the 1969 film Easy Rider and the 1991 film Point Break.
The lyrics address the conflict between the hippies and corporates. The lyrics are at their existentialist best with "I'm the one that's gonna have to die when it's time for me to die/so let me live my life/the way I want to."
The song has inspired various urban legends around the significance of the number 9 in the lyrics and the musician's death in 1970.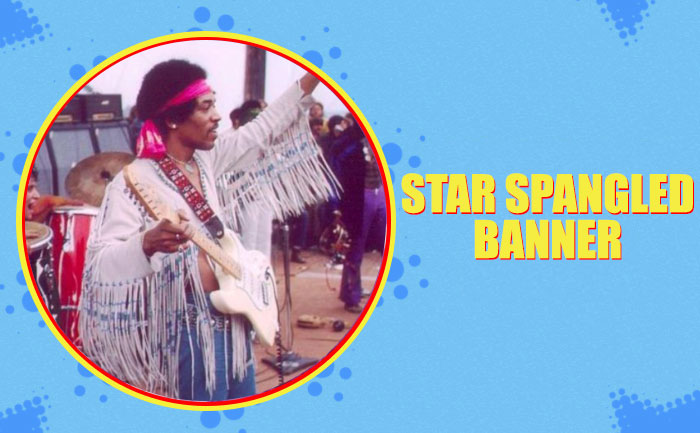 Jimi Hendrix's rendition of The Star-Spangled Banner at Woodstock was considered one of the most iconic moments of the '60s. While Woodstock was certainly not the first time Jimi Hendrix covered The Star-Spangled Banner, it was among the best. There are almost 50 live recordings of Hendrix playing the national anthem, 28 of them before Woodstock.
Addressing the fact that some Americans were offended that he had turned the national anthem into a protest against the Vietnam War, Jimi Hendrix said, "I don't know, man. I'm an American, so I played it. They made me sing it in school, so it was a flashback."
The performance was the first big outing of Band of Gypsys which consisted of Experience drummer Mitch Mitchell, bassist Billy Cox, guitarist Larry Lee, and percussionists Juma Sultan and Jerry Velez.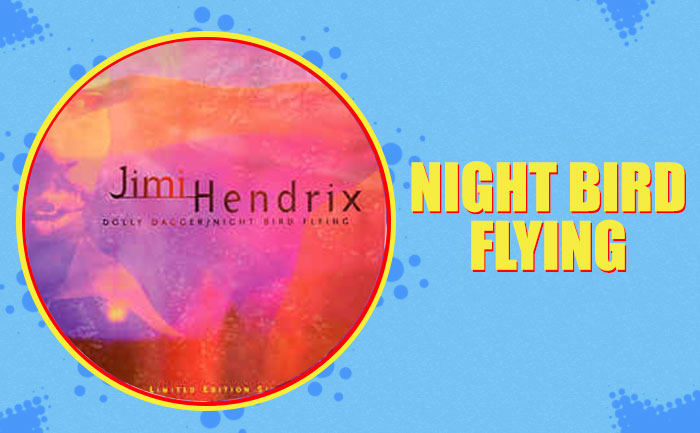 Night Bird Flying was written by Jimi Hendrix and is as close to a pure rock song in the Hendrix playlist as it is possible to be. The song has multiple guitar solos with Hendrix reexploring the themes addressed in his 1967 song "Little Wing."
Jimi Hendrix first started developing the song as Ships Passing in the Night. After recording several demos, Hendrix completed a master after 32 takes. The song was recorded in 1970 at the Electric Lady Studios with drummer Mitch Mitchell and bassist Billy Cox.
Night Bird Flying was initially released on the first Hendrix posthumous album, The Cry of Love (1971). The track is included on several subsequent Hendrix compilations.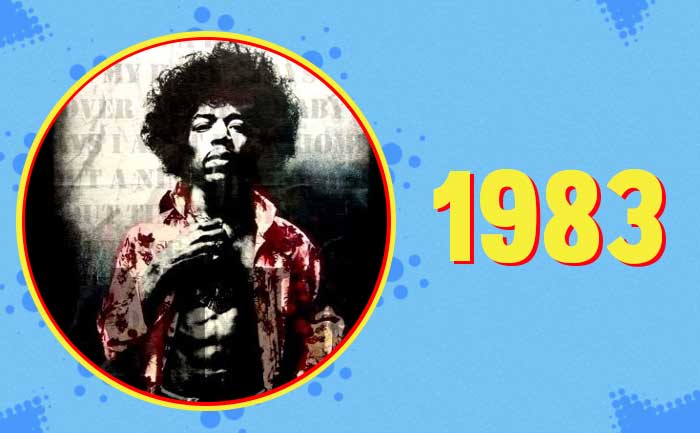 This song portrays Jimi Hendrix at his cynical best.  His disgust with the world was at full display here as he expresses his wish to escape the world which was distraught with war at the time. The song is laden with Hendrix's desire to leave the miseries of the world behind and be reborn as a merman. However, a darker interpretation of the song could be that it eludes to suicide. The song might be about the man and his lover Catherina taking their own life by drowning.
This is just one interpretation though as the song might also be interpreted as an escape from reality. 1983 is the longest Jimi Hendrix song, running for 13:39.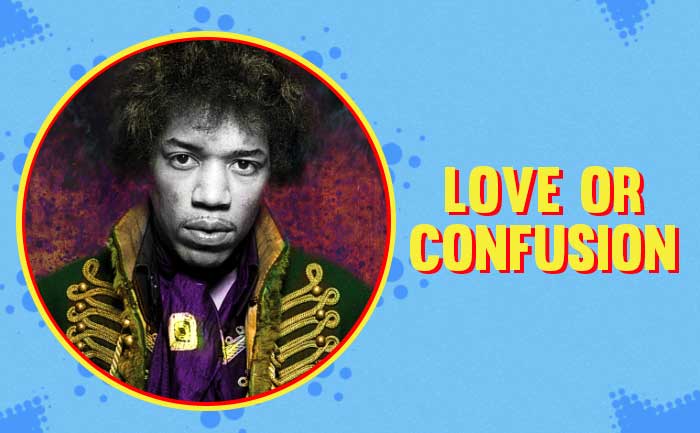 Love or Confusion originally released on The Jimi Hendrix Experience's 1967 debut Album Are You Experienced. The song was written by Jimi Hendrix and recorded in November 1966. However, after it's initial recording the song was only performed once at BBC Studios for a radio show in 1967.
Love or Confusion is a song about Hendrix's musings as he contemplates if he has found love or just more confusion. It is a song about the battle between wanting to stay cautious and giving love a chance.

The Spanish Castle was a Premier teem night club in the Seattle area when Jimi Hendrix was living in Seattle. Jimi's band could never play there. However, The Spanish Castle was one of the tracks in Hendrix's headlining set at Woodstock. In addition, Hendrix played the piano on this track as well as the Octavia device to alter the pitch.
The song was released in the album Axis: Bold as Love in 1967.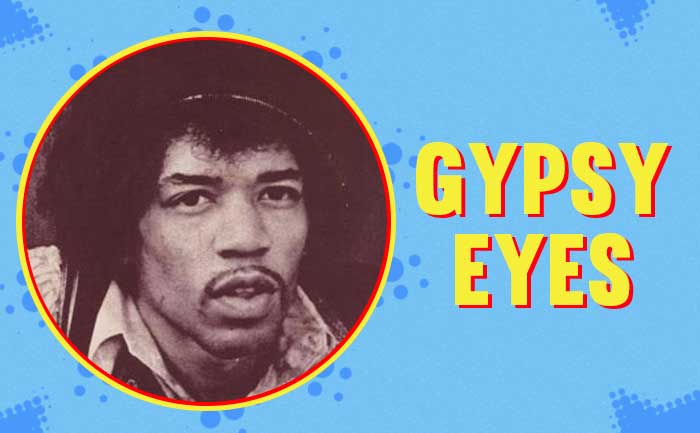 Gypsy Eyes was released in 1968 on the album Electric Ladyland. This was one of the best Jimi Hendrix songs due to the fact that it was quite removed from his usual style. Gypsy Eyes is a clear nod to the African American slaves that would come up with songs during plantations to make work bearable.
The song was also personal in its approach. There is a lie in the song that goes "Two strange men fightin' to the death over me today". This is a clear reference to the 2 men who claimed to be Hendrix's father to profit from his immense popularity and prosperity. However, they were both frauds as Jimi's real father was Al Hendrix.
34. House Burning Down
House Burning Down featured on the 1968 album Electric Ladyland. It was a song that took song lyrics to be an instrument for social commentary. The song reflected on the futility of one person striking down another as well as violence not being an apt answer for violence.
Discussing House Buring Down, Hendrix said, "We use the same thing anyone else would, but we use it with imagination and common sense. Like on House Burning Down, we made the guitar sound like it was on fire. It's constantly changing dimensions, and up on top that lead guitar is cutting through everything."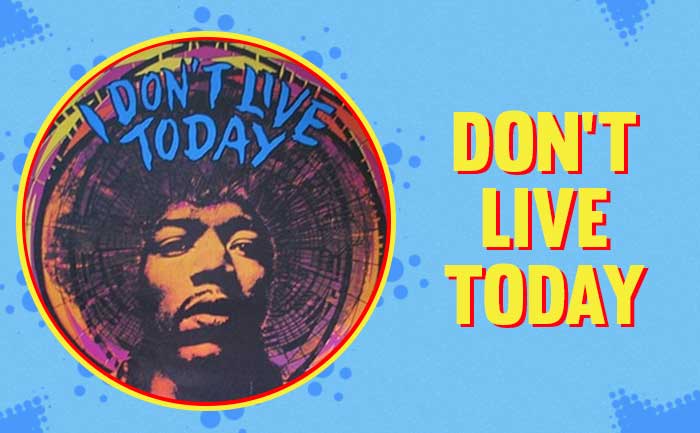 I Don't Live Today was originally released on The Jimi Hendrix Experience's 1967 debut album Are You Experienced. The song was written by Jimi Hendrix and recorded at the De Lane Lea Studios.
This song has been covered by many bands including the band Last Rites in San Francisco. When asked what inspired him to choose the song, Guitarist and singer John Lind answered, "In reality, there were two reasons. First, it's my favorite Hendrix song. I've always considered it to be his most extreme, most psychedelic, and several of the live versions are among the best things he ever did."
Jimi Hendrix dedicated this song to the American Indians and other minority groups in honor of his Cherokee heritage.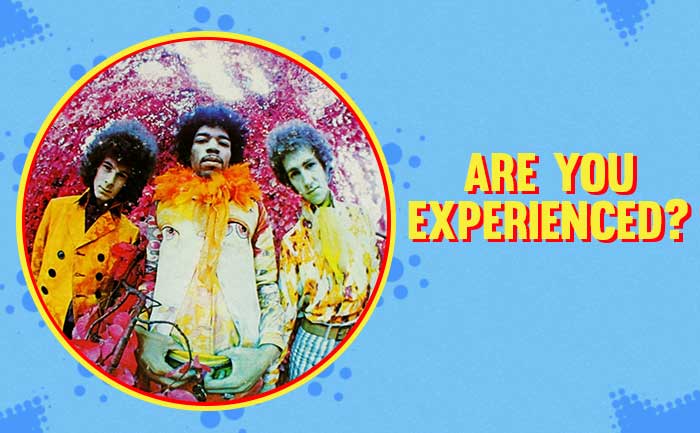 While Are You Experienced? is often considered to be a song about drugs, Jimi Hendrix says the song is more about being at peace with yourself. The song was futuristic in its execution with the use of record scratch sounds that DJs would implement years later. In addition, Hendrix also played the piano on this song.
Jimi Hendrix was often frustrated by the accusations that he pandered to a white audience. "Sometimes when I come up here (to Harlem), people say, 'He plays white rock for white people, what's he doing up here? I want to show them that music is universal – that there is no white rock or black rock." he told the New York Times in August 1969. However, the notion that Hendrix didn't have a black fan base at the time is quite inaccurate. Are You Experienced peaked at Number 10 on the Billboard R&B chart. This chart was created compiling reports from record stores that mainly had a black customer base.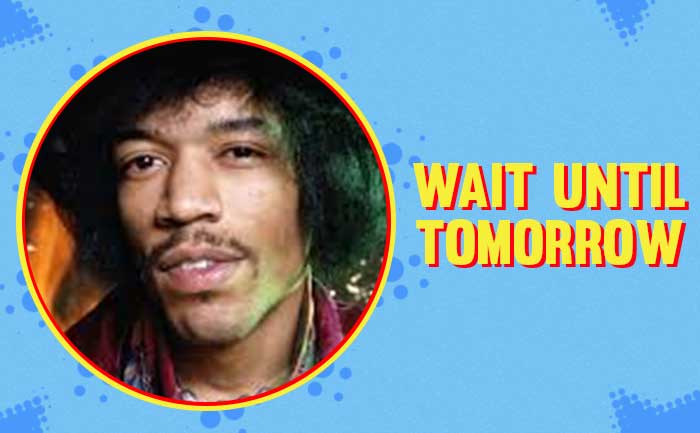 Wait Until Tomorrow was written by Jimi Hendrix for The Jimi Hendrix Experience's second album, Axis: Bold as Love. The song is a tragic Romeo-Juliet story of a man who is waiting to elope with her lady love who is asking him to wait until tomorrow. However, tragedy strikes as the man is shot down by the woman's father.
While Jimi Hendrix never released the song as a single, it is still considered one of the best songs on the album.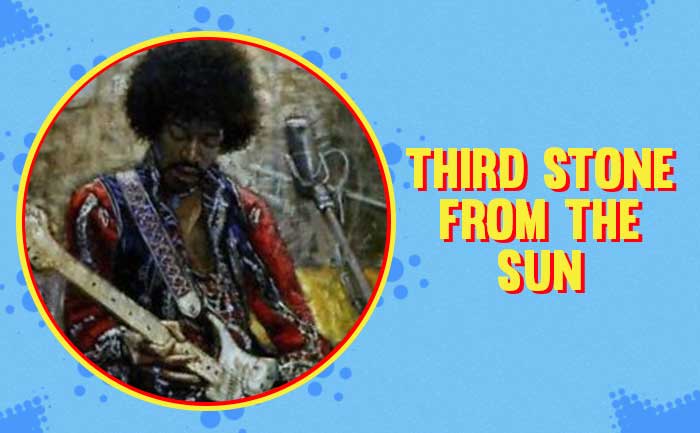 The Third Stone From The Sun is a testament to Jimi Hendrix's interest in the sci-fi. Both Chas Chandler and Hendrix were fans of Star Trek and wanted to create something centering on the sci-fi adventure. The song actually uses the conversation between the two which was edited to create the garbled noise effect that is present throughout the song.
The Third Stone From The Sun is a reference to Earth and it's position in the solar system.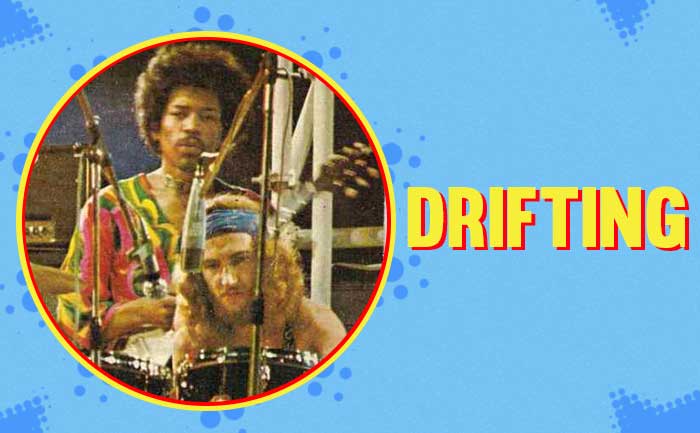 Drifting was Jimmi Hendrix's tribute to R&B legend Curtis Mayfield. The two played together in the early stages of Hendrix's career. This is perhaps Hendrix's most self-aware song to date. It is a poignant song that feels like the singer is making peace with moving on. The fact that it was released post-humously only adds to the delicate spirituality of the song.
Drifting was released on The Cry of Love, a posthumous album by Jimi Hendrix.
40. She's So Fine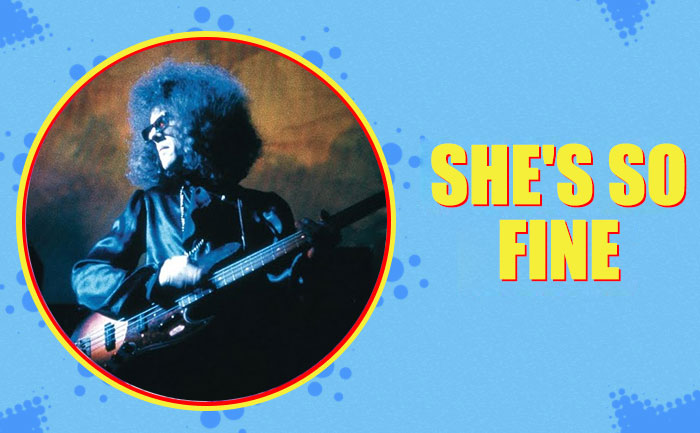 She's So Fine was written by Jimi Hendrix's band member Noel Redding with a little help from the musician. Noel Redding played bass in The Jimi Hendrix Experience. She's So Fine was the first song recorded for Axis: Bold As Love. In addition, Redding also did the lead vocals for this song.
Moreover, the song is also available as a downloadable track in video games such as Rock Band, Rock Band 2, Rock Band 3, Rock Band 4 and Rock Band Blitz.
41. Still Raining, Still Dreaming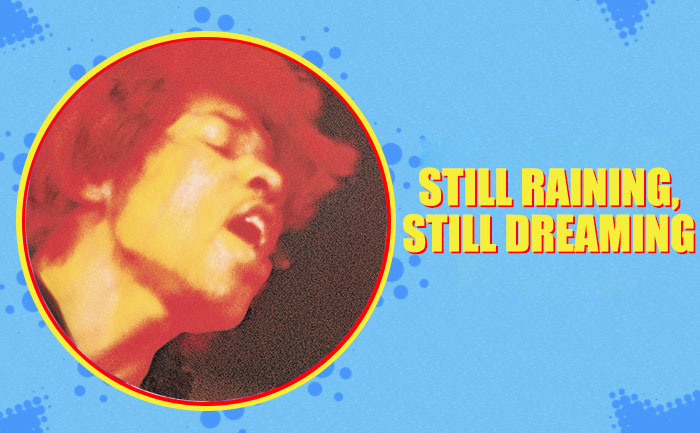 This was just a groovy song to chill out on a rainy day. It featured on Hendrix's Electric Ladyland album which came out in 1968. Mike Finnigan, who was a session man from New York, played organ on this track. This album was the only Hendrix album to feature other musicians. Steve Winwood also played the organ on Voodoo Chile.
These are the 41 best Jimi Hendrix songs that have entranced listeners for years. This list is constantly updated and we will soon be back with more songs from the iconic musician.
ALSO READ: Google Trends 2019: Top 8 Most Searched Popular Songs Of The Year