JNU: ABVP leader receives threat letter, Opposition calls it 'Attention Seeking Attempt'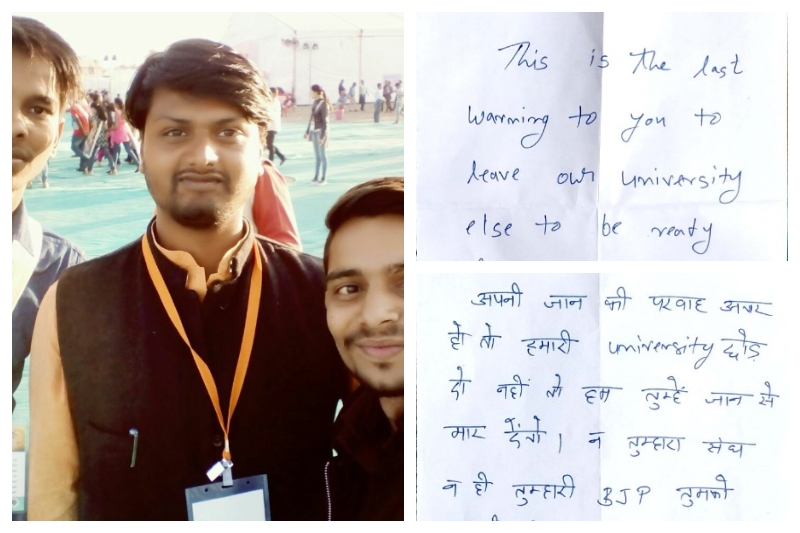 Reacting on complaint by the Akhil Bharatiya Vidyarthi Parishad (AVBP) leader of the Jawaharlal Nehru University (JNU), Saurabh Sharma, the Delhi Police have finally lodged a case against unknown persons for writing threat letters. The police have lodged an FIR under Sections 506 and 507 and are probing the matter. However, no one has been arrested so far.
Sharma, also a former joint secretary of the JNU Students' Union, in his complaint had alleged that he had received five letters, mostly handwritten, which threats him either to leave the university or face dire consequences.
Submitted to the police as a proof and also shared on twitter, one of his letter reads, "You have to pay all you did in the campus. No Hindu or bhakts will come to save you poor boy. You committed biggest mistake of your life messing up with Muslims and us." In the second letter, it was written, "Saurabh Sharma, jab se tum JNU me aaye ho, apni gandi rajneeti kar rahe ho.  Apni harkaton se baaz aa jao warna jaan se haath dhona padega (Saurab Sharma, since the time you have arrived in the university, you are doing dirty politics. Stop continuing this, else you might be killed)."
Today again I have received the two threat letter.
Now these letters are motivating and making more stronger to continue service to the great nation & student's welfare. @SunilAmbekarM @vivekagnihotri @AnupamPKher @AsYouNotWish @republic pic.twitter.com/wMBrcZDv2O

— Saurabh Sharma JNU (@SaurabhJNU) June 16, 2018
Today I received two more threat letter again.The price of democratic expression against Crime against Women, UrbanNaxals, anti-national, unconstitutional crimes is Death threat & intimidation. @DelhiPolice keeps sleeping in deep slumber. @SunilAmbekarM @vivekagnihotri pic.twitter.com/AaUVPd9aHl

— Saurabh Sharma JNU (@SaurabhJNU) June 20, 2018
Attention Seeking Attempt
Sharma had alleged there could be the hand of 'Afzal gang' and others secularists who are trying to crush their (ABVP's) freedom of expression and the right to dissent.
Taking a jibe at the complaint, the student leaders have called this as an attention seeking attempt. Speaking to this reporter, JNUSU president and All India Student's Association (AISA) leader, Geeta Kumari said, "It looks like an attention seeking attempt to me, however the handwriting should be checked by the police and perpetrators needs to be booked."
Rubbishing the indications pointing towards the left front, Kumari said, "What nonsense is this and what is the basis of this? Who will give him a handwritten threat letter? He believes in hatred and we do not propagate it. I think he wants to be in the limelight, as no one is calling him in debate shows these days."
Another student leader, Dipsita Dhar, also JNU-SFI unit secretary stated this to be Sharma's desperate attempt to gain the lost popularity. Dhar said, "It's very funny, interesting and ironical. The central government belongs to them and the Delhi Police too comes under their government's jurisdiction. Who is he trying to fool?" However,  she too reiterated that handwriting needs to be probed.