JNU election 2018: Left leading on all central panel posts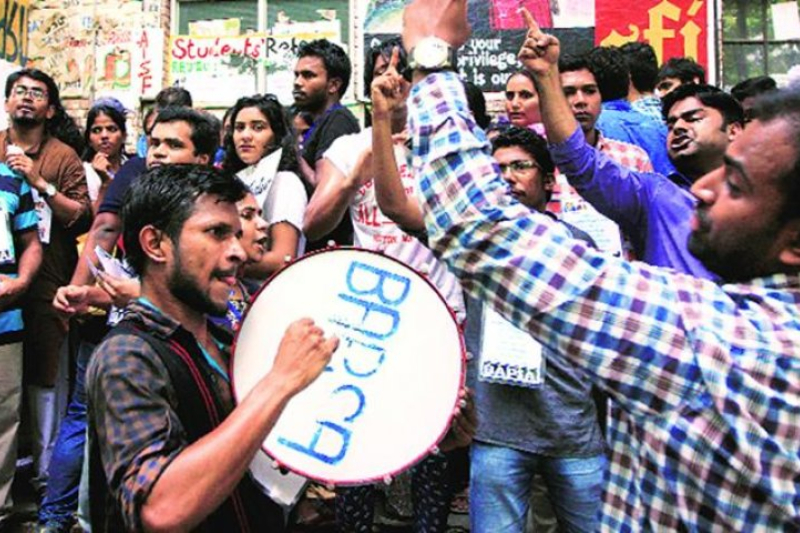 In the ongoing JNU elections 2018, the United Left is leading in all four central panel posts in the Jawaharlal Nehru University Students' Union polls.
Accoring to the JNU Election Committee and sources, after counting 4709 out of 5185 votes, N Sai Balaji, presidential candidate of the Left (Left Unity) is leading with 1,948 votes. Lalit Pandey of Akhil Bharatiya Vidyarthi Parishad (ABVP) has garnered second position for the President's post with 875 votes. And trailing in the third position for the President's post is Thallapalli Praveen from BAPSA (Birsa Ambedkar Phule Students Association) with 635 votes. Following close to Thallapalli Praveen from BAPSA is Jayant Kumar from RJD and Vikas Yadav from NSUI.
Vote count in the other central panel posts of vice-president, general secretary and joint secretary –
Vice President Post:
Left Unity – Sarika – 2326 votes
ABVP – Geeta Sri – 918 votes
BAPSA – Purna Chandra – 594 votes
NSUI – Liji – 428 votes
General Secretary Post:
Left Unity – Aejaj – 2207 votes
ABVP – Ganesh – 1128 votes
BAPSA – Vishambhar Nath – 745 votes
NSUI – Md Mufizul – 314 votes
Joint Secretary Post:
Left Unity – Amutha – 1839 votes
ABVP – Vankat Chaubey – 1118 votes
NSUI – Naureng Reena – 744 votes
BAPSA – Kanaklata Yadav – 661 votes
The counts clearly indicates Left Unity to be the hands down winner for all the coveted positions.
JNU never fails to amuse one with its antics. And rightly so during this year's election too there was high drama on Saturday as counting was suspended for close to 14 hours after the ABVP staged protests claiming it was not informed about the start of the counting process.
The RSS-affiliated Akhil Bharatiya Vidyarthi Parishad (ABVP) allegedly attacked the School of International Studies building where the ballot boxes were stored, damaged the building infrastructure too. The counting was suspended at 4 am on Surtaday. It resumed at 6.30 pm after two teachers from the Grievance Redressal Cell were appointed as observers for the exercise, officials said.
Several members of the Jawaharlal Nehru (JNU) Election Commission (EC) got severely injured in the attack by ABVP. The JNU EC demanded an unconditional apology from the ABVP. Left and right-wing student organisations accused each other for causing the mishap. A police case was registered at the Vasant Kunj police station.
Nearly 67.8 per cent voters exercised their right in this JNU election. It is believed to be the highest in six years. More than 5,000 students cast their votes.
The Left-backed All India Students' Association (AISA), Students' Federation of India (SFI), Democratic Students' Federation (DSF) and All India Students' Federation (AISF) have come together to form the United-Left alliance. Besides the Left Unity, there are candidates of the Akhil Bharatiya Vidyarthi Parishad (ABVP), the National Students' Union of India (NSUI) and the Birsa Ambedkar Phule Students Association (BAPSA).
Also read: JNU Polls: Result expected today; ABVP, Left accuse each other of roughing up members