Julian Assange arrested at Ecuadorian embassy in London
Wikileaks founder Julian Assange arrested in London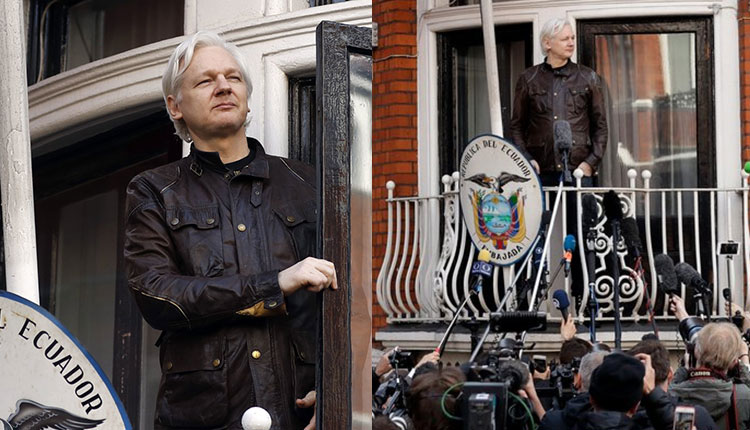 The WikiLeaks founder Julian Assange,  who released reams of secret documents that embarrassed the United States government, was taken into police custody on Thursday. He was arrested after being evicted from the Ecuadorean Embassy in London, where he has lived for almost seven years.
The Metropolitan Police said in a statement that Mr. Assange had been arrested by officers at the embassy on a warrant issued by Westminster Magistrates' Court. The statement further added that they were invited into the embassy by the ambassador, following the Ecuadorian government's withdrawal of asylum on him.
The home secretary, Sajid Javid, said: "Nearly seven years after entering the Ecuadorian embassy, I can confirm Julian Assange is now in police custody and rightly facing justice in the UK. I would like to thank Ecuador for its cooperation & @metpoliceuk for its professionalism. No one is above the law."
Assange born in Australia had created WikiLeaks where people could publish secret materials anonymously. It gained major attention in 2010 when it released classified information of United States documents and videos about the Afghanistan war and Iraq. The files documented the killing of civilians and journalists and also the abuse of detainees by forces of the United States.
The files had also leaked identities of people working with coalition forces in Iraq and Afghanistan, putting their lives at risk.
Ecuador gave assylum to Assange in 2012,  but the relationship between the two soured due to him violating the agreement on trying to influence the politics of other countries. His internet connection was cut and the governemnt had also put limitations on his visitors and requiring him to clean his bathroom and look after his cat. The Wiki Leak founder has sued the Ecuadorean government in October claiming that they were violating his rights.